Our family loves Peanut Satay Sauce. In fact, the only time my daughter will eat steak is if I serve it with this satay sauce. Me, on the other hand will eat a steak any way you want to serve it. But this satay sauce really does take steak to a new level. It is a simple and delightful mild curry, made with ingredients most people already have in the house.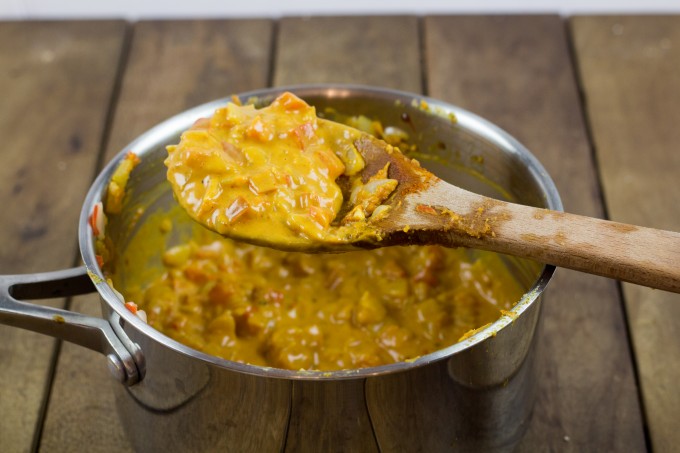 This recipe comes from my Dad. Although my mum is known to be the cook of the family, Dad is the one who always makes this Satay Sauce. He got this recipe from one of his neighbors, as a young man. The neighbor was from Malaysia and was living in Australia while he was studying to become a veterinarian. I found this little bit of history fascinating, as I have always thought of Satay Sauce as being a fairly recent introduction into our Western diet. But he must have been given this recipe in the 50's. Dad made a few alterations such as the ketchup and bbq sauce but otherwise it is of Malaysian decent.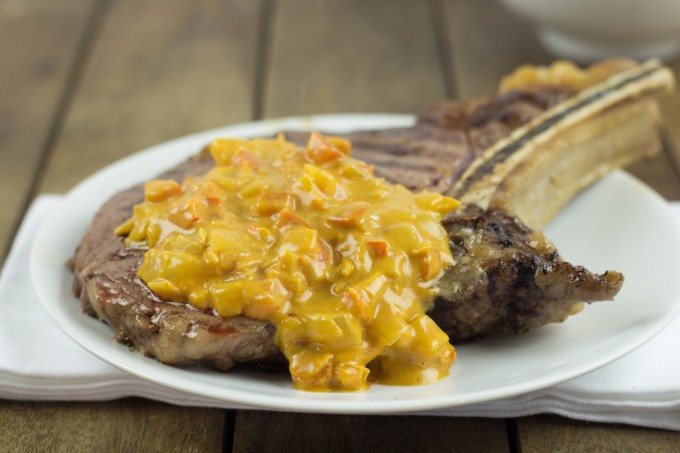 When we moved to America, Dad was no longer around to make Satay Sauce for me. It was one of the recipes that I just had to get, so that I could make it myself. As I am not very good with spicy food (I'm one of those wimpy mouths who get teary eyes and burning mouth with medium spice levels, unlike my love who loves fiery hot food), I have kept this recipe very mild – just like my Dad did. If you want to make this satay more spicy, I would suggest adding some chili in with the red bell peppers.
It really is simple to make. My 12 year old actually made the sauce featured in these photos. He is currently in Middle School and is taking Introduction to Foods as one of his electives. Part of his homework is to make five foods from different categories. He chose to make Grandad's Peanut Satay Sauce – probably as an excuse to eat one of his favorite foods. Apart from cutting the end of the onion, he did everything. It always makes me so proud to see my kids having fun in the kitchen. The skills he is learning now are going to last him a life time. I truly believe that all families should get their kids into the kitchen. It does not matter if you are a good cook or think you don't know how to cook. Start them young and they will develop a love for cooking. Even late starters will surprise you – and will quickly develop confidence in the kitchen that goes beyond what you expect. Failures can be fun too – I let my kids eat my failures pretty quickly so they think failures are the best.
This sauce can be made a day in advance, and reheated just before serving. Just keep it in the refrigerator until you're ready to heat it up again.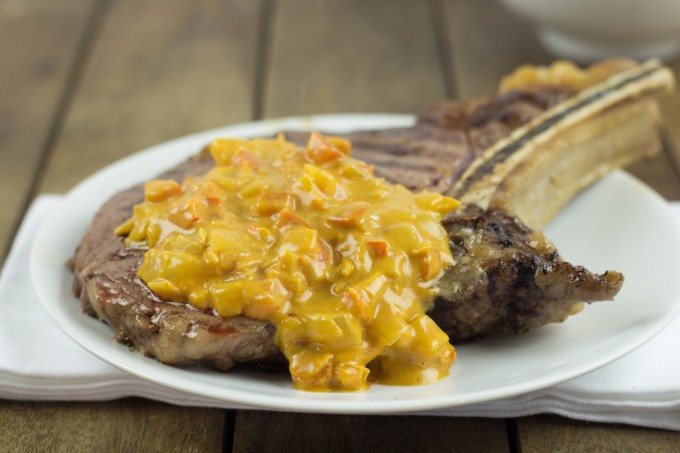 Peanut Satay Sauce
2014-05-11 19:19:18
Ingredients
1 tablespoon butter
1 cup onion, finely chopped
1 cup, red bell pepper, finely chopped
2 tablespoons crunchy peanut
1 teaspoon curry powder
1/3 cup milk, or more if desired
2 teaspoons tomato ketchup
1 teaspoon bbq sauce
1/8 teaspoon salt
Instructions
Melt the butter in a medium size saucepan.
Add the onion and bell pepper to the butter, over medium heat, and fry until the onion is transparent, about 5 minutes.
Add the peanut butter and curry powder, and stir well.
Reduce the heat to low and add the milk. If you want a thinner consistency, add one extra tablespoon of milk at a time until the desired consistency is reached. Do not allow the sauce to boil after adding the milk.
Add the ketchup, BBQ sauce and salt. Stir well.
Serve over steak, chicken or rice.
Cookies or Biscuits? https://www.cookiesorbiscuits.com/