Caramel, oh Caramel, oh how I love you! And this caramel cake is the ultimate in caramel goodness. The cake itself is delicious – it's moist and rich (although not as rich as a mud cake!) with a hint of caramel thanks to a caramel simple syrup. Then the sweet, sweet frosting is made from Burned Butter – a perfect pairing for the caramel. Top it with pecans and caramel sauce and it's drool worthy. (Warning – this frosting is really sweet – you may like to try another if you are not fond of excessive sweetness! Personally I think it's awesome.)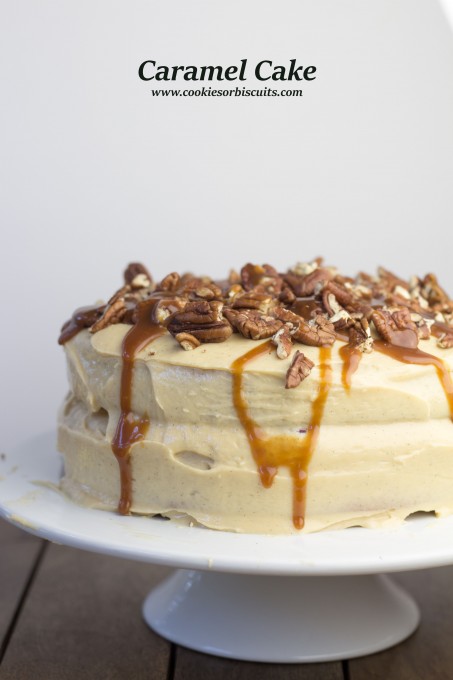 I first made this at a Sur la Table cooking class, last year (I can't believe it's 2016 already!). It's been made a few times since, and gobbled up very quickly. As I've been asked for the recipe multiple times, I thought I'd better get it onto my blog. Plus I did promise it months ago!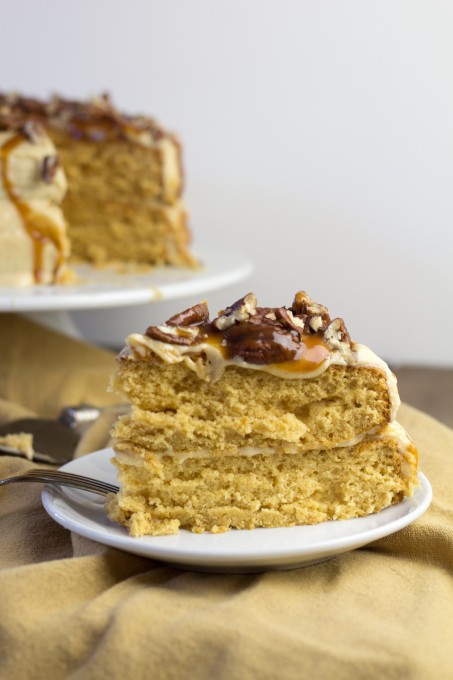 Can I just say I spend too much money at Sur la Table? I could happily go to a cooking class every week. Last week my love and I attended a Paella class, thanks to a Christmas present from my in-laws, but there are so many more I would love to attend if I had the time and money. I've got my eye on their "4 Desserts Every Cook Should Know" coming up this month.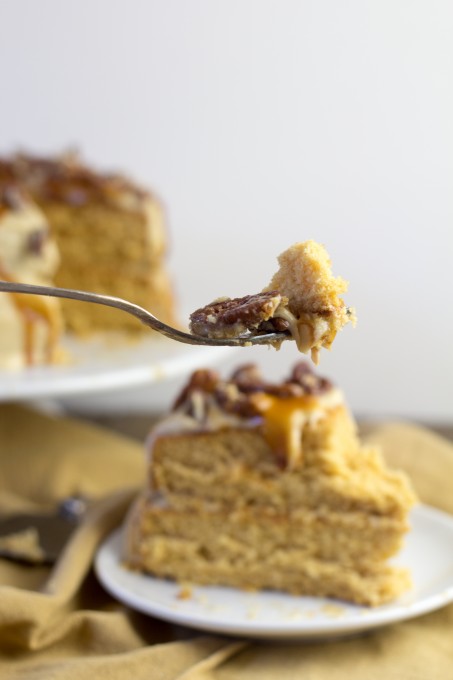 I have to warn you about this cake. It's not a quick and easy cake to make. First you have to make the caramel syrup. That takes about 40 minutes to make, plus the cool down time. Then you make the cakes, the frosting and the caramel sauce. The first time I made it, it took me a couple of hours. I have learned that it's best if I make the caramel syrup prior to my cooking day, to avoid feeling overwhelmed. But let me tell – you every minute you put into this cake it worth the amazing taste sensation at the end!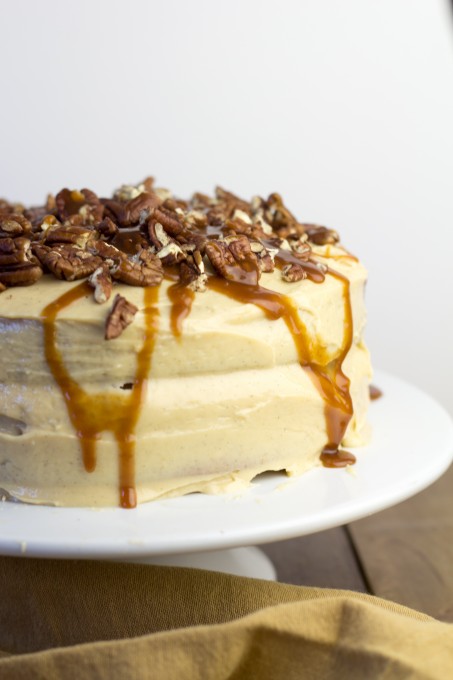 I know some of you have been wondering where I have been (including my Dad – he's a fan of this little blog!) Life has been busy and I have not had the time to devote to blogging lately. I will not be able to post as regularly as I used to anymore – who knew that life would get busier with all my children in school? I am planning on posting still but it may be all over the place. If you would like to keep up to date, I would recommend signing up to get an email whenever I post – you can do that on the right side of the blog, just below the "Recent Posts" and "Greenestbeans" ad.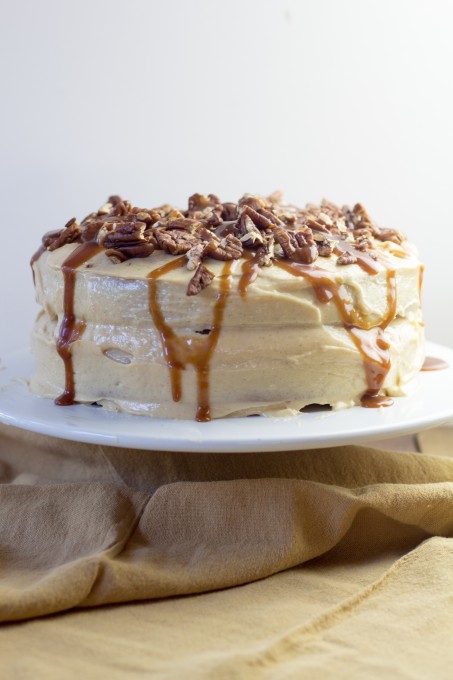 Let me know if you make this cake – I'd love to know if you love it as much as I do!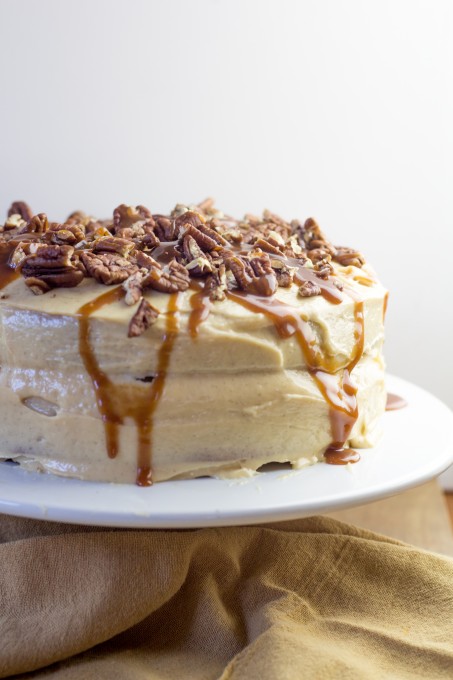 Caramel Syrup
2015-10-05 12:58:00
Caramel Syrup
1 1/2 cups sugar
1/2 cup water
1 cup additional water
Caramel Syrup
In a small, heavy-base saucepan, combine the sugar with 1/2 cup water. Cook over medium heat, without stirring, until the sugar melts and the water boils away.
The syrup will begin to change color. Once it a golden, amber, color remove the saucepan from the heat.
Wearing a pair of gloves, slow and carefully pour 1 cup of water into the saucepan. The mixture will bubble and spurt.
Return the saucepan to the stovetop. Over low heat, stir the mixture until the sugar melts.
Cool to room temperature. This can be stored in an airtight container in the refrigerator for 1-2 weeks.
Adapted from Sur La Table
Adapted from Sur La Table
Cookies or Biscuits? http://www.cookiesorbiscuits.com/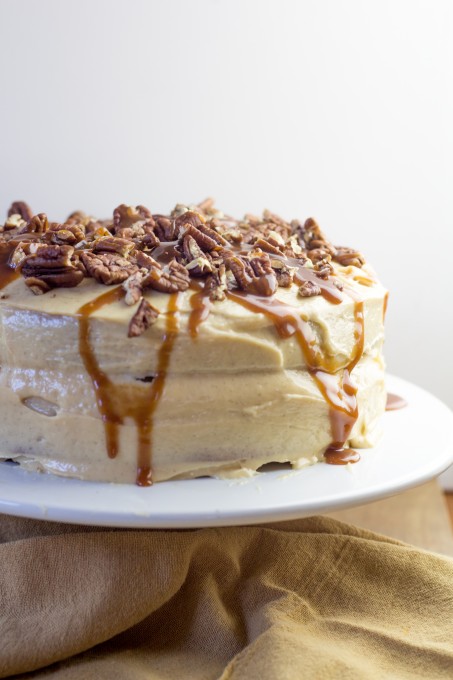 Caramel Cake
2016-01-04 14:13:03
Ingredients
3 cups all purpose flour
1 1/4 cups sugar
2 1/2 teaspoons baking powder
1 teaspoon salt
3/4 cup unsalted butter, at room temperature
1/2 cup caramel syrup (see recipe above)
1 teaspoon vanilla extract
8 oz sour cream
4 large eggs
Brown Butter Frosting
3/4 cup unsalted butter
1/4 cup caramel syrup (see recipe above)
2 teaspoons vanilla extract
1/2 teaspoon salt
4 cups (1 lb) confectioners sugar
1/4 cup heavy whipping cream
Decoration
Pecans
Salted Caramel Sauce
Instructions
Preheat the oven to 350
Grease and line the bottom of two 9 inch cake pans with parchment paper.
In a standing mixer bowl, combine the flour, sugar, baking powder and salt.
Add the butter and beat at low speed until the mixture looks sandy.
In a small bowl, combine the caramel syrup, vanilla and sour cream.
Add the caramel syrup mixture to the flour mixture, and mix well.
Add the eggs, one at a time, into the flour mixture. Scrape the bowl and beat for 1 minute more.
Divide the batter between the two cake tins.
Bake for 25-27 minutes, or until a toothpick comes out clean from the center of the cake.
Cool the cakes in their pan for about 15 minutes, and then turn out onto a cooling rack.
Brown Butter Frosting
Place the butter in a small heavy bottom saucepan. Melt over medium-low heat. Cook until the butter begins to spurt and foam. The butter will smell nutty.
Remove the butter from the heat and pour into a mixing bowl. Allow the butter to cool to room temperature.
Combine the cooled butter, caramel syrup, vanilla and salt.
Add the confectioners sugar and mix.
Add the heavy whipping cream, 1 tablespoon at a time, while beating the frosting. Scrape the bowl regularly to ensure all the confectioners sugar is mixed in. Stop adding cream when the icing is smooth and spreadable.
Assembling the cake
Place one cake on a serving plate. Spread 3/4 cup of the frosting over the first layer.
Place the second layer, top side down, over the filling.
Using the remaining frosting, spread over the tops and sides of the cake.
Sprinkle with chopped pecans and pour salted caramel on the top of the cake.
Adapted from Sur la Table
Adapted from Sur la Table
Cookies or Biscuits? http://www.cookiesorbiscuits.com/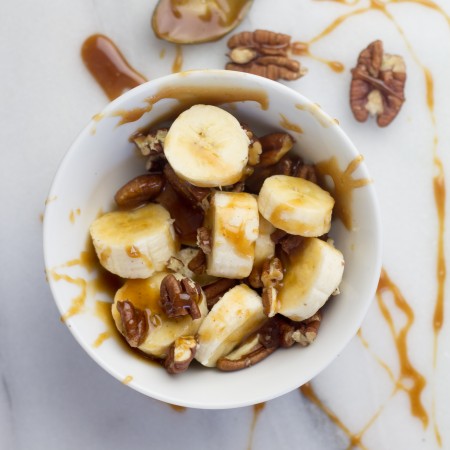 Caramel is my all time favorite flavor. It goes so well in so many things. Sweet, sticky caramel – poured over bananas and ice cream, or mixed into brownies. Add it into some milk for a caramel milkshake or make a caramel cake. You just have to say the word caramel…