Caramel is my all time favorite flavor. It goes so well in so many things. Sweet, sticky caramel – poured over bananas and ice cream, or mixed into brownies. Add it into some milk for a caramel milkshake or make a caramel cake. You just have to say the word caramel and my answer is probably "yes please!". So it's no wonder that I adore this salted caramel sauce.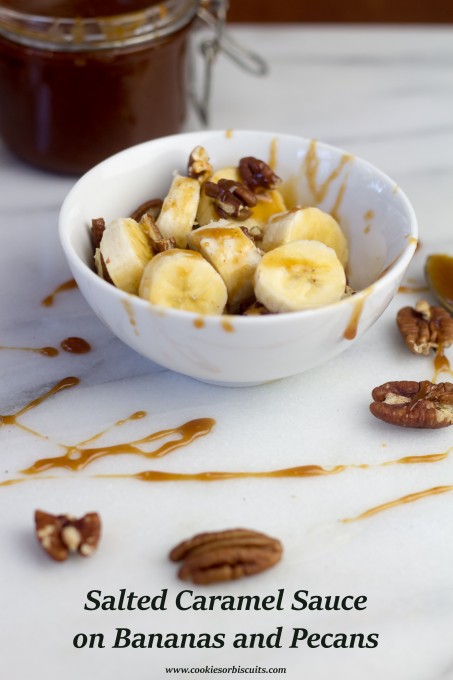 Sweet caramel is my favorite way to eat caramel, but salted caramel is growing on me. If you are new to salted caramel, this recipe is a good introduction as it's not too salty. Instead, there is enough salt to give a salty undertone without dominating the caramel flavor. Perfection, if you ask me. But everyone has their own opinion – like any recipe you may like to alter the salt content to your own preference.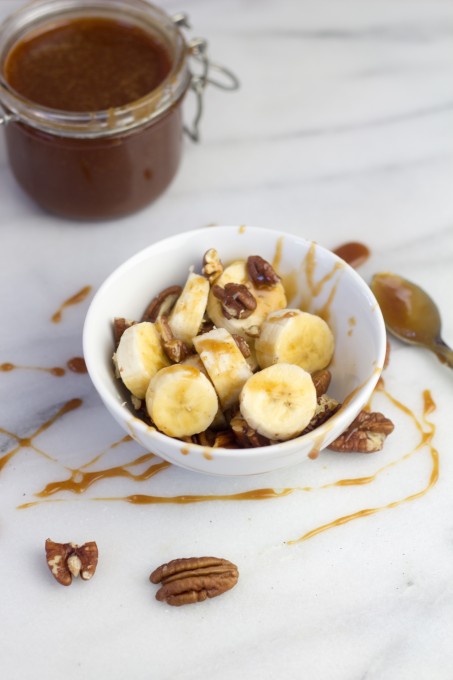 As you can see, I served the Salted Caramel Sauce on some sliced banana and pecans. For me, this is an excellent dessert – enough sweetness to meet my cravings with the sauce and banana, plus some nuts to keep me full for longer. But this recipe also tastes wonderful on ice-cream – we used it for banana splits – or use it in chocolate brownies for a fun twist. And look out next week for a caramel cake recipe, where I used it to decorate the cake.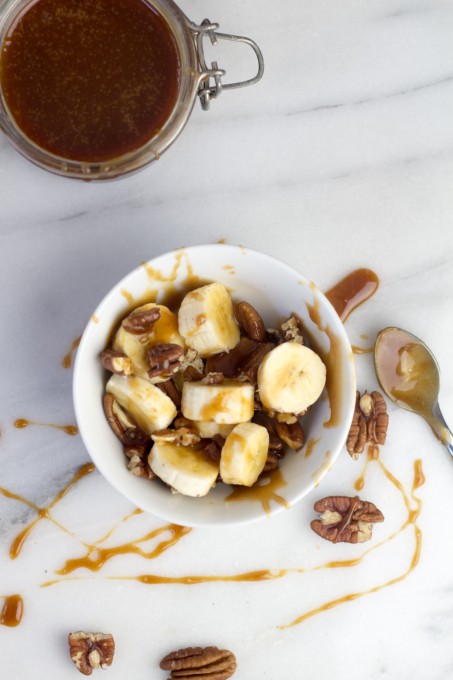 This Salted Caramel Sauce stores well in the refrigerator. It's going to get firmer in the fridge, so if you want a runny consistency, just place the desired amount into a microwave safe bowl, and reheat it for about 15 seconds. The sauce should last about 2 weeks in the refrigerator. However, mine has always been eaten before the 2 week mark! I've got a teenager in my household. Or at least that's the excuse I'm sticking to.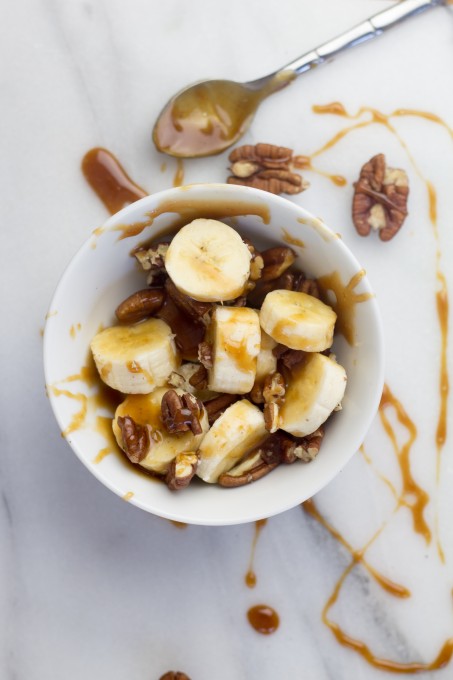 As my regular readers may know, I created my blog as a way to share recipes with my family. My children love to cook, and they will come to my blog to find a recipe they want to make. So usually my recipes are very family friendly. However, this one is really not suitable for younger children. I would even supervise my very confident 11 year old cook with this one. When you make this recipe, you are bringing the caramel syrup to a very high temperature. You then add cream, which causes the very hot liquid to splutter and spurt. It's not something that I would want to risk having a child doing. I always wear an oven mitt on the hand holding my saucepan because you don't know where those random bits of hot liquid might squirt. So please take care when making Salted Caramel Sauce!
Ingredients
1 cup sugar
1/4 cup water
1 tablespoon light corn syrup
1/2 cup cream
2 tablespoons butter
1 teaspoon salt
Instructions
In a medium sized saucepan, add the sugar, water and corn syrup. In a small saucepan, add the cream.
Bring the cream to a boil, turning off as soon as the first bubbles appear. Set aside.
Place the sugar mixture on the stove top, over low heat. Stir constantly until the liquid becomes clear and the sugar has dissolved. If necessary, wipe the sugar crystals from the side of the saucepan into the sugar mixture, using a pastry brush and water.
Once the sugar has dissolved, increase the heat to high. Stop stirring. The mixture will start to turn a caramel color after a few minutes. During this time, occasionally swirl the pan to distribute the sugar around the pan, but do not stir. Once the liquid has turned a medium amber color, remove from the heat.
Immediately add the cream, butter and salt. The liquid will spurt, so use oven mitts to avoid burns. Stir the mixture until the butter has melted.
Set aside until caramel comes to room temperature. The caramel will become thicker as it cools.
Store caramel in the refrigerator for up to 2 weeks. To soften refrigerated caramel, heat in microwave for 15 seconds at a time.
https://www.cookiesorbiscuits.com/?p=2372