By Werona
One great thing about living in the Northwest is that we have fantastic access to fresh seafood. This recipe for Clams with Garlic & Herb Spaghetti makes use of one of our local favorites.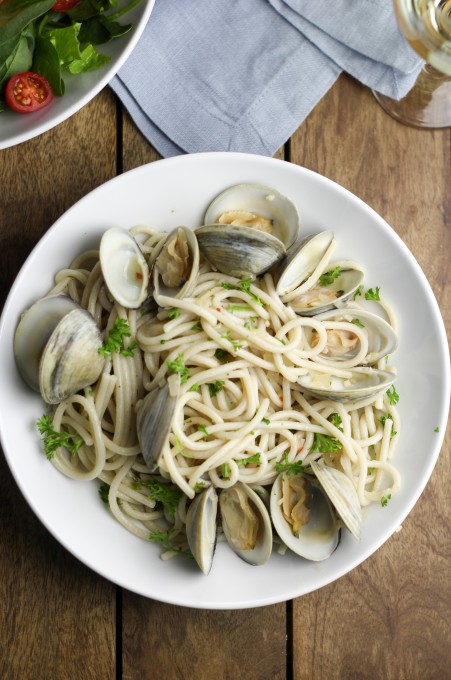 Many families love visiting the Washington coastal areas and go digging for shellfish. Clams, mussels and oysters are easily found – it's a fun and cheap activity for families, even if the little ones are more interested in the water and rocks. (Always check The Washington Department of Fishing and Wildlife first for rules and regulations!)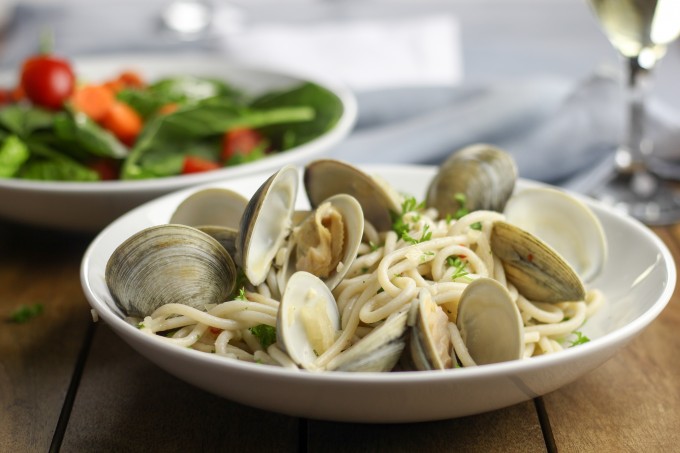 We went camping at Dosewallips State Park last year, and I was amazed at how many oysters were just sitting in plain sight. There are, of course, rules about what size an oyster needs to be to collect, but there were plenty available.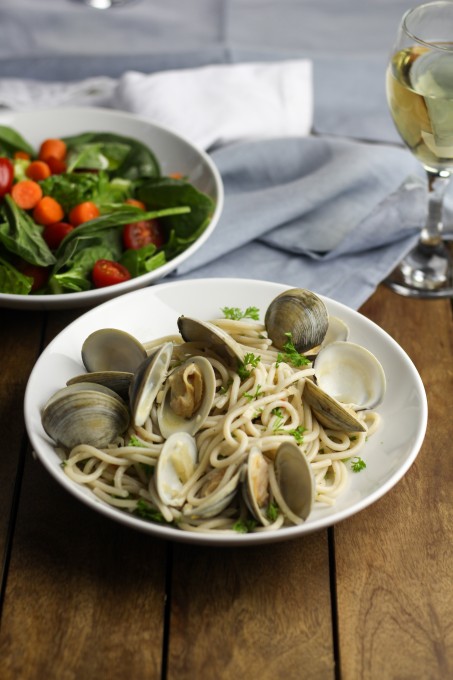 Clamming takes a little more work as you have to dig – some varieties you dig very deeply. Every year we visit Orcas Island – another place with easy access to clamming. However, we are usually lazy and don't dig for our own. Instead we visit Buck Bay Shellfish Farm. They are fresh and tasty, and perfect for Clams with Garlic & Herb Spaghetti. Last year we shared our clams with our neighbours while they shared their freshly caught fish. It was a delicious night of fresh seafood and friends. My only regret was that I hadn't known we were going to share our meal, otherwise I would have bought more clams!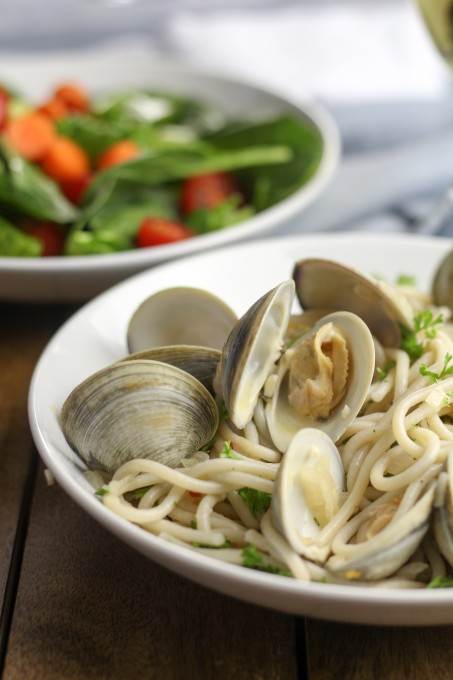 I've made this meal with clams and with mussels. Both shellfish work well in this dish.
I used Kerrygold Garlic & Herb Butter however if you would like to make your own garlic & herb butter I have a recipe here.
Clams with Garlic & Herb Spaghetti
2015-04-03 16:51:05
Pasta
1 lb spaghetti
4 tablespoons garlic & herb butter, at room temperature
1/2 cup chopped parsley
salt & pepper to taste
Clams in Sauce
3 pounds fresh clams, cleaned
2 tablespoons olive oil
1 shallot
1/2 teaspoon freshly ground black pepper, or to taste
1/4 teaspoon salt, or to taste
3 garlic cloves
2 cups sweet white wine, such as Moscato
1/2 teaspoon crushed red pepper flakes
Pasta
Bring a large pot of salted water to a boil. Add the pasta and cook according to the package directions.
Drain, then transfer to a large serving bowl. Add the garlic & herb butter, and toss until the butter has melted.
Add the parsley and toss to combine. Season with salt & pepper, to taste.
Clams
If needed, clean the clams and discard any clams with cracked or chipped shells.
In a large, heavy based saucepan, heat the oil over medium-high heat. Add the shallot, salt and pepper and cook until tender, about 3 minutes.
Add the garlic. Cook until fragrant - about 30 seconds.
Add the white wine and bring the mixture to a boil. Reduce the heat and simmer the wine until it reduces by about half - about 3 minutes.
Add the cleaned clams and the red pepper flakes. Allow the mixture to remain at a simmer. Cover the pan with a tight-fitting lid and cook until all the clams have opened, about 6-8 minutes.
Remove the clams from the sauce, and set aside. Pour the cooking liquid over the pasta and toss. Place the clams on top of the prepared pasta and serve.
Cookies or Biscuits? https://www.cookiesorbiscuits.com/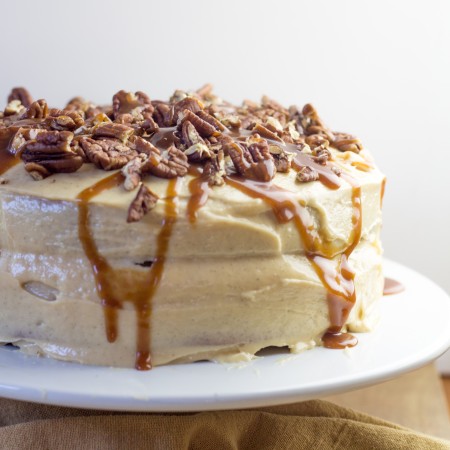 Caramel, oh Caramel, oh how I love you! And this caramel cake is the ultimate in caramel goodness. The cake itself is delicious – it's moist and rich (although not as rich as a mud cake!) with a hint of caramel thanks to a caramel simple syrup. Then the sweet, sweet frosting is made…