Frog in a Pond is a classic Australian children's dessert and party food. And it's no wonder – they are very easy to make. They are simply cups of Jello with a chocolate frog stuck into the jello once it has set. Seriously, I think the hardest part is deciding if you want to have green pond water or blue pond water. I couldn't decide so I made both!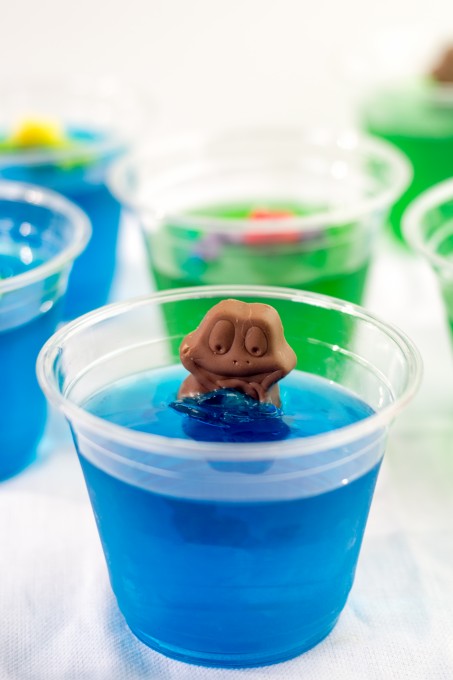 I am constantly surprised at how different Australian English and American English is. As I was making the Frogs in the Pond, I was reminded of a recent post where my Mum had to ask me "What is Jello?" In Australia, we call Jello "Jelly". In America, Jelly refers to a jam that is made from fruit juice (it has no fruit chunks in it). It's not surprising that everyone gets confused when reading recipes from other countries!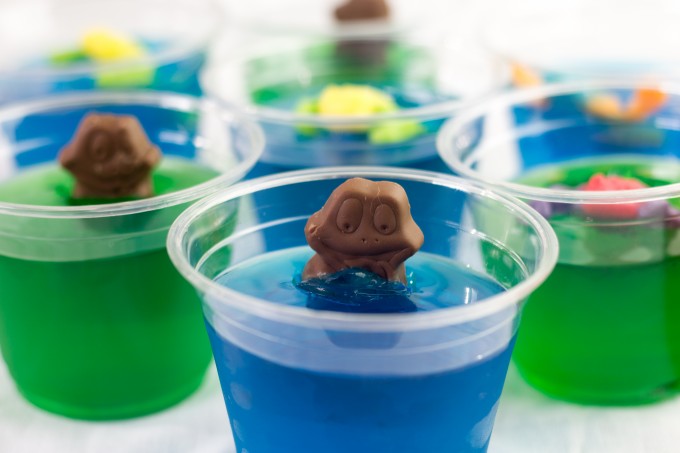 Chocolate Frogs are not the easiest thing to find in America. In Australia, we have a Cadbury product called Freddo Frogs. If you don't mind the price and want the real Australian experience, you can buy Freddo Frogs at Simply Oz – an Australian importer based in Ohio. This is the most expensive way, as you are paying a higher price for the product due to the fact that they have imported the chocolate, plus you have to pay for shipping to your home. I picked some up during my recent trip home to Australia – I can tell you that is even more expensive than shipping the Freddo Frogs, but so much more fun!
A much cheaper option is to make your own chocolate frogs. Chocolate Frog molds can be found at Amazon. This Chocolate Frog Mold
will make smaller chocolates than the Freddo Frogs, which are about 2 inches long, however most of the others I saw on Amazon were much too big.
The other option is to visit a candy shop or Amazon and buy some Gummi Frogs
. I found mine at my local Sweet Factory store. These are a great substitute if you don't want to buy the more expensive Freddo Frog or make your own chocolate frogs.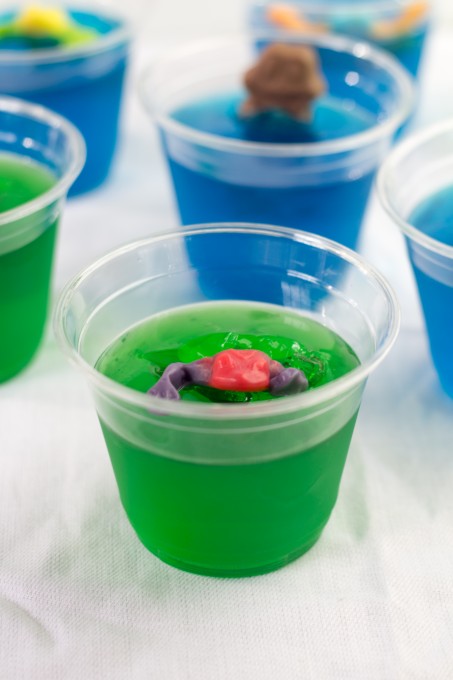 To insert the frogs into the Jello, I make a slit with a knife and insert the frogs. You can also just push the chocolate frogs in firmly.
The gummy frogs are a little harder to insert into the Jello. After making the split, I needed to use a blunt knife to gently push the gummy frog into the jello. The area around the gummy frog is not as neat either, but I like to think if a frog jumped into a pond there would be water splashing around the frog.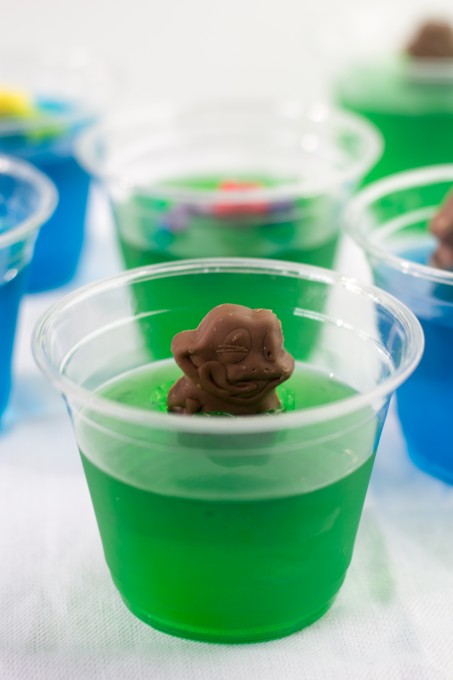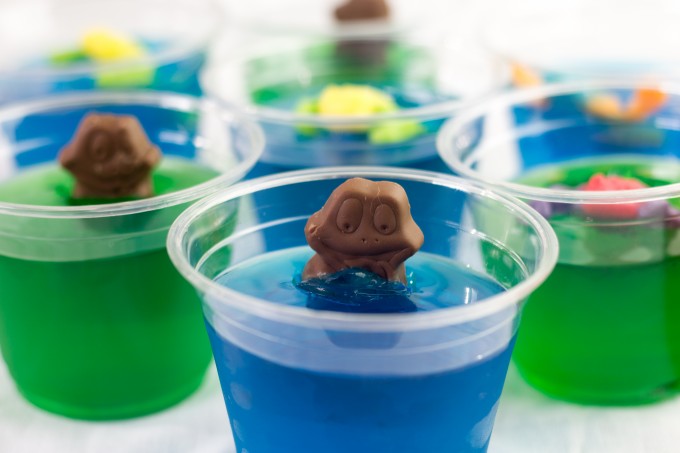 Frog in a Pond
2014-09-17 12:58:58
Ingredients
1 packet (3 oz) Berry Blue Jell-O
1 packet (3oz) Lime Jell-O
8 gummy or chocolate frogs
Instructions
Place 8 plastic cups on a tray.
Prepare the Jell-O according to packet directions, using a separate bowl for each color.
Pour the Lime Jell-O evenly between 4 plastic cups, then the Berry Blue Jell-O between the other 4 plastic cups. Refrigerate the cups for 4 hours or until firmly set.
Just prior to serving, make a slit in each cup of Jell-O and insert the chocolate or gummy frog into the slit.
Serve immediately.
Cookies or Biscuits? https://www.cookiesorbiscuits.com/