Popovers are another food which I had never heard of until I moved to America. It must be something about the word "pop". Popovers, Poptarts, Popsicles were all new foods or words when I first moved. Even "Pop" in reference to soft drinks/soda was a new word. I first discovered popovers in my favorite children's cookbook – Williams Sonoma Kids Baking
and this recipe is adapted from theirs.
Popovers remind me of a baked pancake in terms of the ingredients and taste – but then popovers change the game by being muffin shaped, hollow inside, soft on the inside and crispy on the outside. Apparently they are similar to Yorkshire pudding, however I have never eaten Yorkshire pudding to be able to confirm that!
In America, they are usually eaten as a breakfast food and served with butter, jam or honey. My kids love to eat their popovers with honey, but I personally prefer the jam!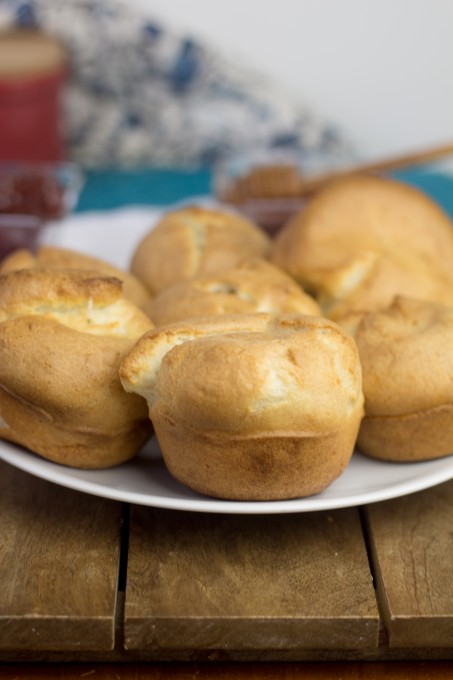 I make my batter in a blender – it's quick and combines the ingredients perfectly. The other added bonus is that I can pour them straight into the greased muffin tins.
When the Popovers are cooked, it's important to quickly puncture the top of the popover with a wooden skewer or tip of a knife to release the steam.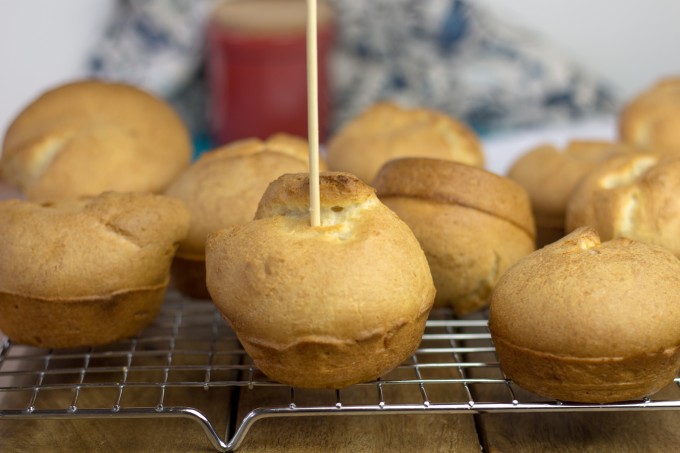 To change them up a bit, you could make these popovers savory by adding some Parmesan cheese to the batter.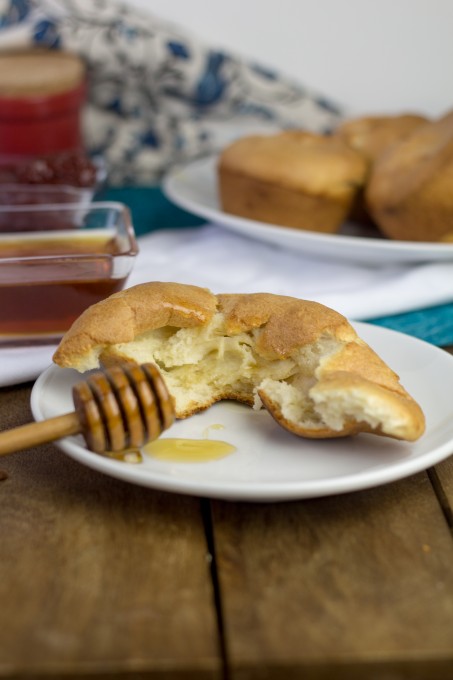 I have made these using Namaste Perfect Blend Gluten Free Flour. Regular wheat flour also works.
Popovers
2014-09-28 20:39:03
Ingredients
3 large eggs, room temperature
1 1/3 cup milk
3 tablespoons coconut oil, melted
1 cup gluten free flour blend or all purpose flour
1/2 teaspoon salt
Instructions
Preheat the oven to 425° F. Heavily grease a 12 cup muffin tin with butter or cooking spray.
In a blender, combine the eggs, milk and melted coconut oil. Put on the lid and blend on medium for a few seconds until the ingredients are blended.
Turn off the blender, then add the flour and salt. Re-cover and blend for about 10-15 seconds until the batter is combined.
Pour the batter evenly into the prepared muffin tins, filling each cup to about 2/3 full.
Bake in the oven for 28-30 minutes or until the popovers are puffed and well browned. Do not open the door of the oven during cooking.
Turn out the popovers onto a cooling rack, then pierce each popover with a wooden skewer to release the steam.
Serve immediately.
Notes
Vegetable oil can be used instead of coconut oil, if desired.
Cookies or Biscuits? https://www.cookiesorbiscuits.com/