We've lived in Seattle for over 10 years, yet I still love to head into Pike Place Markets. Springtime is my favorite time, before the hustle and bustle of Summer. The markets are full of color from the flowers and fruit markets. And of course, there are the fishmongers. Even the crowds of summer cannot keep me away though. We often visit the aquarium then walk up to the markets. On our last visit, I purchased some scallops. I'm actually not a huge fan of seafood, but I will eat scallops.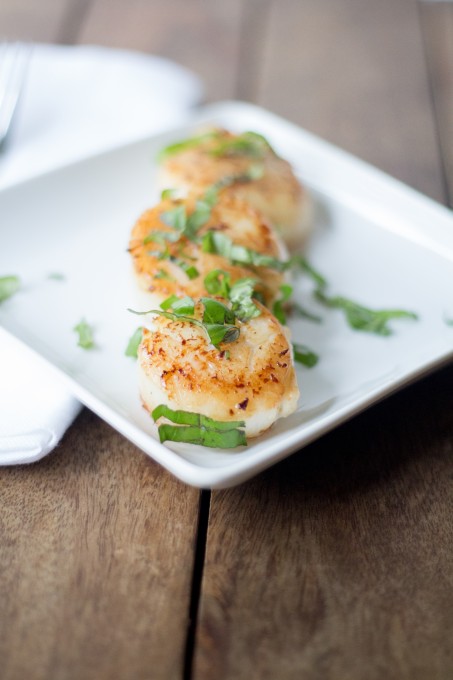 Depending on how you buy your scallops, you may need to remove the scallops from the shell, remove the roe and/or remove the muscle from the scallops. I was lucky that the my scallops were fully prepared, and just needed to be cooked. The roe is very obvious as it's orange. The muscle is white, and is located where it was attached to the shell. You can watch a video here which shows how to open and clean a scallop.
I cooked our scallops in a delightful herb butter. This recipe makes 1 stick of butter, but you do not use the entire stick in the recipe. I like to keep the leftovers in the refrigerator to use on steak. You could also use it to make some awesome garlic bread!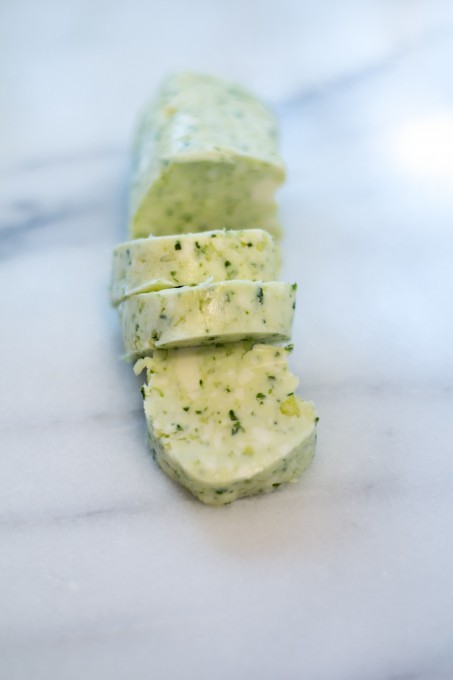 We ate these scallops as an appetizer and followed it up with some shrimp pasta. My family were in heaven! I'll give you that recipe next week!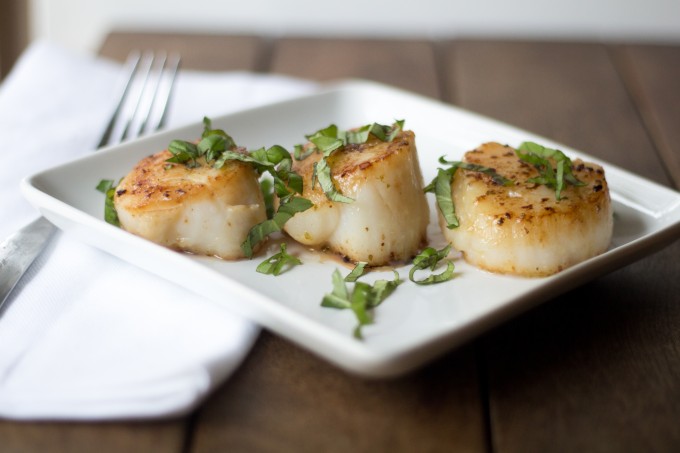 Just a little business note – it's summer vacation time right now and I am spending some time with my family in Australia. I treasure these days, as they pass so quickly. Because of this, I will be posting just twice a week until my children are back at school. Look out for recipes on Monday's and Thursdays! I'll be back posting three times a week in September.
Seared Scallops in Herb Butter
2014-07-21 13:33:25
Ingredients
3 cloves garlic
1 tablespoon fresh parsley leaves
1 tablespoon fresh basil leaves
4 oz (1 stick) butter, cubed
8-10 sea scallops
Instructions
In a food processor, chop the garlic, parsley and basil. Add the cubed butter, and process until the butter and herbs have combined.
Transfer the butter to a sheet of plastic wrap. Roll the butter into a log shape and completely cover the butter in plastic wrap. Refrigerate.
Remove the small muscle from the scallops, if not done by fishmonger. Rinse with cold water and thoroughly pat dry.
Add 1-2 tablespoons of the herbed butter to a large frying pan, over high heat. Once the frying pan is very hot, gently add the scallops, making sure they are not touching each other or crowded.
Sear the scallops, undisturbed, for approximately 2 minutes on each side. The scallops are cooked when they they have about 1/4 inch of golden crust on each side, and are translucent in the center.
Serve immediately.
Cookies or Biscuits? http://www.cookiesorbiscuits.com/