I love BBQ sauce. It goes well on burgers, pizza (bbq chicken pizza, anyone?), and as a marinate on steak. There is a huge range of flavors, from sweet, to spicy, to smokey. This Spicy Bourbon BBQ Sauce falls into the spicy category, but I know you've all worked that out from the name! It does have a sweet undertone, like all good BBQ sauces.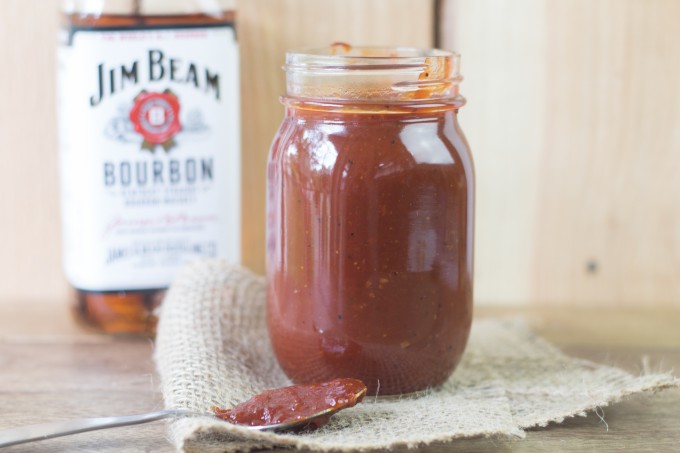 This Spicy Bourbon BBQ Sauce really has a bite thanks to the addition of cayenne pepper. It's a husband sauce, not a children's sauce. Although I have to admit my 10 year is working on her spice tolerance. Maybe she could handle this sauce too. If you don't want a spicy BBQ sauce, you can reduce or completely cut the cayenne pepper in this recipe.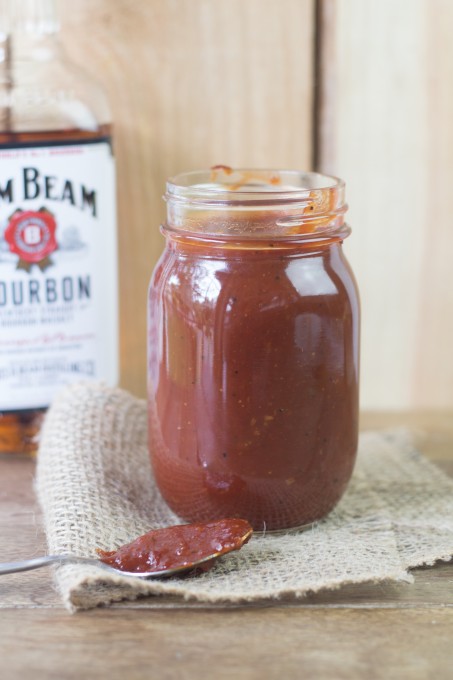 I have to highlight some Australian and American word differences here. This BBQ Sauce recipe calls for Tomato sauce. Tomato sauce in America is not the same as tomato sauce in Australia. In Australia, tomato sauce is pretty much equivalent to American ketchup. It's what you would put on your sausages or potato fries/chips. American tomato sauce is the same as tomato puree. It is usually canned, and contains no sugars – just spices and flavorings. The main lesson to be learned here is – if you are in America, use Tomato Sauce; if you are in Australia, use Tomato Puree.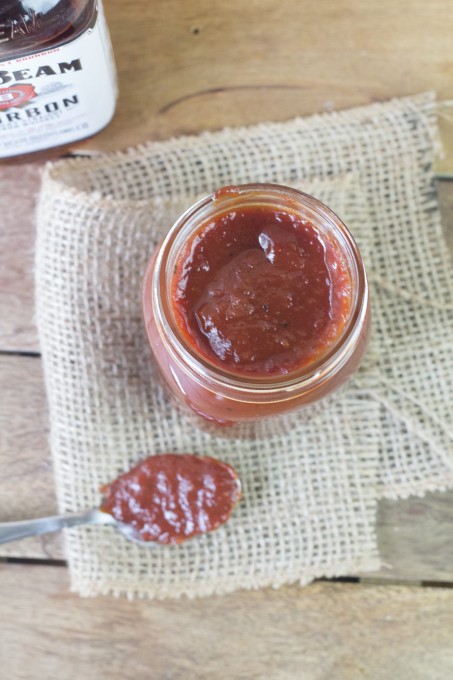 This recipe reduces down to approximately one pint – the perfect amount to fit into a mason jar! Store your Spicy Bourbon BBQ Sauce in the refrigerator.
Spicy Bourbon BBQ Sauce
2014-06-12 16:42:42
Ingredients
1/2 cup bourbon whiskey
4 cloves garlic, chopped
1 cup onion (about 1 medium onion), chopped
1 can (15 oz) tomato sauce
1/3 cup apple cider vinegar
1/2 cup brown sugar
1/4 cup honey
3 tablespoons Worcestershire sauce
1/4 teaspoon cayenne pepper
1/2 teaspoon black pepper
1 teaspoon salt
1 teaspoon paprika
1 teaspoon ground mustard
1 tablespoon bourbon whiskey
Instructions
Saute the onion and garlic in 1/2 a cup of bourbon until the onions are soft and the bourbon has evaporated - about 4 minutes.
Transfer the onion and garlic to a food processor, and puree.
In a large saucepan, combine the pureed onion, tomato sauce, vinegar, sugar, honey, Worcestershire sauce, cayenne pepper, black pepper, salt, paprika, ground mustard, and 1 tablespoon of bourbon whiskey.
Bring the mixture to a boil, and then reduce the heat to low. Allow to simmer uncovered for about 30 minutes, or until desired consistency is achieved.
Cookies or Biscuits? https://www.cookiesorbiscuits.com/