Red Robin is one of my favorite places to eat out. It's casual enough that it doesn't matter if the kids are wiggly or they forget to talk in their "inside" voice. They just fit in with the rest of the crowd. Also they came out with information on allergens quite early, so it was a place that we could safely eat at as a family. One of my favorite burgers is their California Chicken Burger, so it's no wonder that I have created my own version for those nights where I feel like some homemade Red Robin.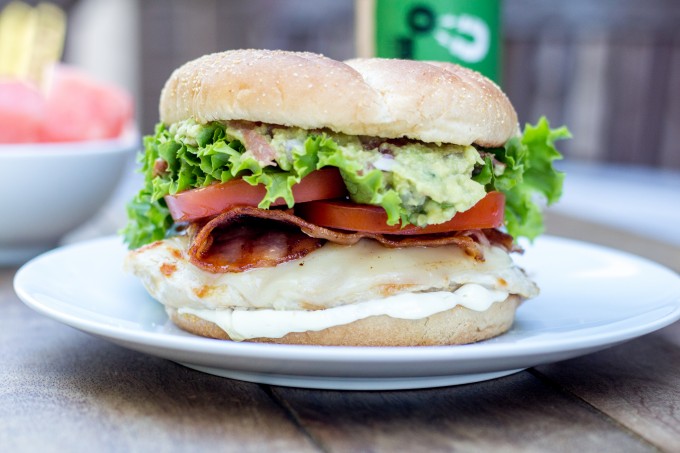 California is well known for their avocado growing – producing about 90% of the US's avocados, so I'm guessing that the addition of avocado to the burger is what makes it "Californian". For this burger, I use home made guacamole . Usually I make a very chunky guacamole, but for this burger I prefer to make it a little bit smoother. Just mash those avocados a little more, and dice the tomato and onions a little finer. For a really quick meal – buy some fresh guacamole from the stores.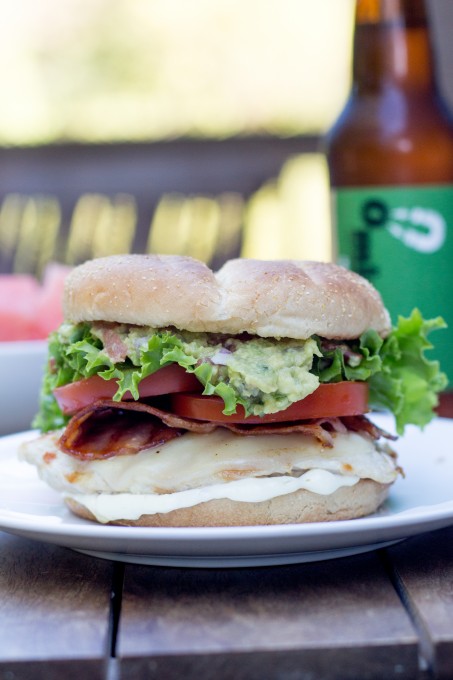 Just some useless information for you enjoyment. Did you know that the population of California is 38.3 million while the population of Australia is only 22.8 million? My love and I were talking about this the other night – and amazing over the fact that Australia is not much smaller than America yet the population is less than the population of California.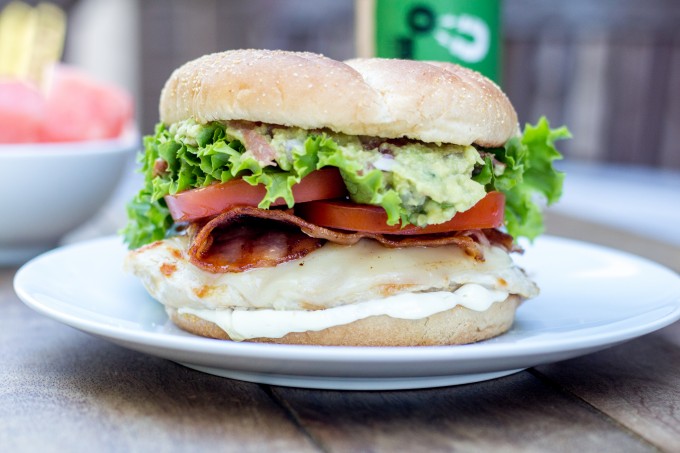 California Chicken Burger
2014-09-07 22:48:30
Ingredients
4 chicken breasts
4 hamburger buns
8 slices bacon
mayonnaise
4 provolone cheese slices
8 tomato, sliced
4 lettuce leaves
8-12 tablespoons guacamole
Instructions
Beat the chicken with a meat mallet to even out the height of the chicken (the chicken breast should be flat to ensure even cooking)
Brine the chicken breast, if desired, by soaking the chicken for 30 minutes in salty water. (1 cup salt for each gallon of water)
Preheat a well oiled grill or grill pan - oiling with either butter or vegetable oil.
Cook the chicken breast over medium-high heat, about 2-4 minutes per side or until no pinkness is left in the center.
During the last minute of cooking, place a slice of provolone cheese on each chicken breast.
Meanwhile, grill the bacon to your desired crispiness.
To make the burgers, layer the bottom of the hamburger bun with mayonnaise, chicken breast with provolone cheese, bacon, tomato, lettuce and guacamole.
Cookies or Biscuits? https://www.cookiesorbiscuits.com/