It is birthday season in our household. We have 3 celebrations between Thanksgiving and Christmas. It's part of the reason why I've been missing for nearly 2 weeks! And with birthday season, it's only natural that we have Chocolate Cakes. This Chocolate Cake was the very first gluten free cake I made when my husband needed to stop eating gluten. And it's the cake I keep on coming back to, year after year. I've tried others, but this is hands down my favorite. It's a lovely dense, rich chocolate cake – not quite as rich as an Australian mud cake but getting close.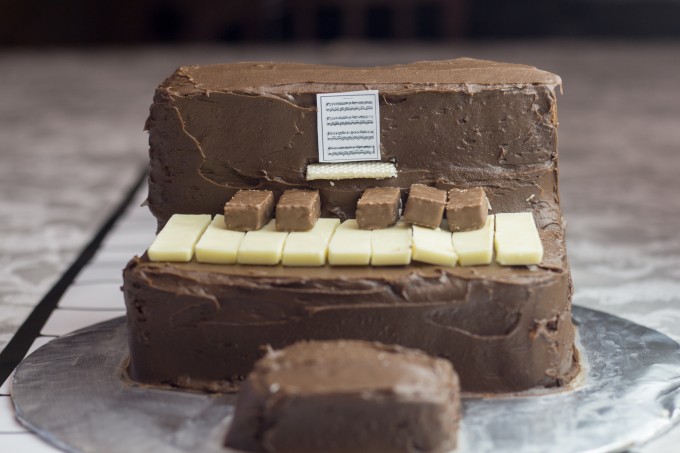 As you can guess by now, I love to bake – however decorating is not my forte. Despite this, my children love to get a themed cake each year and I always have fun making their cakes. They don't mind my basic decorating skills – and hey – it tastes fabulous. This year my daughter requested a piano cake – again – she loves playing and in the midst of fifth grade busyness and 11 year old stresses – she retreats to the piano to relax. The design for this cake comes from a book from my childhood – The Children's Birthday Cake Cookbook. Occasionally you can pick up a copy secondhand – and I would encourage you to grab it if you ever see it.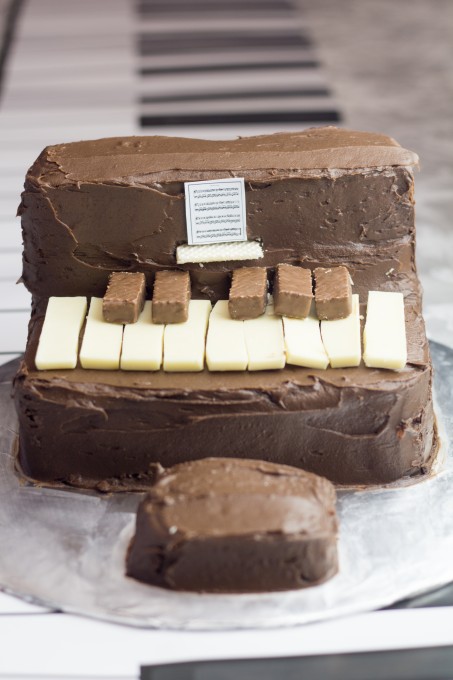 I begin making a piano cake by baking the chocolate cake recipe at the bottom of this page. It has been slightly adapted from a recipe from Bette Hagman's Gluten Free Gourmet. If your flour mix does not contain xanthan gum, you will need to add 1 1/4 teaspoons. I use Namaste Perfect Flour Blend. I've given you the Amazon link here, but it's much cheaper to buy at Costco!
This cake works for this piano cake, as I find that a fairly dense cake is able to stand on it's side easier. If you don't use this gluten free chocolate cake recipe – choose a recipe such as a German Chocolate Cake or a Mud Cake.
I use one log/loaf pan, measuring 9 inches long and one square cake pan, measuring 8×8. Try cooking the cake the day before you want to frost, as the cake will be less crumby.
When you are ready to frost the cakes, slice the end of the log cake off so that it is the same width as the square cake. Slice a section, about 2 inches, of the log cake horizontally, to the desire width of your keyboard. I cut mine slightly wider than the candy I used for the key board.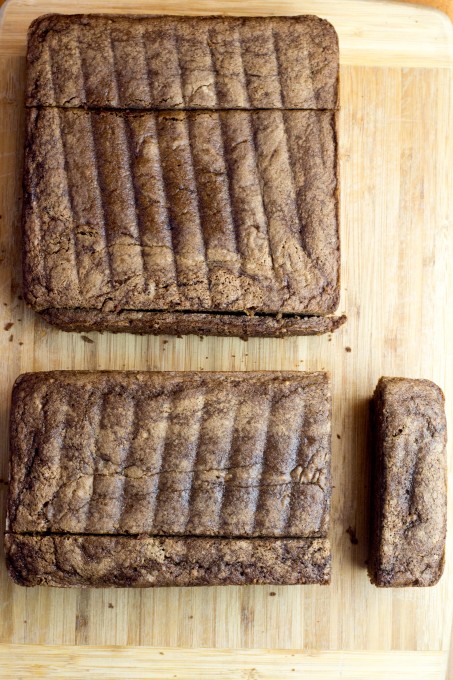 Part of that 2 inch section that you cut off can be used to make a piano stool. I make mine square, but you could make a round piano stool by using a cookie cutter to cut a circle.
To assemble the piano, stand the large piece of cake up right, against the log cake. Place the square piano stool in front.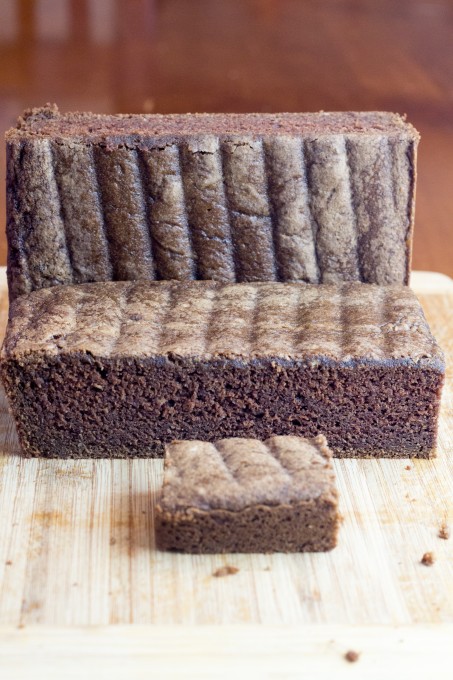 Finally it is decorating time. Either make your own chocolate frosting, or use 2 cans of store bought frosting. I used white chocolate, broken into strips and gluten free wafer cookies for the keyboard. If I was not needing my cake to be gluten free, I would have used white and brown Kit-Kat's.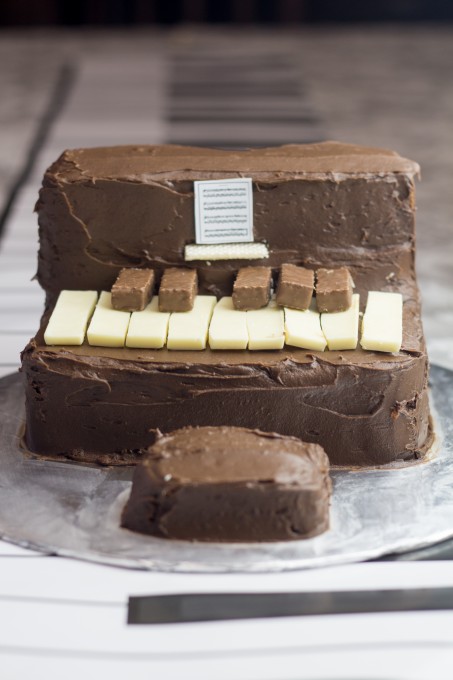 I used a gluten free wafer cookie (mine was three layered but I just cut off one layer) for the music stand, and printed some music which I found on-line. Australian readers will be able to find wafers where ever they can find ice-cream cones. I miss those wafers!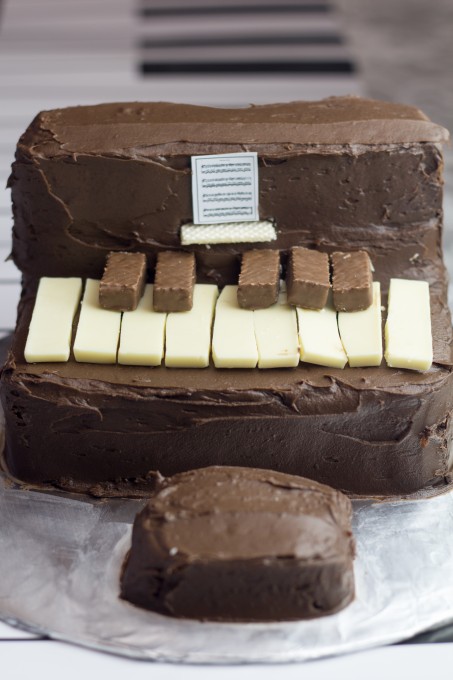 All up, it is a fun cake to make – and pretty easy. I'm sure if you are good at decorating cakes you will have a fabulous looking cake! Fondant would look amazing but my kids prefer the taste of regular frosting – and this cake was for my child. I choose to please them over looking good!
I like to think that my cake looks like one of those old fashioned, beat-up pianos that you might have found in a saloon! Not that I would tell my daughter that – perhaps we could call it an antique piano for her 🙂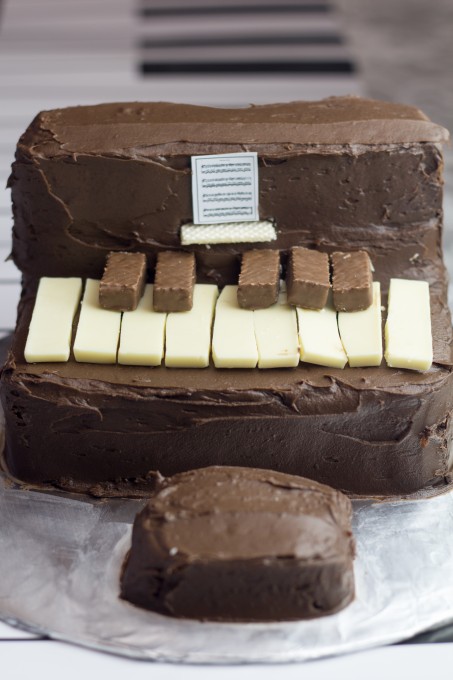 Gluten Free Chocolate Cake
2014-12-11 22:50:58
Ingredients
2 1/4 cups gluten free flour blend, containing xanthan gum
1 1/4 teaspoons baking soda
1 teaspoon baking powder
1 teaspoon egg replacer
1/2 teaspoon salt
4 oz semi sweet chocolate
1/2 cup hot water
1 cup (2 sticks) butter, at room temperature
2 cups sugar
4 eggs
1 cup buttermilk
1 teaspoon vanilla
Instructions
Preheat the oven to 350°F and grease two 9" cake pans or three 8" cake pans. To make the piano cake, grease one 8" square cake pan and one 9" loaf pan.
In a medium bowl, combine the flour, baking soda, baking powder, egg replacer and salt.
In a small microwave bowl, combine the semi-sweet chocolate and hot water. Place in the microwave, on 30% power/defrost for about 2 minutes. Stir the chocolate to ensure all the chocolate has melted. If needed, microwave the chocolate mixture for another 20 seconds.
In a large standing mixing bowl, beat the butter and sugar for about 3-4 minutes or until the mixture is creamed.
Add the eggs, one at a time, beating each egg well with each addition.
Add the chocolate mixture and beat until combined.
Add the flour alternately with the buttermilk and vanilla, in two additions. Beat on a low speed until well combined.
Divide the mixture between the two greased pans and bake for 35-45 minutes or until a toothpick comes out clean.
Cookies or Biscuits? https://www.cookiesorbiscuits.com/