Fairy cakes with cream and jam, and wings covered in confectioners sugar – it's really such a delightful image. Fairy cakes remind me of childhood parties on hot summers days, where the parents served up watermelon and fairy cakes and chocolate crackles. They also remind me of little girl tea parties, with tiny cups and a plate of cakes.
It's wonderful how a plain cupcake, with just a small amount of jam and cream and some cut out cake, turns into a little girl's fairytale.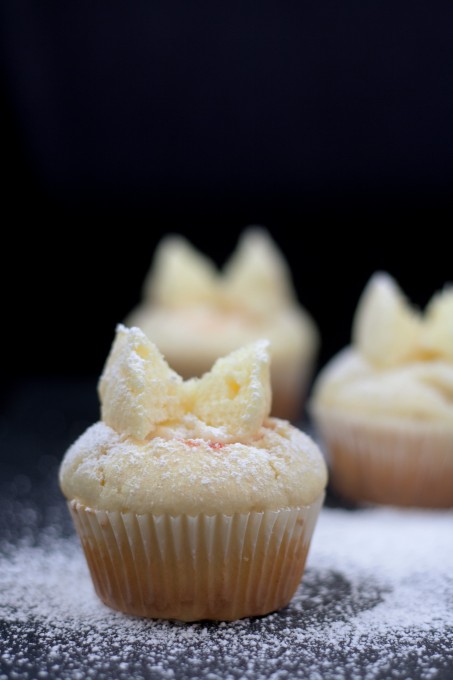 I have noticed that some people call these "Butterfly Cakes" and I can see why. Both fairies and butterfly have delicate wings – and the cake wings dusted with confectioners sugar give that delicate look.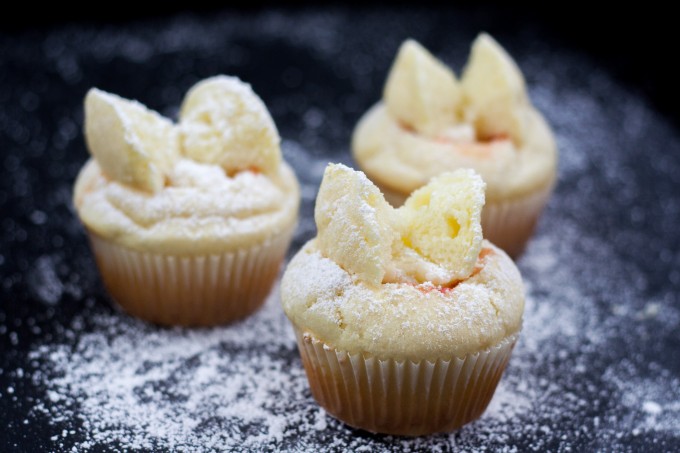 Mock cream is type of frosting, made to look like cream. However that is where the similarity ends. It's more like a sugary frosting. Mock cream featured in many bakery foods when I was a child, as it didn't need to be refrigerated. But I have noticed that most bakeries use fresh cream now. These fairy cakes would taste wonderful with fresh cream if you wanted to cut down on the sugar and fat.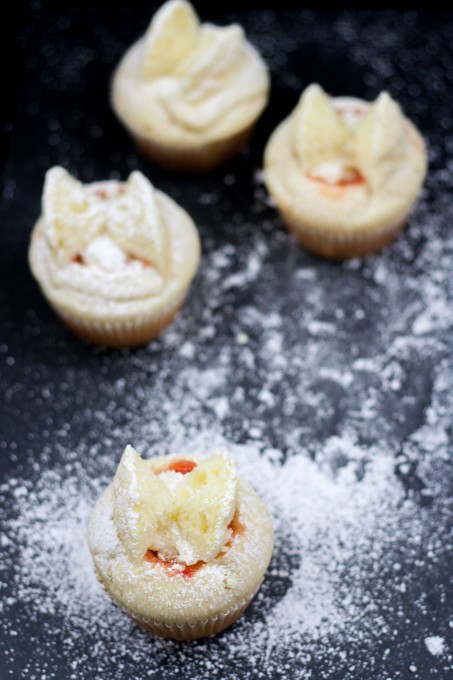 I have a weakness for fairy cakes. I won't mention how many I've eaten today!
Fairy Cakes
2014-03-19 14:01:50
Ingredients
4 cups plain flour
6 teaspoons baking powder
1 teaspoon salt
8oz (2 sticks) butter
2 teaspoons vanilla
1 cup sugar
4 eggs, at room temperature
1 1/2 cups milk
Mock Cream
1/3 cup water
1 cup sugar
4oz (1 stick) butter
1/2 teaspoon vanilla
Instructions
Preheat the oven to 390°F and grease or line 2 large muffin pans.
Add all cake ingredients into a standing electric mixer bowl. Beat at low speed for 1 minute and then increase the speed to medium-high and beat for a further 2 minutes.
Spoon the batter into the prepared cups, filling approximately 2/3 of each muffin cup.
Bake for 15-18 minutes, or until a toothpick comes out clean.
Allow cakes to cool completely.
Make a hole in each cupcake by cutting out a circle from the top of each fairy cake. Angle the knife towards the center of the cupcake to get a lid shape. This action is similar to cutting a lid in a jack-o-lantern. Cut the removed cake circle in half and reserve.
Spread strawberry jam on the surface of the hole. Fill the cakes with mock cream. Place two cake semicircles on top of the cream to form wings. Sprinkle with confectioners' sugar.
Mock Cream
To make the cream, place the sugar and water in a saucepan. On medium heat, stir the liquid until the sugar dissolves. Wipe down sugar from the sides of the saucepan using a wet pastry brush. Do not allow the syrup to boil until all the sugar has dissolved.
Once the sugar has dissolved bring the syrup to a boil. Allow to cool completely.
Beat the butter and vanilla in a standing electric mixer, until the butter turns white, about 2 minutes. Gradually add the syrup to the butter and beat until thick, about 5 minutes.
Cookies or Biscuits? https://www.cookiesorbiscuits.com/