Fluffy light pancakes are a delightful way to start the morning. Or perhaps, if you are in Australia, to end the day! Pancakes are often eaten as a dessert in Australia, however, thanks to McDonalds have become popular for breakfast as well. When pancakes first appeared on the Australian McDonalds menu in the 90's, they were served from 6.00pm until the breakfast menu ended the next morning. As a teenager, we would stop by McDonalds in the evening and buy hotcakes and an ice-cream cone. The ice-cream would be tipped onto the hotcakes and dessert was served! At home, it was a little more refined as I would have eaten them with berries, a scoop of ice-cream and some caramel sauce. Mum was even more refined and ate hers with lemon juice and sugar.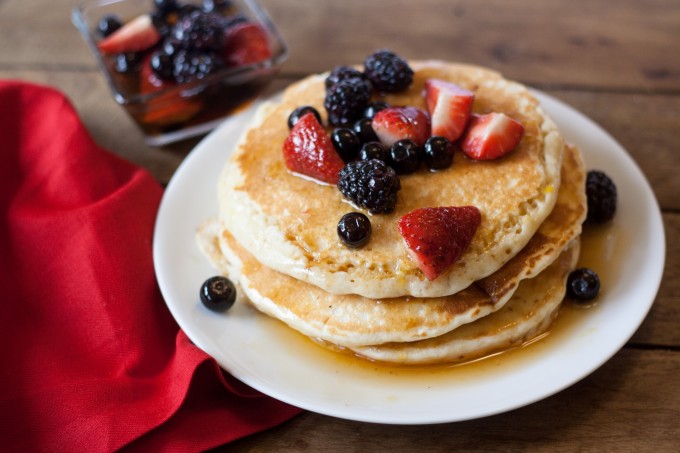 I've been making these pancakes for years, but this morning I forgot to add the butter. And guess what? They still tasted great, so I think from now on I'm going to skip the butter. I seem to be making a lot of mistakes lately: I've been wanting to blog about my favorite cake and I keep on forgetting something and it's flopped twice now! Can you believe I forgot to grease my cake pan today? Where has my brain gone? My kids have been happy though, as they love my mistakes. It's a free for all, rather than "You can only have one slice after I've finished photographing!"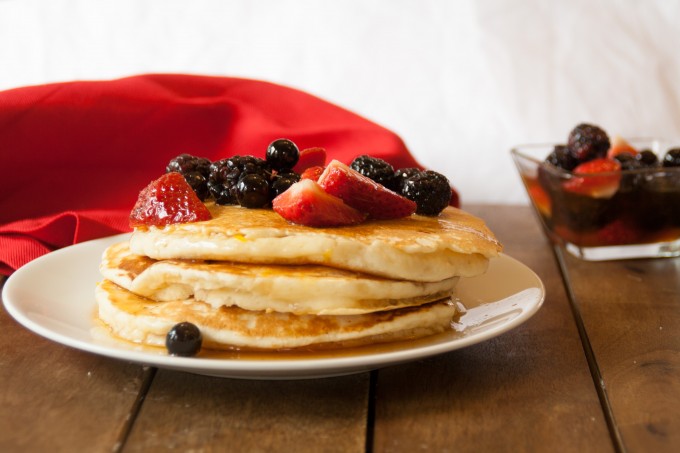 Normally, we just pour maple syrup over the top of our pancakes and berries but this morning I wanted to change things up a little. I wanted to make a berry sauce but wanted the fruit to be whole still. That's where the Orange Maple Syrup comes in!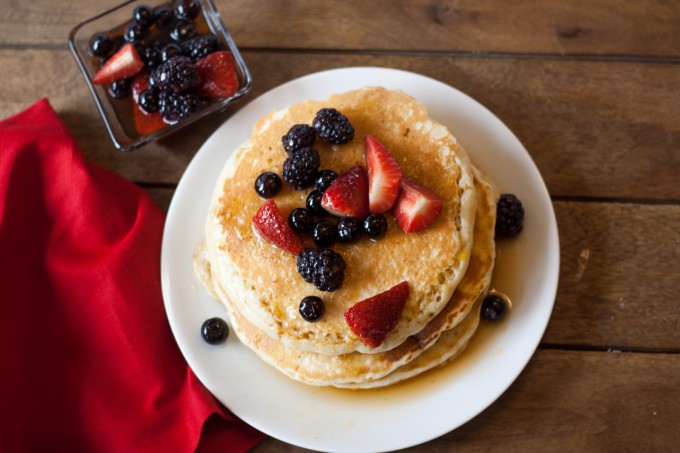 In a saucepan over a medium-low heat, I combined some maple syrup with freshly squeezed orange juice. Once that was hot, I removed it from the stove top and added the berries. I let them sit for about 5 minutes to absorb some of the syrup and warm up slightly. It was delicious. The maple syrup was the strongest taste, but there was a soft undertone of orange seeping through. The berries were still firm – just how I wanted.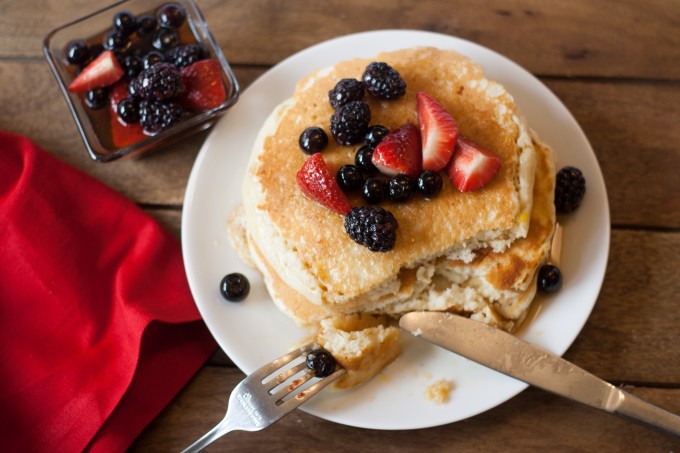 Strawberries are just coming into season now (although my own backyard strawberries won't be ready until June) so this is a delicious way to use some of those berries while the price is good and they taste so naturally sweet.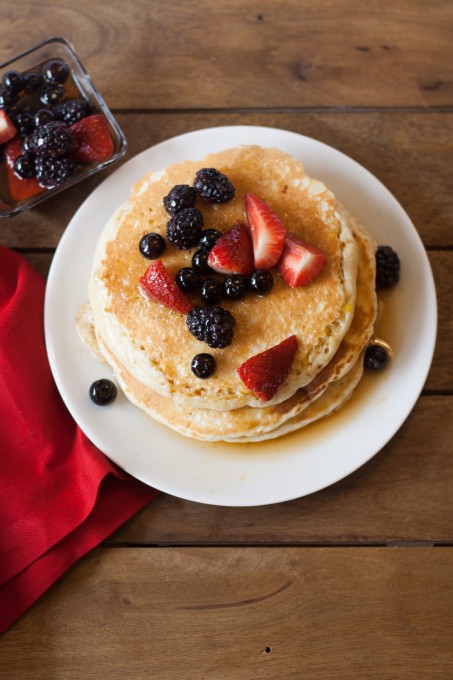 Writing this post out is making me want to have pancakes for breakfast again tomorrow!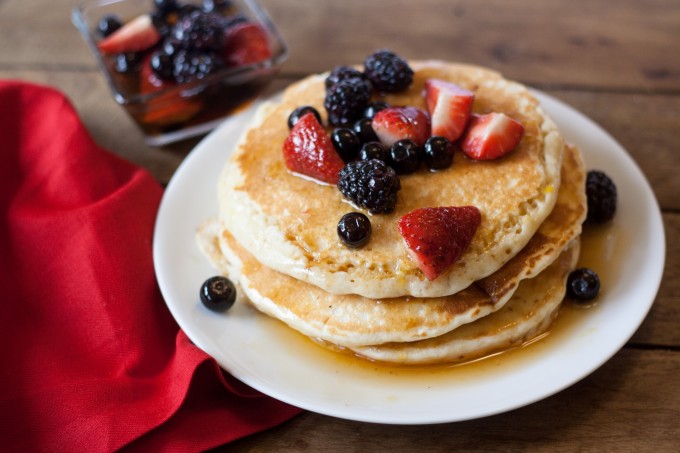 Pancakes with Berries in Orange Maple Syrup
2014-03-29 23:01:01
Ingredients
1 ½ cups self-rising flour
1 tablespoon sugar
1 ¼ cups milk
1 large egg, beaten
3 tablespoons butter, melted (optional)
oil or butter for greasing
Berries in Orange Maple Syrup
1/2 cup maple syrup
2 tablespoons orange juice
1 cup seasonal berries such as raspberries, blueberries, strawberries or blackberries.
Instructions
In a large bowl, mix the flour and the sugar.
Make a well in the center and pour in the milk, egg and butter (if using). Mix the batter until it is smooth. If you would like thinner pancakes, add an extra ¼ cup milk.
Heat a skillet over medium high heat. Use either butter, coconut oil or cooking spray to grease the surface of the skillet.
Pour 1/2 a cup of batter onto the skillet. Cook the pancake for 1-2 minutes, or until it begins to form air bubbles over the whole pancake.
Use a spatula to turn the pancake over and cook the second side for up 1 minute, or until golden underneath.
Serve hot with the berries in orange maple syrup.
Berries in Orange Maple Syrup
In a small saucepan, over a medium-low heat, add the maple syrup and orange juice. Bring the syrup to a boil then remove from the heat.
Add the berries and allow to sit for 5-10 minutes.
Cookies or Biscuits? https://www.cookiesorbiscuits.com/