Chocolate muffins with white chocolate and semi-sweet chocolate chips are a chocolate lovers dream! I love eating these Triple Chocolate Muffins when they have just come out of the oven. The chocolate chips have melted and each bite is full of gooey chocolate perfection!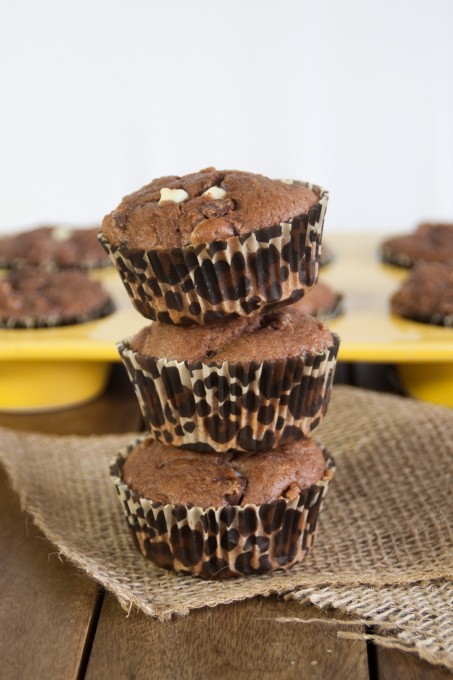 I have been making these chocolate muffins for nearly 20 years – yes, I'm that old! I have a friend who was a Tupperware consultant back in our younger days. We had a party to support her new business, and during the party we made these muffins. I fell in love. I have tried other recipes over the years but I keep coming back to this one.
They are very simple to make too, which is always a plus in my eyes. All of the dry ingredients are put in a bowl, then the wet ingredients are added. After mixing with a wooden spoon, each muffin paper is filled. Place them in the oven for 20 minutes and a delicious breakfast or snack is ready.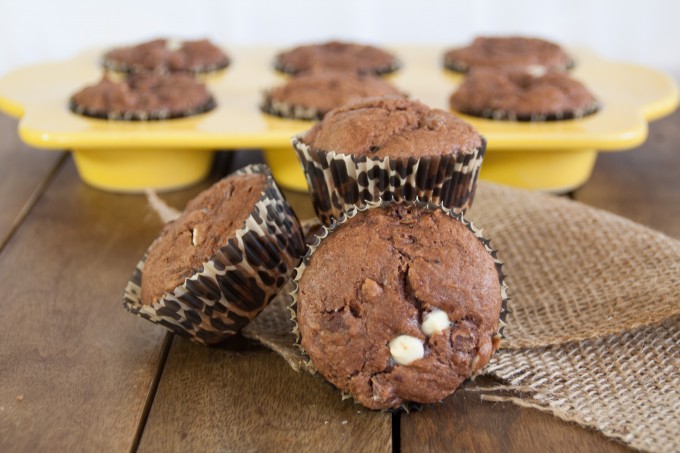 These muffins freeze really well. The recipe makes about 24 muffins. Unless you are feeding a large crowd, you are probably going to need to freeze some of these Triple Chocolate Muffins. Like most muffins, they taste best when they are fresh. Keep out enough to eat in the next 24 hours and put the rest in a freezer bag. Pull out a muffin when you are having a chocolate craving. 20 seconds in the microwave and it tastes like you've just taken it out of the oven.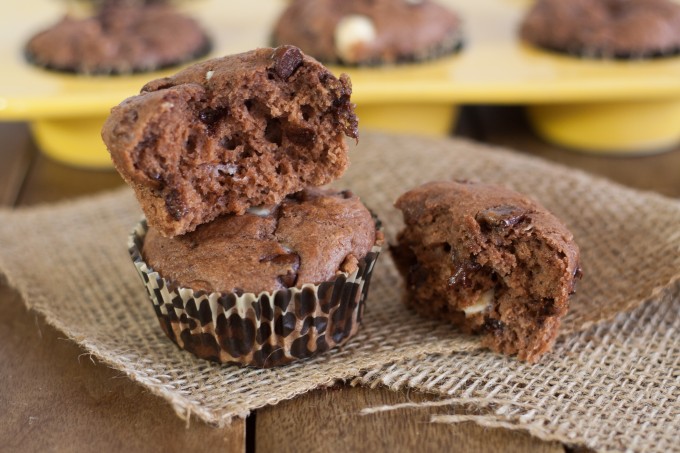 Triple Chocolate Muffins
2014-03-31 22:27:14
Ingredients
3 cups all purpose flour
1 tablespoon baking powder
3 tablespoons cocoa powder
1 ½ cups brown sugar
2/3 cup semi sweet chocolate chips
2/3 cup white chocolate chips
1 ¼ cup milk
4 oz (1 stick) butter, melted
2 eggs
Instructions
Preheat the oven to 320° F (160° C)
Line a muffin pan with muffin liners or grease the muffin pan.
Combine all the dry ingredients in a large mixing bowl.
Add the butter, milk and eggs and mix with a wooden spoon until all the ingredients are blended.
Spoon the batter into the prepared cups, filling approximately 2/3 of each muffin cup.
Bake in the oven for 20 minutes.
Notes
Once the muffins are cool, freeze any muffins which will not be eaten in the next 24 hours. Reheat a muffin in the microwave for 20 seconds for a fresh, just out of the oven, feeling!
Cookies or Biscuits? https://www.cookiesorbiscuits.com/