I had never tasted Chili until I moved to America. Are you shocked? How could I have missed this classic food for all those years of my life? I have now been making Chili for 12 years and this Slow Cooker Beef Chili is my favorite recipe. The convenience plays a huge role in that, but I also love the blend of chili with ground beef and tomatoes. Of course it's got some other great spices to give it a bold taste, and you can't dismiss the kidney beans!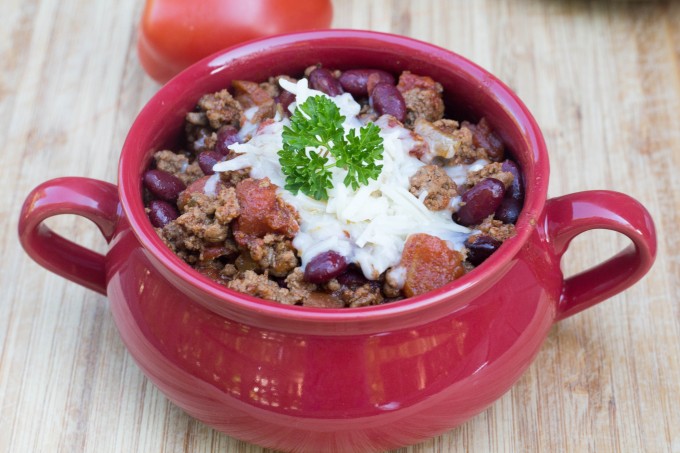 We moved to America when I was 32 weeks pregnant. Crazy, I know! My love had been offered his dream job and we had been waiting for our Visas to be approved. We told the company that the last day I could fly was October 22 and if the paperwork hadn't come through then we would wait until February, when our baby would be a few months old. October rolled around, and we were sure that we would be moving in February. But October 2 happened! We got the call saying that the Visas were approved and they had plane tickets for – you guessed it – October 22nd.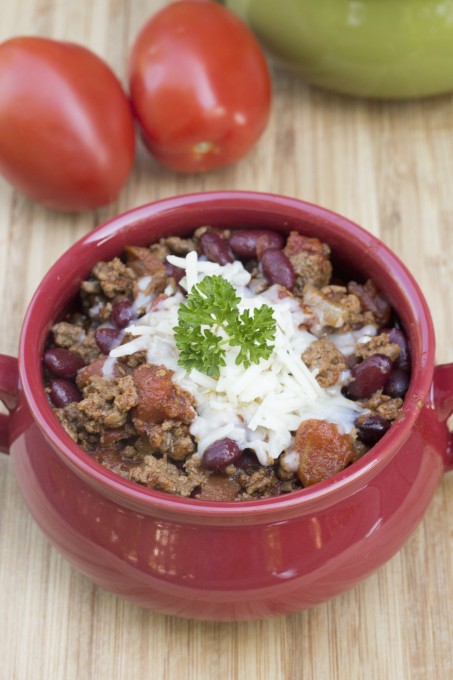 Baby arrived 2 weeks early, so it was just 6 weeks after arriving in America that I was introduced to the world of motherhood. I have to admit it was tough being on the other side of the world, not knowing anyone and not having mum nearby. But we survived, and I now have a delightful 12 year old who I wouldn't trade for the world. Like many new mums, after the glow of new motherhood faded, I looked at my body and thought "Oh dear, what has happened?" So off to Weight Watchers I trotted, babe in arms, to help loose that baby weight. One of the first recipes I was given was a Beef Chili.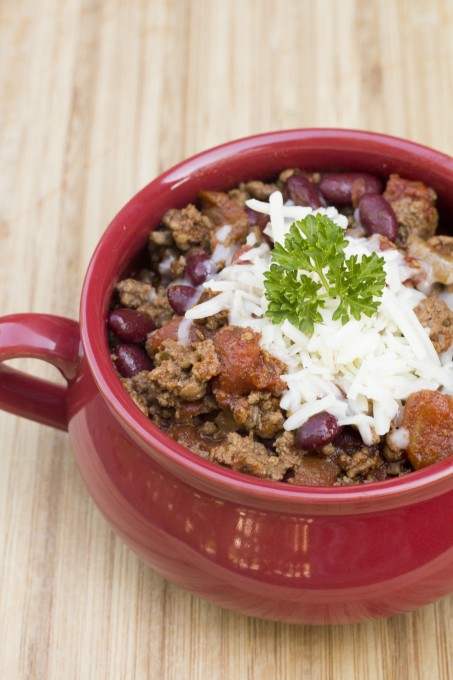 Beef Chili has become a staple in my house, although over the years I have altered the Weight Watchers recipe to suit my tastes. Given any busy day, chances are the family are going to come home to this slow cooker meal. There are no complaints – except from my little picky 5 year old but I'm working on that!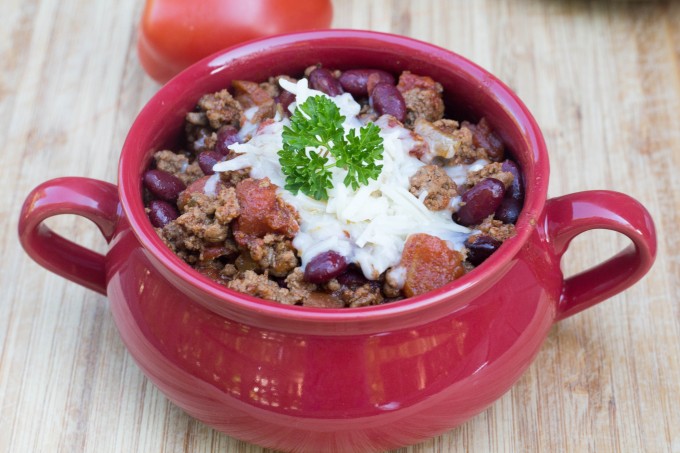 Slow Cooker Beef Chili
2014-05-01 23:36:45
Ingredients
1 teaspoon canola oil
1 lb ground beef
1 cup onion, finely chopped
2 garlic cloves
1 tablespoon chili powder
1 teaspoon caraway seeds
1 teaspoon paprika
1 teaspoon salt
1 teaspoon cracked peppercorns
2 14 oz cans tomatoes, diced
½ cup beef broth
1 14 oz can kidney beans
Instructions
In a large frying pan, heat the oil over medium-high heat. Add the ground beef and cook until the meat is no longer pink. Transfer the beef to the slow cooker.
Reduce the heat of the frying pan to medium. Add the onion and garlic, and stir until the onion is soft. Add the chili powder, caraway seeds, paprika, salt and pepper. Stir for approximately 1 minute.
Stir in the tomatoes and beef broth. Bring the mixture to a boil and then transfer it to the slow cooker.
Add the kidney beans to the slow cooker. Stir.
Cover and cook on Low for 8-10 hours or on High for 4-5 hours.
Cookies or Biscuits? https://www.cookiesorbiscuits.com/