Roasted Chicken, Potatoes and Asparagus is a fantastic meal to make when you want to impress your family or friends but don't want to spend a lot of time cooking. It's all made in one dish and takes about 40 minutes. The chicken is coated in a delicious mustard and herb sauce- so you don't have to spend hours marinating the meat. That's always a plus in my books because on most days I haven't planned dinner hours ahead of time. I wish I was that type of person, but the truth is I'm a bit too scatterbrained busy for that sort of planning. I'm more of the "what do I feel like eating right now" type of cook.
I found the original recipe in a Weight Watchers Cookbook. I have always found that they have fantastic recipes – in fact I don't think I've ever disliked anything I've made from a Weight Watchers cookbook. I have modified it slightly to cater for a larger family and made a few slight adjustments to the ingredients.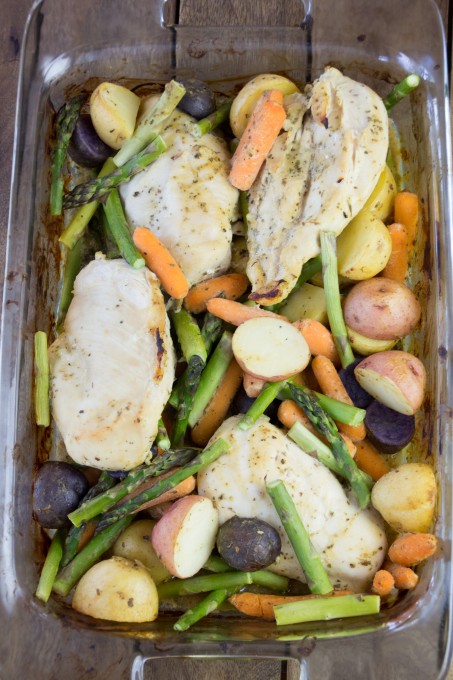 I almost didn't want to eat this last night – the colors are so pretty. The purple of the potatoes, the green of the asparagus and the orange of the carrots, give it a festive feel. However, the aroma was calling me and obviously my family thought the same thing. Everyone walked into the kitchen at some point, asking what I was making for dinner because it smelled great.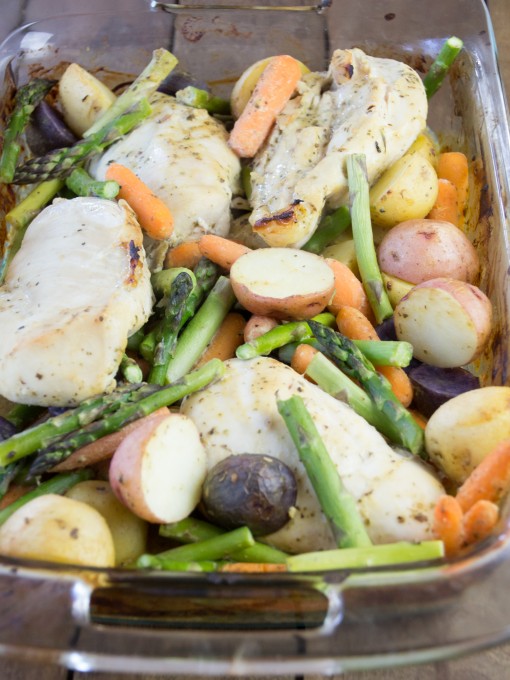 As always, it lived up to it's smell. I could cry on those nights when I make something that smells fantastic but the first bite doesn't live up to the aroma. Even my 10 year old, who isn't a huge chicken fan ate this. Of course, my 5 year old just said "I don't like chicken". One day, one day. He liked it as a toddler so I'm hoping he'll go back to eating chicken. It would be nice to make a meal that wasn't sausages or fish and have the whole family enjoy it.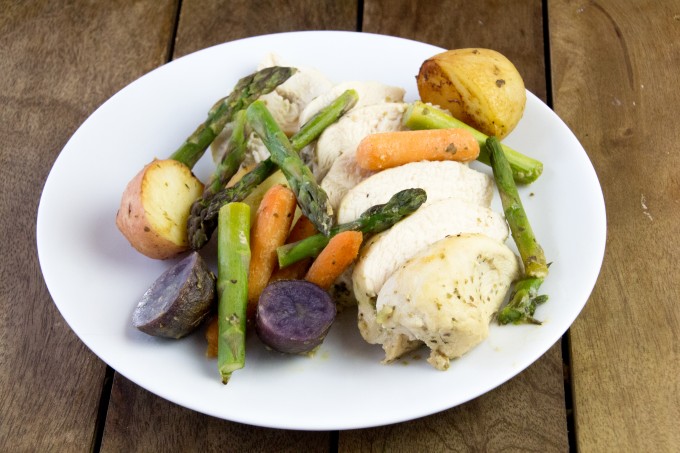 We served this meal with a delightful Riesling
from Patit Creek. Last weekend I was able to attend a photography class with Cork and Click which was hosted at Patit Creek's wine tasting room. Talk about a fun concept – we got to learn more about our cameras and taste wine at the same time. This Riesling was my favorite, and this meal was the perfect match.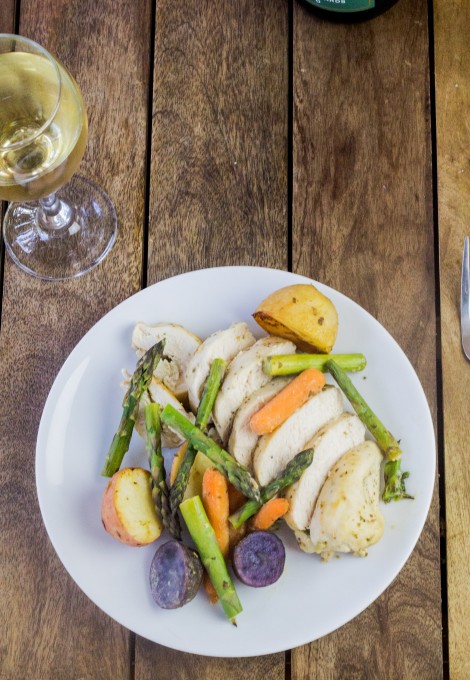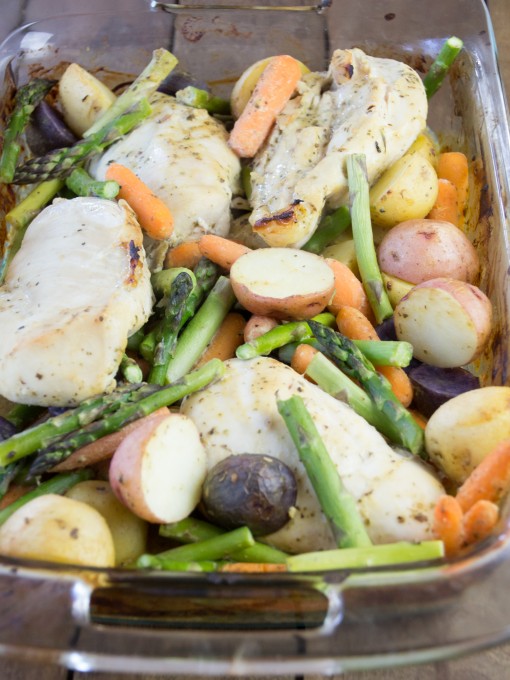 Roasted Chicken, Potatoes & Asparagus
2014-05-27 21:50:57
Ingredients
4 tablespoons dijon mustard
2 teaspoons Marjoram
1 garlic clove, minced
2 teaspoons olive oil
1/2 teaspoon salt
2 teaspoons honey
2 lb chicken breasts
1 lb small potatoes, cut in half
8 oz carrots
10 oz asparagus
Instructions
Preheat the oven to 400°F and spray a 9x13 baking dish with non-stick spray.
In the large baking dish, combine the mustard, marjoram, garlic, olive oil, salt and honey.
Add the chicken, potatoes and carrots to the casserole dish and toss, making sure all the ingredients are coated with the mustard sauce.
Roast the chicken for 25 minutes.
Meanwhile, cut the tough ends of the asparagus off and discard. Cut the remaining asparagus into 2 inch lengths.
When the chicken has cooked for about 25 minutes, add the asparagus and toss, covering the asparagus in the mustard sauce.
Continue to roast the chicken for another 12-15 minutes or until the internal temperature reaches 170°F and the vegetables are tender.
Cookies or Biscuits? http://www.cookiesorbiscuits.com/