No-Bake Lemon Cheesecake is one of my favorite desserts. I just love the creamy texture and the delicate lemon flavor. I could eat cheesecake all day, and have to admit that I usually eat too much when I make this dessert.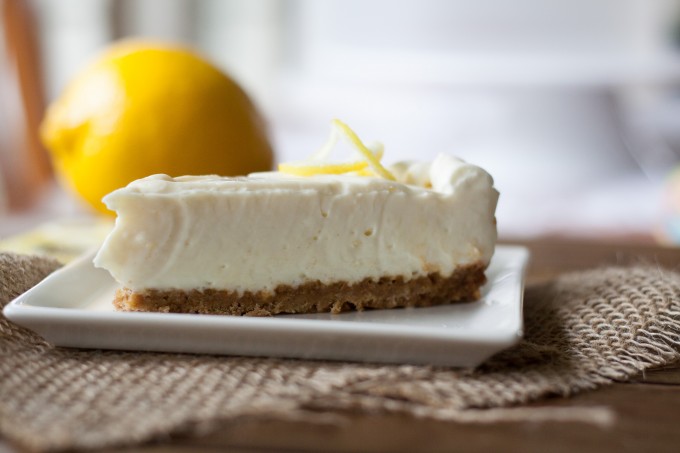 Growing up, this was the only sort of cheesecake I ever ate. I had heard of baked cheesecakes, but they were not really common in Australia. No bake cheesecakes ruled the day – we called them Continental Cheesecakes. There was even a delightful bakery near our house called The Continental Cheesecake Shop. That place was heaven on earth, with the huge variety of no-bake cheesecakes. These days, there are still Cheesecake Shops, alas my childhood favorite is long gone. But these days they sell both No-Bakes and Baked Cheesecakes.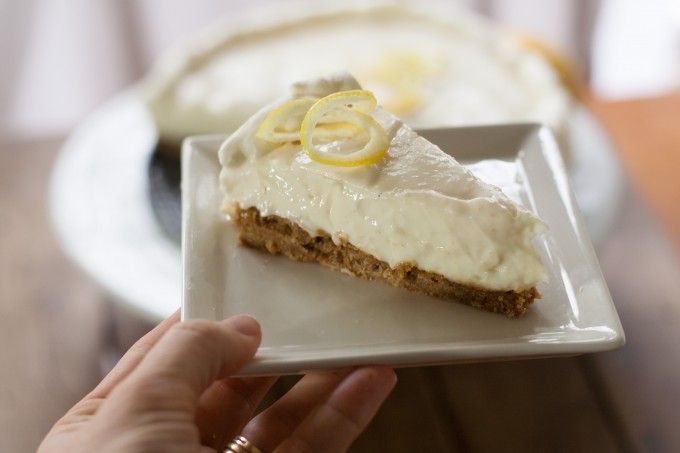 Perhaps no-bakes were so popular due to the fact that an oven never has to be turned on – which is definitely an advantage on a hot day. The other advantage is that they are so easy to make.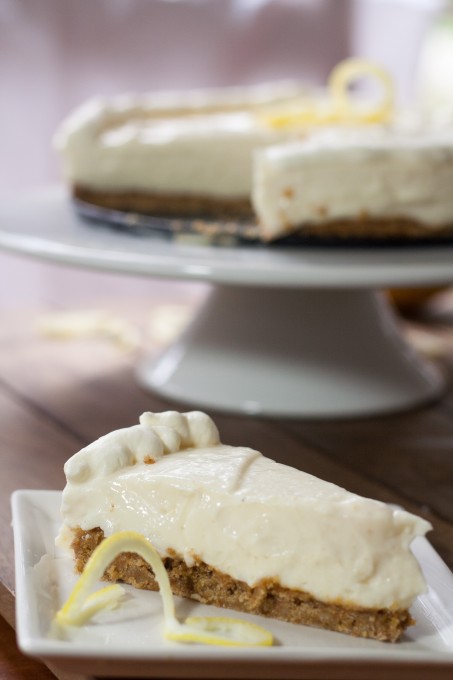 I have always made my own cookie base for my cheesecakes. In Australia, we used to use arrowroot biscuits or gingernuts. In America, I use gluten free gingernut cookies (Mi-Del brand). If you do not need to eat gluten free, graham crackers would work perfectly. Basically, you are just looking for any plain, sweet cookie.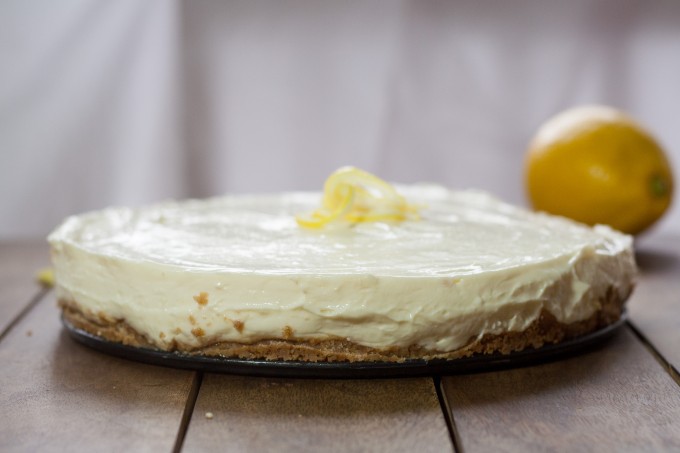 This cold dessert is perfect for these days which are starting to warm up! I think I might need to make this again, because we are going to be hitting the 80's today (highly unusual for April in Seattle!) and the one photographed is long gone!
Edited to add: This no-bake cheesecake has a very soft, creamy texture. It is very different from the texture of a baked cheesecake. However, it should hold it's shape after setting in the refrigerator.
Here are some pointers for first timers, or if you are wondering why your cheesecake did not set:
1. Use regular lemons (not Meyer lemons which have a lower citric acid level. The citric acid reacts with the sweetened condensed milk to thicken and set the cheesecake).
2. If you don't see the mixture thicken when you beat in the lemon juice, add a little more lemon juice. The general rule is 1/2 cup to each can of sweetened condensed milk, however a little more juice is OK. Just taste the mixture to make sure you don't add too much!
3. Make sure you are using Original Cream Cheese (the rectangular block). If you would like a visual, you can see it at Philadelphia The spreading cream cheese, in the tub, will not work.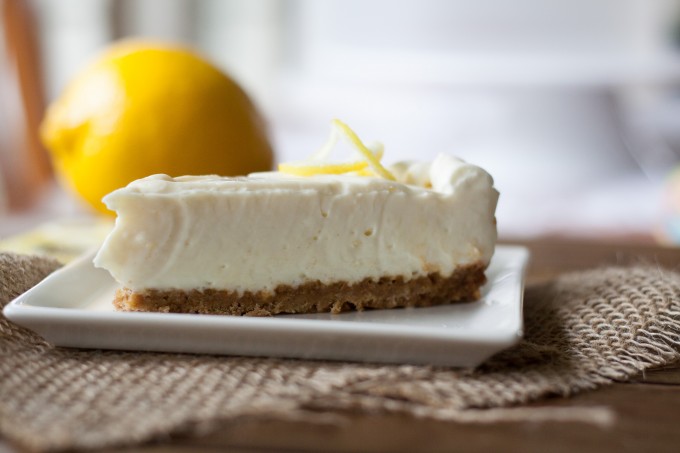 No Bake Lemon Cheesecake
2014-04-29 23:46:59
Cookie Base
8oz gingernut cookies, crushed
4oz butter, melted
Filling
16 oz cream cheese
28 oz sweetened condensed milk (2 tins)
1 cup lemon juice
Instructions
Place the cookies in a Ziplock bag, and use a rolling pin to crush the cookies. Do not crush the cookies finely, as too much crushing will make the base too hard.
Transfer the cookies crumbs to a medium sized mixing bowl and add the melted butter. Mix until well combined. Spread the crumbs over the base of an 9" spring form pan and press down firmly, using either your hand or the base of a glass cup.
In a separate bowl, beat the cream cheese and 1 tin of condensed milk until smooth.
Add other second tin of condensed milk and lemon juice and continue to beat until mixed.
Pour the cream cheese mixture on top of cookie base.
Place in refrigerator overnight, or until set.
Notes
This cheesecake needs about 8 hours to set completely.
Cookies or Biscuits? http://www.cookiesorbiscuits.com/