Pavlova is a delightful, light dessert topped with cream and fruit. There are not many Australians I know who have not tried Pavlova. It is an iconic Australian food, and one that is loved world wide. Although you can eat it year round, it's particularly perfect for a summer party. I eat it when I'm feeling a little homesick, as it's a little taste of Australia.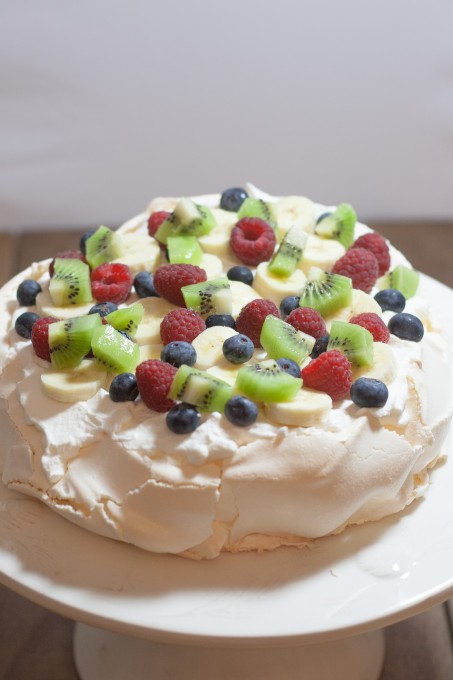 My love and I have wonderful childhood memories of Pavlova eggs. Most Australians didn't bother with making a pavlova from scratch due to an amazing product called Pavlova Magic which came in an egg shape container, hence our name for them. All you had to do was add the sugar and water, mix and bake. It was so easy.
Then we moved to America and Pavlova Magic eggs were no more. It was a case of learning to make a Pavlova from scratch or not making them at all. We went many years without Pavlova, I'm sorry to say. My first attempts were dismal failures and I gave up for awhile. But I tried again, and I'm so glad I did. My daughter cheers every time I make it now – that's certainly encouragement to get it right.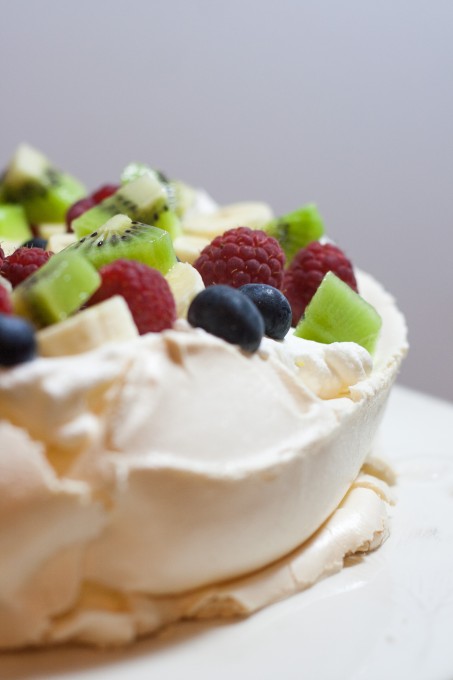 The art of the pavlova is in the meringue. It involves lots of beating – and adding the sugar at the right time.
There are a number of tips I have for making the meringue. My first tip is that the egg whites must be at room temperature when you beat them. However, you need to separate the eggs while they are cold. If you try to separate eggs when they are at room temperature, the yolk is softer and more likely to contaminate the egg white. Egg yolk in the egg whites will cause a pavlova flop.
My second tip is that you need to use superfine Baker's Sugar
. Please note that buying it directly from Amazon is a lot more expensive than buying it from your grocery store. I have added the link so that you know what you need to buy. You can also make your own superfine sugar by grinding regular granulated sugar in a food processor until it is very fine. Please note that Baker's Sugar is not powdered sugar.
My last tip is beat, beat, beat. If you think you have beaten the egg whites enough, you probably need another minute. The problem with my early attempts was that I wasn't beating the egg whites for long enough and when I put the pavlova on a baking tray it would spread. By the end, your egg white should be able to stand on the beaters without moving, and be very, very glossy.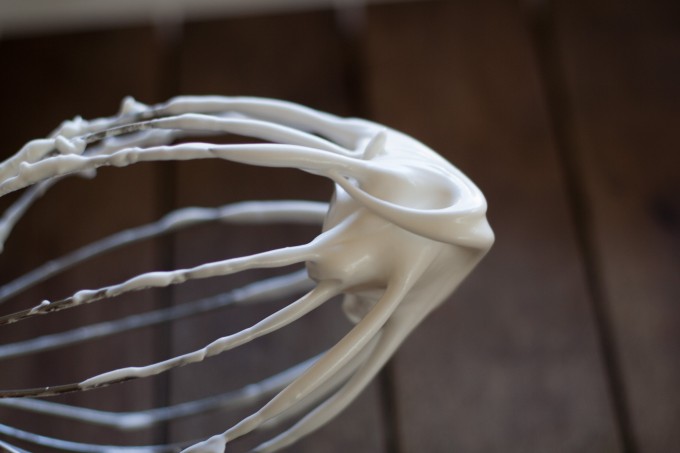 A pavlova made right will be crispy on the outside and soft and fluffy on the inside.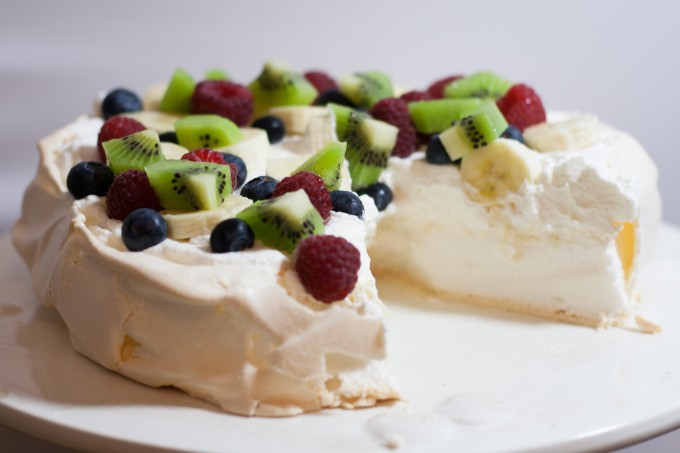 Pavlova is always topped with whipped cream and fruit. Any fruit can be used. In Australia, most pavlova will have passionfruit pulp as one of the toppings. It's fairly difficult to find here though, but if you see it, grab one to make an authentic Australian pavlova.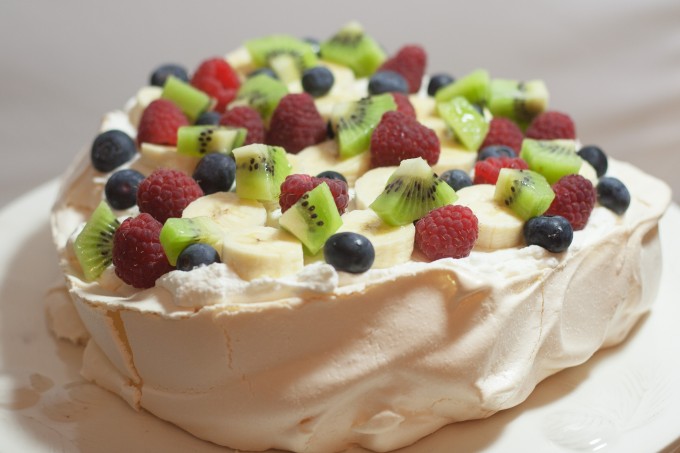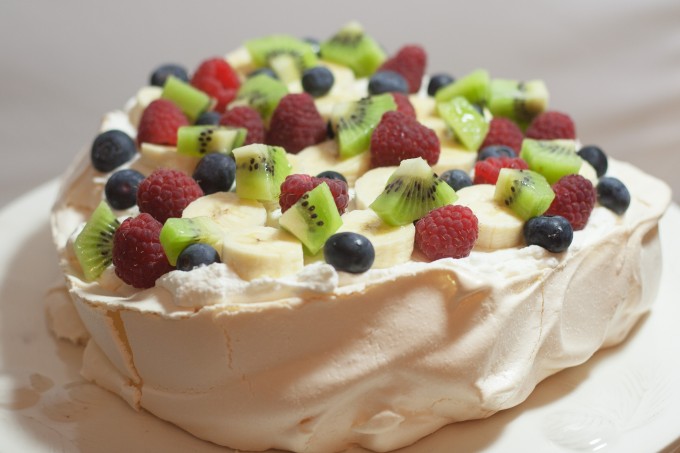 Pavlova
2014-03-10 20:55:41
Ingredients
4 egg whites, room temperature
1 cup Baker's Sugar (superfine sugar)
2 teaspoons cornstarch
1 teaspoon vanilla extract
1 teaspoon distilled white vinegar
Topping
1 cup heavy whipping cream (or adjust for desired amount)
2 tablespoons sugar
1 bananas (optional)
1 pint fresh berries (optional)
2 passionfruit, pulped (optional)
1 kiwi fruit sliced (optional)
Any other fruit you want!
Instructions
Preheat the oven to 275° F. Line a baking tray with parchment paper. Draw an 8 inch circle on the parchment paper, using a dark pencil. Flip the parchment paper over - you should be able to see the pencil line through the parchment paper. This will be the guide for the shape of your pavlova.
Using a stand mixer with the whisk attachment, place the egg whites into the bowl and beat until they form soft peaks - about 2 minutes.
Keep beating the egg whites and slowly add the baker's sugar, beating well with each addition. It should take about 2-3 minutes to add the sugar. Continue to beat the egg whites until the mixture is thick and glossy, forming firm, stiff peaks. This will take about 2 minutes.
Keep beating the egg whites and add the cornstarch, vinegar and vanilla. Continue beating for another minute.
Pour mixture onto the baking tray, keeping the mixture inside the circle drawn on the parchment paper.
Bake for 50 - 60 minutes, or until the outside is crisp and dry.
Turn off the oven. Open the oven door slightly and leave the Pavlova in the oven until it is completely cool. The cooled meringue can be stored in a cool dry place, in an airtight container, for a few days.
Topping
Place the cream and sugar in a medium sized bowl. Whip the cream until firm peaks form.
Top the meringue with cream and decorate with fruit. Serve immediately.
Cookies or Biscuits? http://www.cookiesorbiscuits.com/