This Sweet Mustard Pickles recipe comes from my mother. It is another one of the recipes that Mum learned at Teachers College. These pickles were always one of my Dad's favorite spreads on a meat sandwich – and I have followed tradition. I love the mix of spices which give these mustard pickles their unique flavor.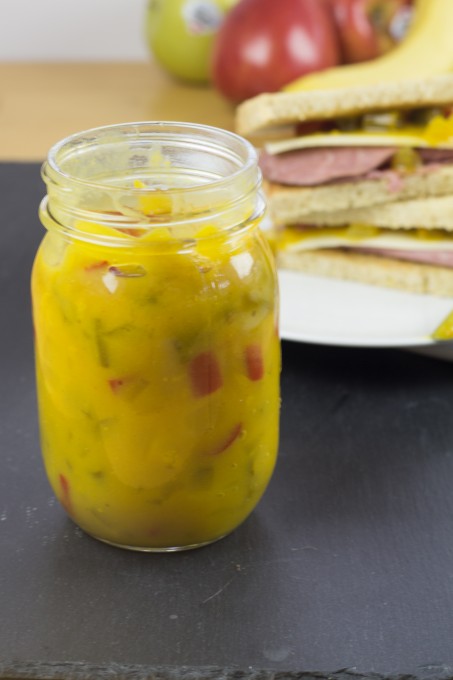 It's one of those recipes that you find at country fairs or church fetes. Mum often makes it for church bake sales. Wrap the top in some gingham and it's screams homemade deliciousness.
I just love this little jar of pickles. Every time I see this picture, I see a red happy face. Do you see it too?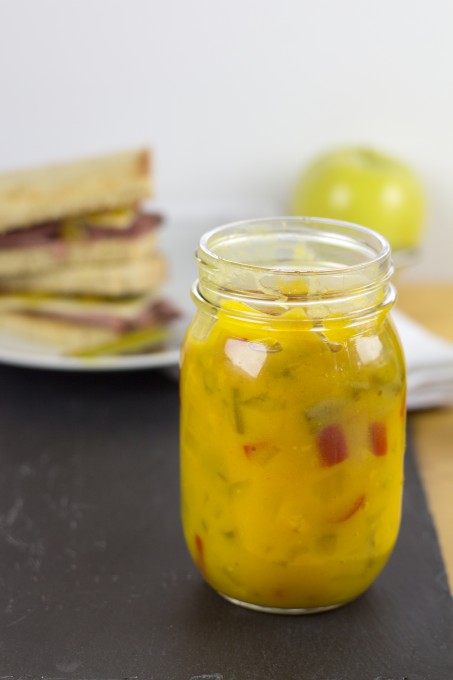 Most of the work of making Sweet Mustard Pickles comes from preparing the vegetables. All of the vegetables need to be chopped up finely, and kept separate. My recipe calls for cauliflower, green beans, white onions and red bell pepper. As you can see, I have also added green bell pepper for this batch of mustard pickles.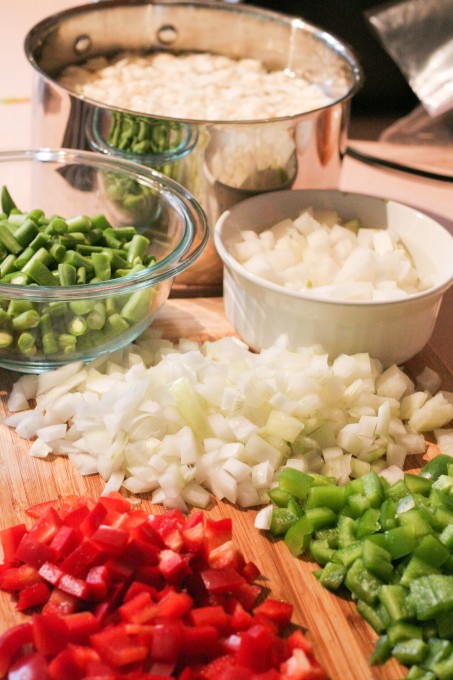 All of the vegetables need to be partially cooked. Another word for this is blanching – and it simply means that the vegetable should still be crisp, yet cooked. You need to do each vegetable separately so that they retain their natural color. Cooking in salt water helps retain the flavor of the vegetables.
After the vegetables have been partially cooked, they simply need to be laid out on a dish towel (tea towel) to dry and cool.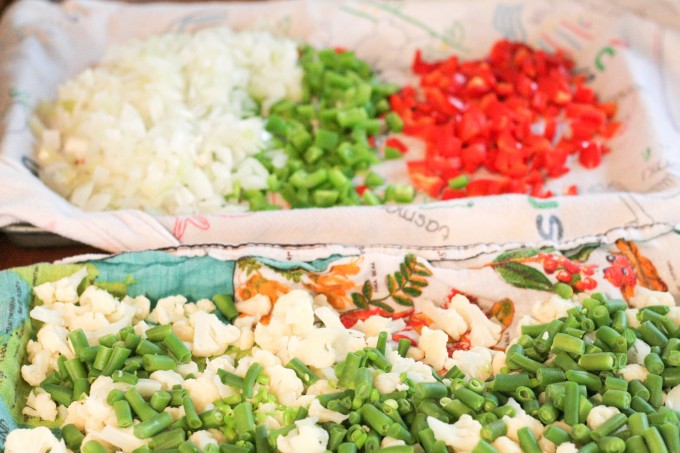 Before starting to make the sauce, I get my pint jars sterilized. This just allows for some extra time for the veggies to dry out.
Next we move onto making the mustard sauce. Place all the dry sauce ingredients (not the vegetables yet though!) into a large, heavy based saucepan and mixing them well. Now the water is added, plus just enough of the vinegar to make a smooth paste. You don't want to add all the vinegar at once, other wise you will be dealing with lumps. Slowly add the rest of the vinegar, stirring to ensure no lumps form.
Next the mustard sauce needs to be stirred over a low heat until the sugar is dissolved. Once the sugar has dissolved, you can increase the heat and bring it to a boil.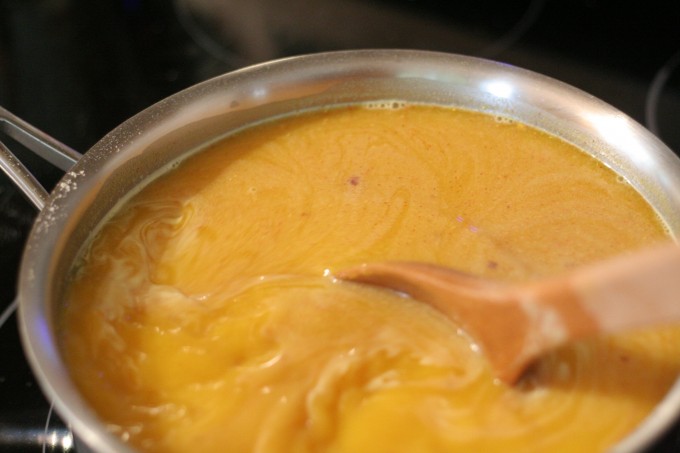 I had to switch pans at this stage, as I could not fit the vegetables into my saucepan. Start large to solve this problem! The vegetables are now added. Take a little taste, and add some salt if you like. Slowly bring the mixture back to a boil, and boil for one minute.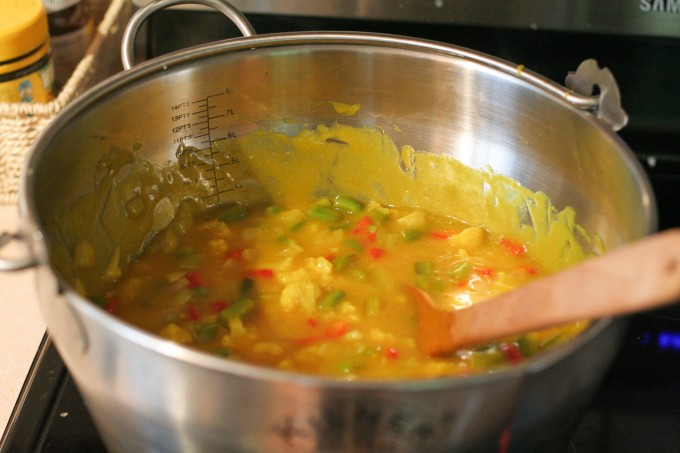 Carefully ladle the mustard pickles into hot, sterilized jars, leaving 1/2 inch of headspace. Remove any air bubbles by running a plastic spatula between the food and the jar. Wipe down the lids to remove any sauce around the rim. Put the lids on, then process the pickles in a boiling water canner for 20 minutes.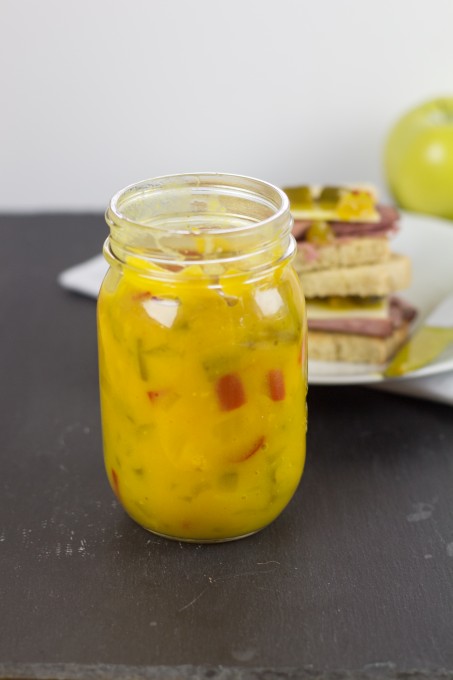 I have to throw in a word of caution here. Current canning guidlines DO NOT recommend using flour in any canning recipe. I have to admit that I still use flour – in fact I used rice flour for this batch of Sweet Mustard Pickles due to the fact that my love cannot eat gluten. Clear Jel
is what is recommended by current canning guidelines as it can apparently tolerate higher heats. If you choose to use Clear Jel, you will need to reduce the amount of Clear Jel used, as the it calls for 1/4 cup per quart of liquid. (This works out to be 3/8 of a cup for this recipe).
My mum doesn't do any of these canning techniques and she uses the flour. She just simply fills the jars to the top, removes the air bubbles and seals the bottles. They still last the full 12 months. She's of the school of thought that she hasn't had a problem in the last 50 years with this technique so why change? I go half way – and use flour but then try to follow canning guidelines.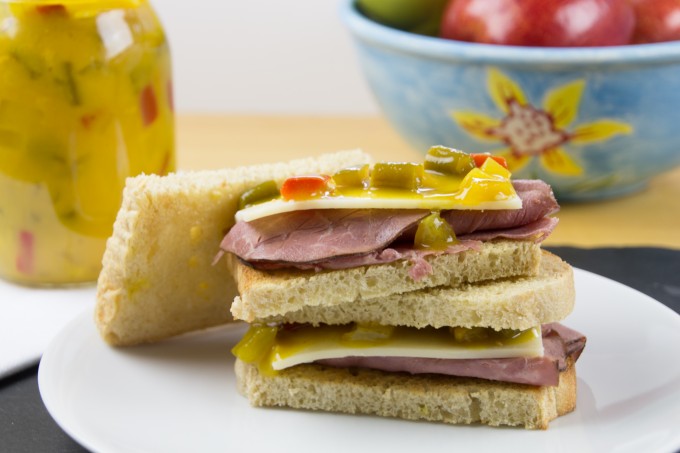 If you like mustard on your sandwiches, you are going to love these Sweet Mustard Pickles.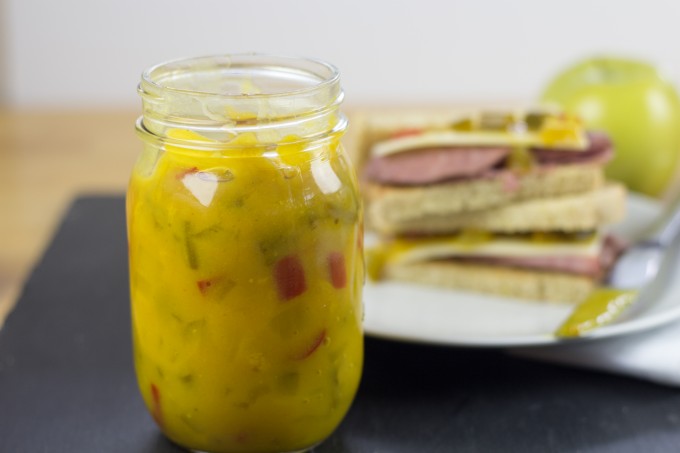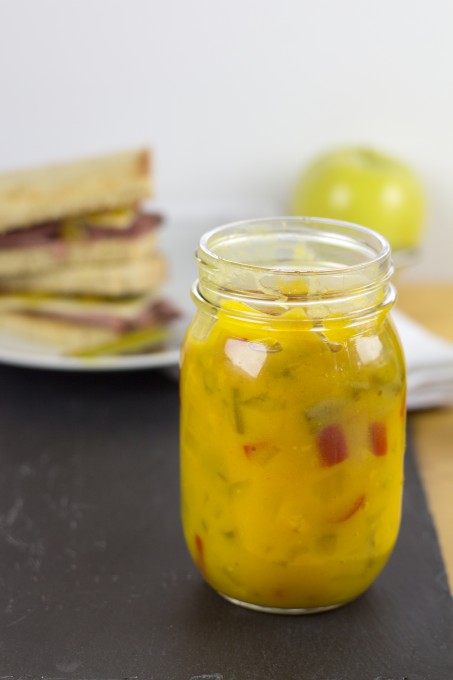 Sweet Mustard Pickles
2014-05-26 00:48:10
Ingredients
Ingredients
1 medium cauliflower
8 oz green beans
1 lb white onions
1 small red bell pepper
salt
Sauce
1 cup all purpose flour 1 cup
3 tablespoons ground mustard
2 1/2 cups sugar
1 tablespoon turmeric
1 teaspoon curry powder
½ teaspoon cayenne pepper
¼ teaspoon ground ginger
1 cup water
5 cups white vinegar
Instructions
Break the cauliflower into small flowerets.
String and cut beans into 1/2 inch lengths.
Peel and cut the onions into quarters.
Finely cut the red bell pepper.
Partially boil all the vegetables in salted water, separately, to retain color.
Strain and spread vegetables on a clean tea towel to dry, keeping the colors separated.
Clean and sterilize 7-8 pint jars.
Place dry sauce ingredients into a large, heavy-based saucepan and mix well.
Add the water and some vinegar gradually to form a smooth paste, free of lumps. Add the rest of the vinegar.
Stir over low heat until the sugar is dissolved. Bring the sauce to a boil then simmer gently for 3-5 minutes, stirring continuously.
Add the dried out vegetables. Salt to taste. Heat slowly, and boil for 1 minute.
Carefully ladle mustard pickles into hot, sterilized jars, leaving ½ inch of headspace. Remove air bubbles. Wipe the lids and adjust the lids. Process in a boiling water canner for 20 minutes.
Cookies or Biscuits? http://www.cookiesorbiscuits.com/