Spaghetti is one of those classic meals that nearly everyone likes. My family gets served Spaghetti on a regular basis, much to my daughter's delight. She's my biggest spaghetti fan. I love to make this slow cooker spaghetti sauce on those days when I know the evenings are going to be busy.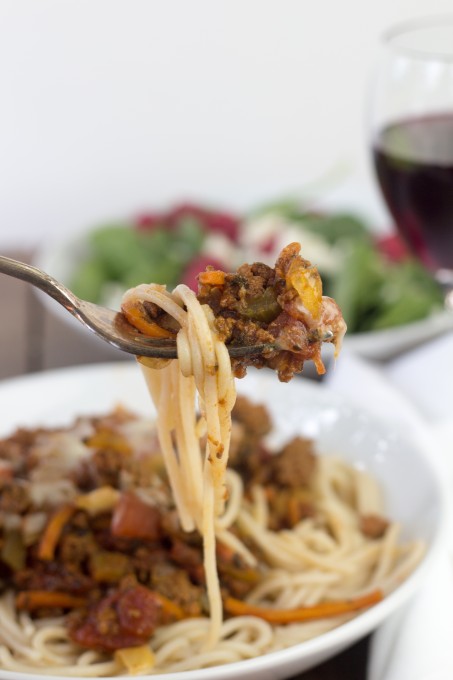 I have my daughter and my mum to thank for the extra vegetables which have been added. Back in February my husband and I went to Norway and Iceland for a week, and my Mum came to visit (yes – all the way from Australia!). It was a win for all of us – the kids loved spending time with their Grandma and she loved spending time with them. And my hubby and I get to spend our first big vacation away from the kids. I will add in here, he did have to work for some of that time, but we still had a fantastic time. Anyway – back to the food – when I came home I was very bluntly told that Grandma makes a better spaghetti sauce than me! Apparently the addition of bell peppers and carrot make for the "best ever" spaghetti sauce.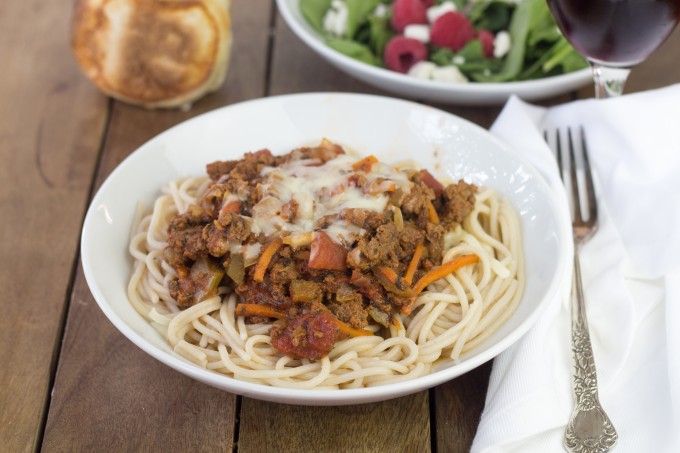 So now, when I make my own spaghetti sauce I add bell peppers and carrots, along with my usual onion, celery and tomatoes. I've got to admit – the additions are pretty tasty! I used shredded carrots, but if you need to be sneaky about getting vegetables into family members meals, then you may like to use grated carrot instead!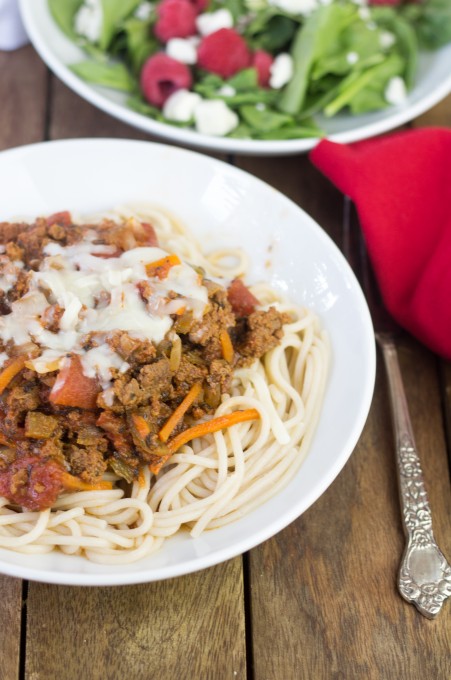 Of course, the vegetables are optional. That's the beauty of this recipe. Don't have carrots in your fridge? Don't worry – just skip them. Got some herbs growing in your garden? Great – toss them in at the end. (The end part is important with a slow cooker, because most fresh herbs loose their flavor in the slow cooker. Rosemary is an exception!)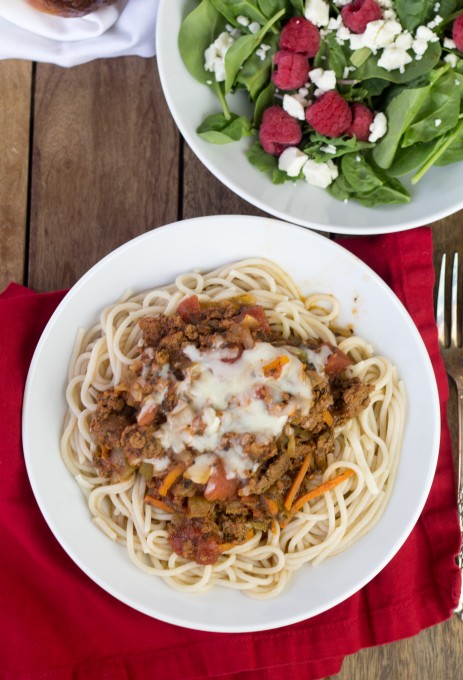 I always cook my pasta separately, as I have one child who does not like tomato. He would much rather just eat the spaghetti plain and then have one (required) taste of spaghetti sauce. However, if you would like to add the spaghetti straight into your slow cooker, you can add this, plus one cup of hot water, at the same time as the bell pepper. (30 minutes before serving, and cook on high)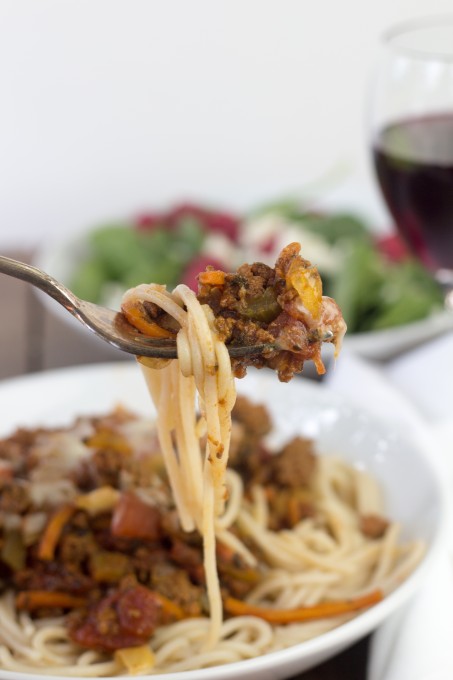 Slow Cooker Spaghetti Sauce
2015-04-03 16:38:38
Ingredients
1 lb ground beef
1 onion
1 celery stick, chopped
3 garlic cloves
1/4 cup dried parsley
1 teaspoon dried marjoram
1 tablespoon dried basil
1/4 teaspoon ground pepper
1/4 teaspoon salt
1 cup shredded carrot
1 can (14 oz) diced tomato
1 can (14 oz) tomato sauce
1/4 teaspoon crushed red pepper flakes
2 teaspoons white sugar
1 bell pepper, chopped
Option 1
In a frying pan, heat 1 teaspoon of oil, then brown the ground beef. Using a slotted spoon, transfer the beef to your slow cooker.
Add another 1 teaspoon of oil to the frying pan. Saute the onion, celery and garlic. Using the slotted spoon, transfer the vegetables to your slow cooker.
Add the parsley, marjoram, basil, pepper, salt, carrot, tomato, tomato sauce, red pepper flakes and sugar to the slow cooker. Stir to combine.
Cook for 4 hours on high or 8 hours on low.
30 minutes before serving, add the bell pepper and cook on high.
Option 2
Add all ingredients, except the bell pepper to the slow cooker.
Cook for 4 hours on high or 8 hours on low.
30 minutes before serving, add the bell pepper and cook on high.
Cookies or Biscuits? http://www.cookiesorbiscuits.com/