It's pea season! We have peas growing in our backyard garden and I have a new recipe to share which uses those fresh and crisp, delicious peas! Pea and Mint Puree Open Sandwiches. It's quick and easy to make and tastes like Summer on a sandwich. Eat it for lunch or as an appetizer before a BBQ.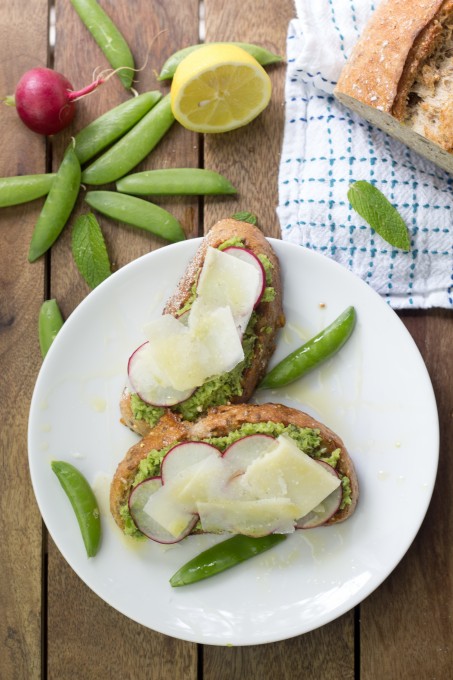 I love the fresh bright ingredients used in this Pea and Mint Puree. Peas, mint, lemon juice, olive oil and pepper all end up in your food processor, and within a minute you have a bright green, spreadable puree which then goes on some grilled bread. Top it off with some sliced radish, cheese, sea salt and olive oil for a perfect blend of fresh, crisp and slightly salty.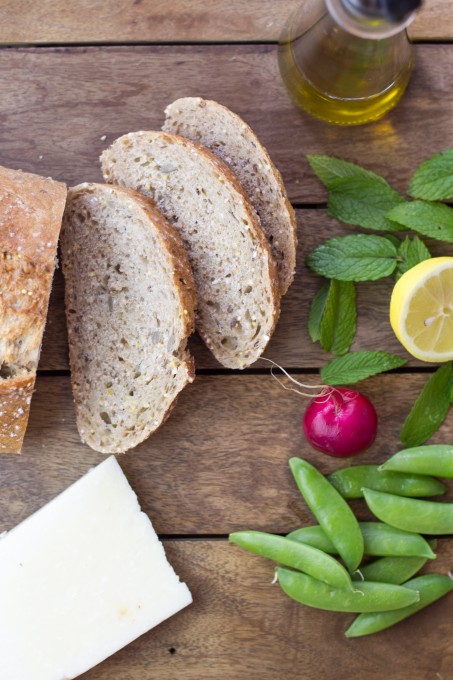 I first discovered this recipe at a Sur la Table Cooking Class I have fallen in love with their classes, and whenever I have extra money saved up, I head off to one of their classes. It's fun to spend to some with other people who love to cook, and they cater to all skill levels (except perhaps the experts!). They always seem to have something that I have never made before on their menu, and you get to taste a decent sized portion of your food at the end. I'm heading off to an ice-cream making class next month – while I've made ice-cream I'm not a confident ice-cream maker so I'm hoping to pick up a few tricks.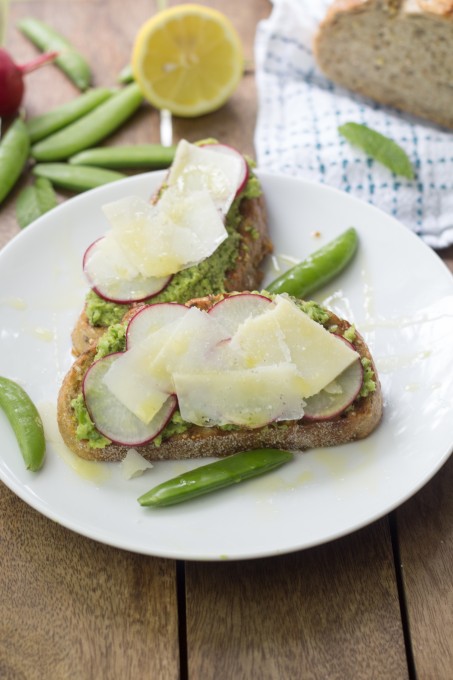 A word of warning – don't make the Pea and Mint Puree too far in advance, as the peas start to loose their brightness. It will still taste delicious the next day, but doesn't look as fresh and pretty. If you want to get this ready ahead of time, I'd recommend making it no more than 2 hours before you want to serve it.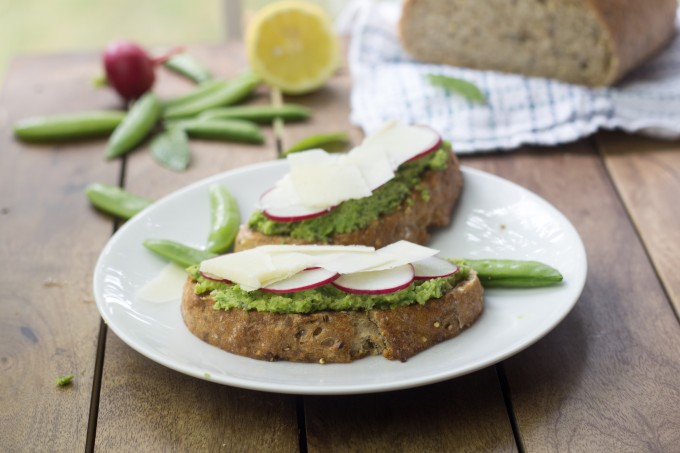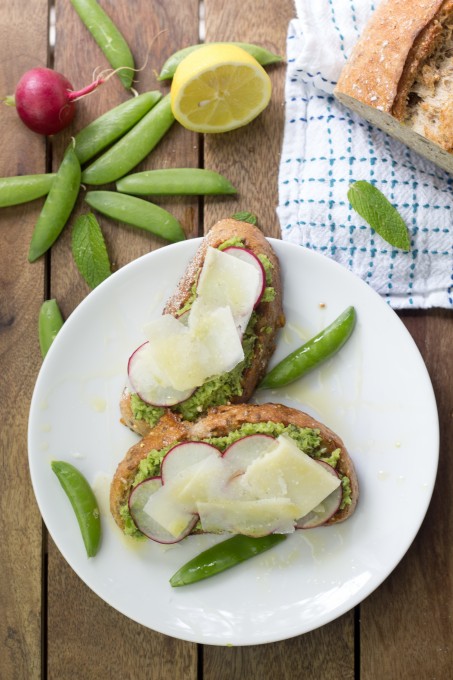 Pea and Mint Puree Sandwiches
2015-07-01 23:28:14
Ingredients
8 oz fresh snap peas, unshelled
salt (for salting water)
1/2 cup mint leaves
2 tablespoons heavy whipping cream
2 tablespoons olive oil
2 teaspoons fresh lemon juice
1/2 teaspoon freshly ground black pepper
1 loaf artisan bread
Olive oil, for grilling and serving
4 radishes, thinly sliced
2 oz Romano or Parmasan cheese, shaved
Coarsely ground salt
Instructions
Blanch and shock the peas: Fill a large bowl with icy cold water and set aside. Bring half a medium sized saucepan of heavily salted water to a boil. Add the peas and cook until just tender, about 2 minutes. Use a slotted spoon and transfer the peas to the ice water. Allow the peas to chill, then drain.
In a food processor or blender, pulse the peas and mint until smooth (or to your desired consistency). Add the cream, olive oil and lemon juice and continue to blend until combined. Season with pepper, and extra lemon juice if desired. If desired, salt can be added here instead of on top of grilled sandwiches.
Cut the bread into thick slices. Using a pastry brush, coat the bread in olive oil. Grill the bread on a grill or grill pan, until grill lines appear. Turn the bread and grill on opposite side.
To serve, spread pea and mint puree over grilled bread. Layer radish and cheese on the puree. Sprinkle with salt and drizzle with olive oil, if desired.
Adapted from Sur La Table
Adapted from Sur La Table
Cookies or Biscuits? http://www.cookiesorbiscuits.com/