These chicken drumsticks are one of the most family friendly drumsticks you will find. With a cracker and cheese crumb coating they will please even the pickiest eater. (Where did that expression come from? They obviously didn't have a super picky toddler who just had to look at food to decide that they didn't like it!) You get the point though – they are really tasty!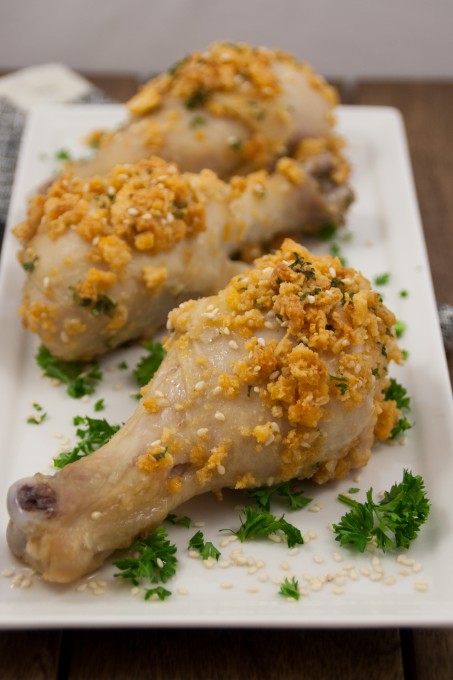 I used Glutino Gluten Free Crackers but you can use any savory crackers such as Ritz, or perhaps even trying your own homemade sesame crackers. Do a search over at Foodgawker, and you'll find lots of sesame crackers which would taste wonderful for this recipe/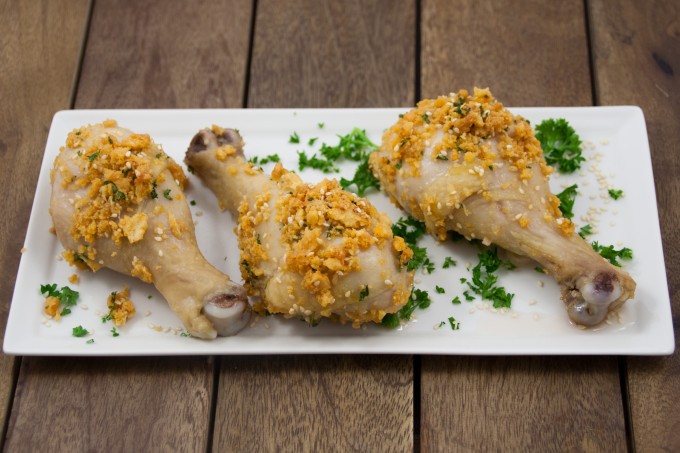 One of the things I really love about this recipe is that it is easy and quick to make. With only 10 minutes of prep time and 20 minutes in the oven – you have dinner ready in just 30 minutes. That's my kind of meal on a busy night.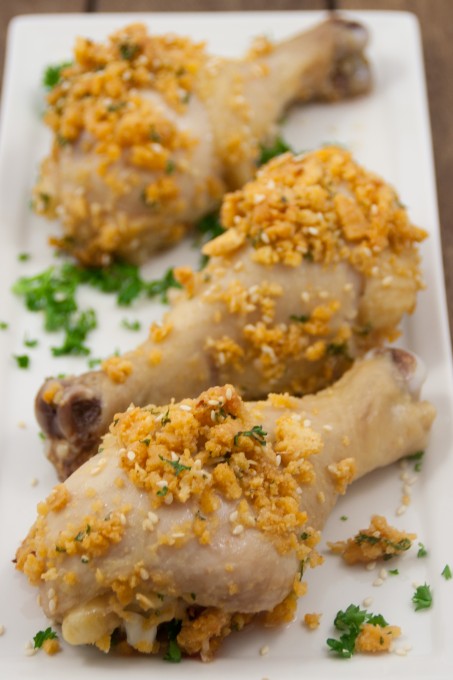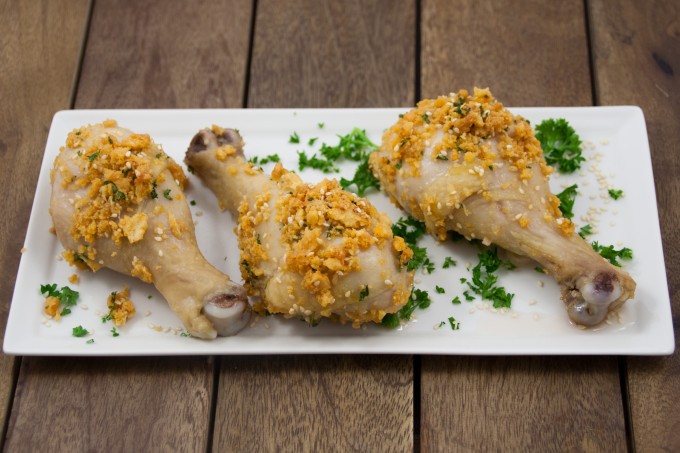 Golden Sesame Chicken Drumsticks
2014-04-03 22:56:07
Ingredients
8 chicken drumsticks
2 oz savory crackers
2 teaspoons sesame seeds
1/2 teaspoon paprika
1/3 cup grated Parmesan chesse
2 tablespoons parsley, chopped
1 garlic clove, minced
4 tablespoons butter, melted
Instructions
Preheat the oven to 400°F. Lightly spray a baking sheet with cooking spray.
In a Ziplock bag, crush the crackers to a medium fine consistancy.
Add the sesame seeds, paprika, cheese, parsley and garlic to the Ziplock bag and shake to combine.
Brush each drumstick with the melted butter and then dip the drumstick into the cracker coating. Press the coating firmly onto the chicken drumsticks, then place on the baking sheet.
Bake for 20-25 minutes. Check that the meat is cooked by cutting a drumstick at the thickest part and ensure there is no pink or when a meat thermometer reads 165°F.
Cookies or Biscuits? http://www.cookiesorbiscuits.com/