If you are looking for something really quick to make, that's going to please the younger set? Then look no further than Honey Cornflakes Cakes. With only 4 ingredients, it's quick to prepare and only takes 10 minutes to cook. Kid's seem to go crazy about them – which is a bonus in our household.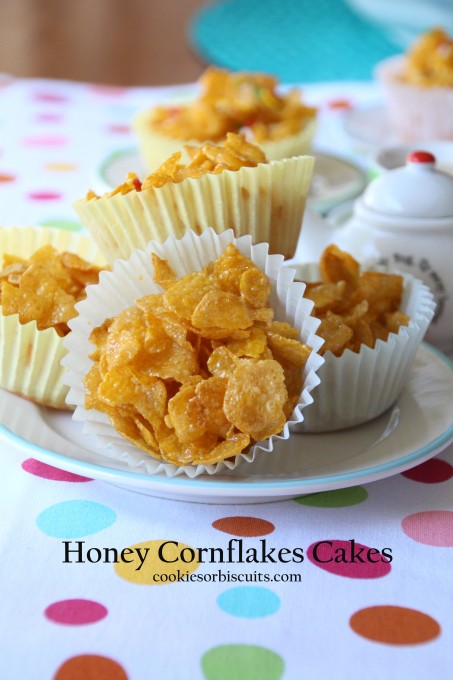 Growing up in Australia, these were another snack which appeared regularly on a kid's party table. And who can blame parents – not only are they quick to make, but they can be made in advance. Make them the day before the birthday party and they'll still be fresh the next day. To make them a little more festive, you can also add sprinkles or hundreds & thousands.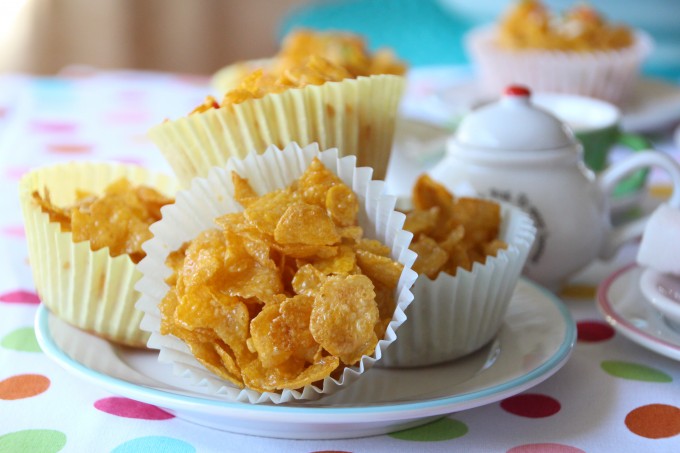 My kids loving making and eating these Honey Cornflakes Cakes. Providing you feel comfortable having your child stirring hot liquid, they are also a good food for an older child or pre-teen to make all by themselves. For younger children, you will want to supervise, especially while you are melting the butter, honey and sugar. My children, at least, can go a little wild with the stirring and splashing hot liquid is never a good idea.
If you had young children in the late 90's or early 2000's, you may remember the kid's song "Crunchy Munchy Honey Cakes" by the Wiggles. Recently, I accidentally put on a playlist with this song and it reminded me that I hadn't made these Honey Cakes for a long time! The recipe I use is different from the one in the Wiggles song, but I can't help singing it while making these. Good thing my teenagers are not around, or that would be considered a huge mom embarrassment. I dare not mention that they loved the song 10 years ago!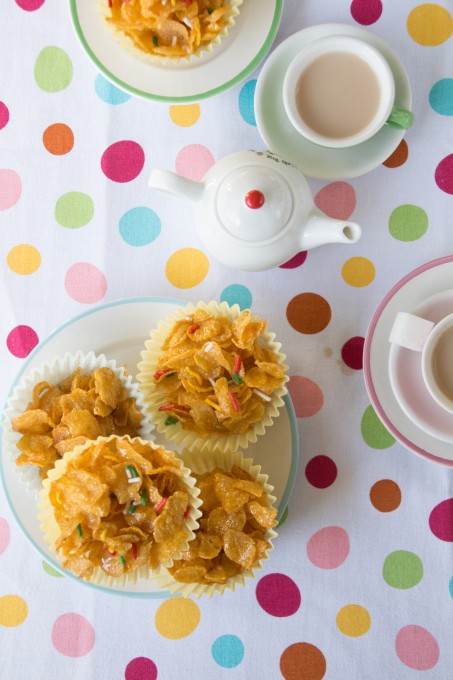 I used to think that these were Australian, but when I did some digging around, I found that they are also well known in England. They are sometimes called Honey Joys too, both in England and Australia. I have marked them as being Australian though, because nearly every Australian child has eaten these at least once in their life.
If you would like to make these gluten free, just make sure the brand of Cornflakes you buy is gluten free. Hint: Kellogg's Cornflakes are NOT gluten free!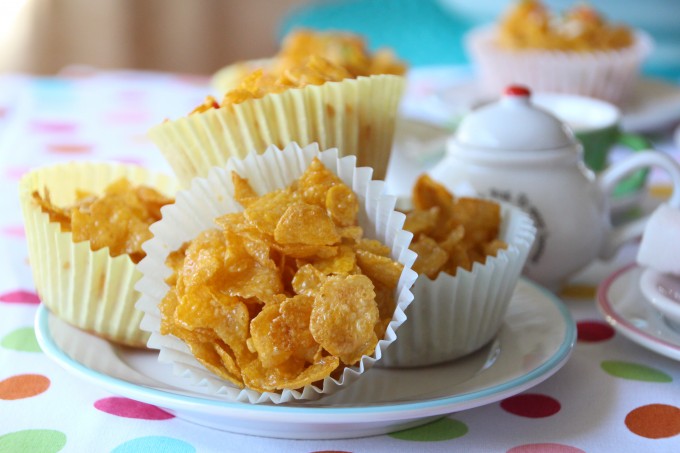 Honey Cornflakes Cakes
2015-03-03 15:56:19
Ingredients
3 tablespoons butter
1 tablespoon sugar
3 tablespoons honey
4 cups cornflakes
sprinkles (optional)
Instructions
Preheat the oven to 325° F. Line a muffin tray with paper liners. This recipe makes about 12-15 large Honey Cornflakes Cakes.
Heat the butter, sugar and honey in a medium suacepan, over medium low heat. Stir until the mixture starts to turn frothy and the sugar is dissolved, about 5-10 minutes.
Remove from the heat. Add the cornflakes to the honey mixture and gently stir until the cornflakes are covered with the honey mixture.
Fill each muffin liner to the top. If decorating, add sprinkles to the top of each Honey Cornflakes Cake.
Bake for 10 minutes.
Allow to cool completely before serving.
Cookies or Biscuits? https://www.cookiesorbiscuits.com/