Vanilla Slice is one of those foods which could always be found in a bakery when I was a child. It has always been a favorite of mine, so when I found this recipe in an old Australian Women's Weekly cookbook I decided I had to make it for myself. Puff pastry is used for many foods in Australia – the most iconic being sausage rolls – but it features in this Vanilla Slice.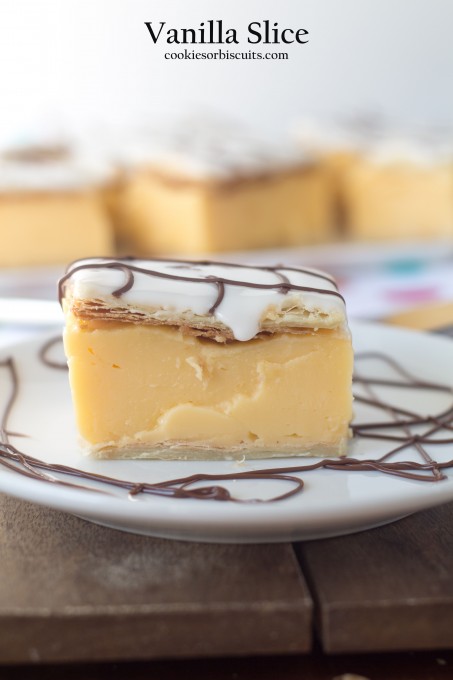 To make the slice, you first start off with a 1 lb package of puff pastry – found in the frozen section of the grocery store. I bought Pepperidge Farm Puff Pastry sheets for my vanilla slice. There was only one other brand in my store, so obviously they are not big sellers – sometimes they are hidden away, usually on the top shelf.
Each slice of puff pastry is about 9×9 inches. Place each slice on a large baking tray, lined with parchment paper. (I had run out of parchment paper – so skipped it. It worked, but it did stick slightly. Using the parchment paper is definitely the best way.) Bake for about 15 minutes in a hot oven, or until the puff pastry has "puffed" and is well browned.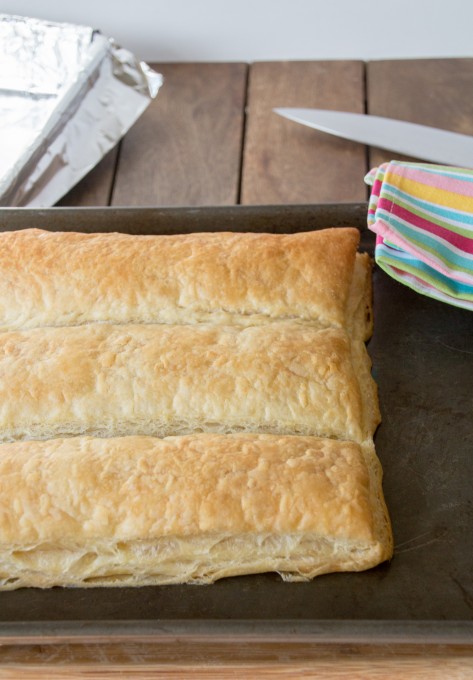 Allow the puff pastry to cool slightly then, using your hand, flatten the pastry. You can use a kitchen towel or oven mitt too.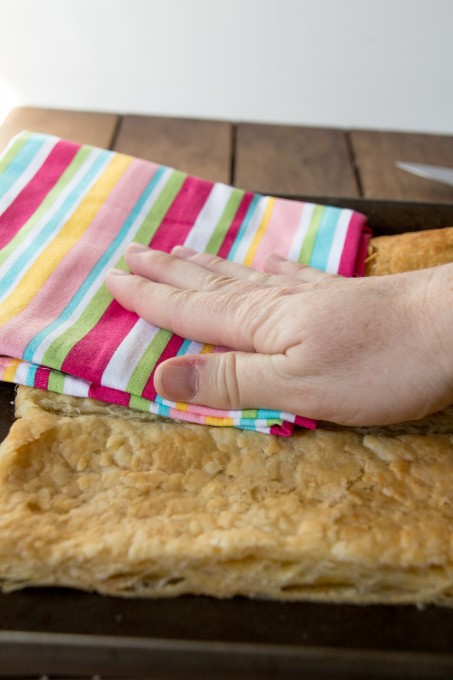 Lay the first piece of puff pastry in your lined 9×9 cake tin. A quick note on lining your tin: It's important that the foil overhangs, so that you can easily lift the vanilla slice out once it has set. It's quite heavy, so foil is the best option for lining. Despite the fact that my tin says that it's 9×9 and I measured my puff pastry to confirm that it was 9×9, I still needed to trim about 1/2 inch of puff pastry off to ensure that it sat flatly in the bottom of the tin.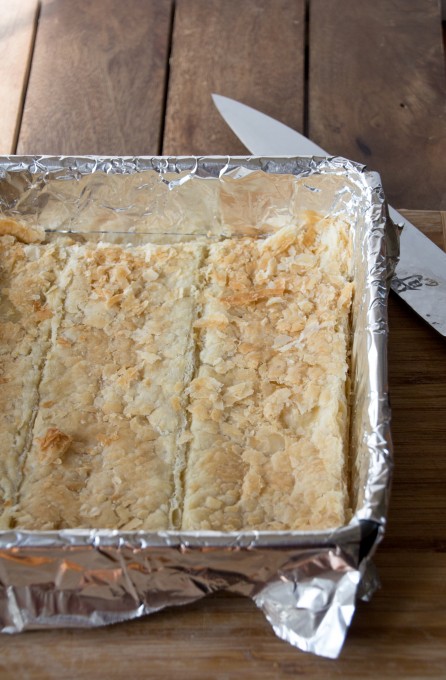 Next, I made the filling. Sorry I don't have any photos of this step! Making the vanilla filling is a slow process, and you need to present for the whole time, constantly stirring, stirring, stirring. You'll get quite a arm workout – especially towards the end when the vanilla filling is very thick and you need to keep stirring. Follow the steps in the recipe below for exact details on making the filling.
Once the filling is ready, you pour it into the tin, on top of the first piece of puff pastry. Smooth it out with a spatula, then place the second flattened slice of puff pastry on top. Alternatively, you can cut your pastry before placing it on top the put it together like a jigsaw puzzle. The advantage of doing it this way is that it will be easier to cut later. The hard part is that once the icing is placed on top, it's difficult to work out where those lines are!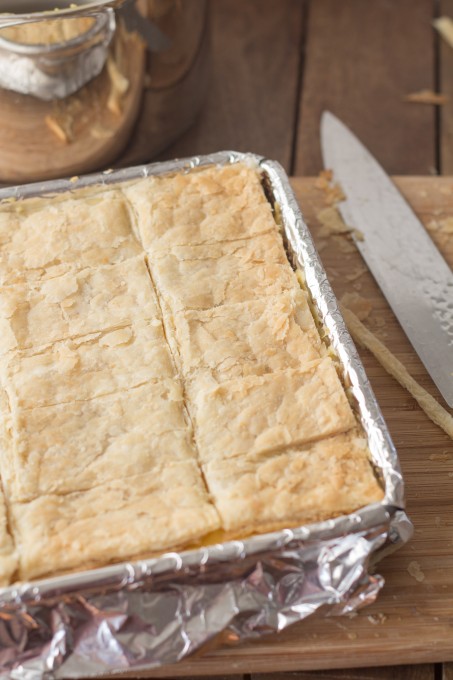 Place the slice in the refrigerator for at least 4 hours, or overnight, to allow the filling to set completely. Once it is set, you can ice the Vanilla Slice and decorate it. Traditionally, in Australia, this vanilla slice would have been iced with a passionfruit icing. However, passionfruits are difficult to find in America. I can sometimes find them in Asian stores – and on rare occasions they are in the regular stores. Therefore, I decided to stick with a classic vanilla icing. The icing is more like a glaze – rather than the thick frosting that we Americans (and American imports!) place on cakes (eg buttercream frosting or any packaged frosting). It's really simple to make, so don't let it daunt you. It's just like frosting, without the butter. I decorated mine with a little melted chocolate – just for the fun of it. If you want to as well, just melt some chocolate chips according to the directions on the package. Place the melted chocolate in a small plastic bag, snip a tiny amount off the bottom edge and squeeze! Quickly run a knife through the chocolate for a slight swirl pattern.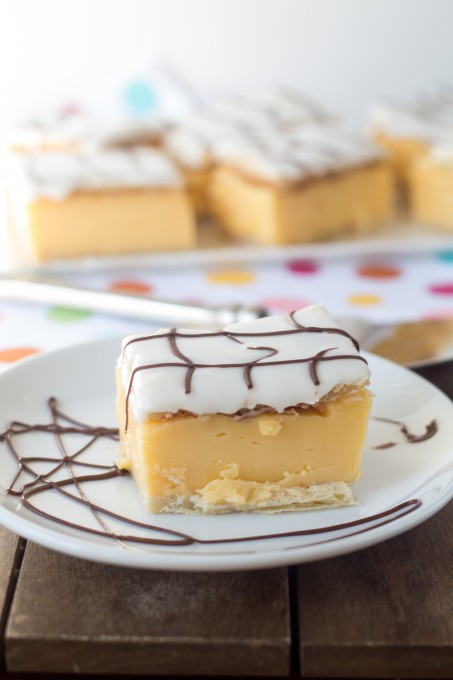 And look at that! A delicious Vanilla Slice to serve to family and friends. I started with mine cut into 20 pieces, but you can choose whatever size you like. If it's for finger foods, then I would suggest cutting the slice even smaller. If you are serving this for dessert, you may even like to cut it into 16 pieces.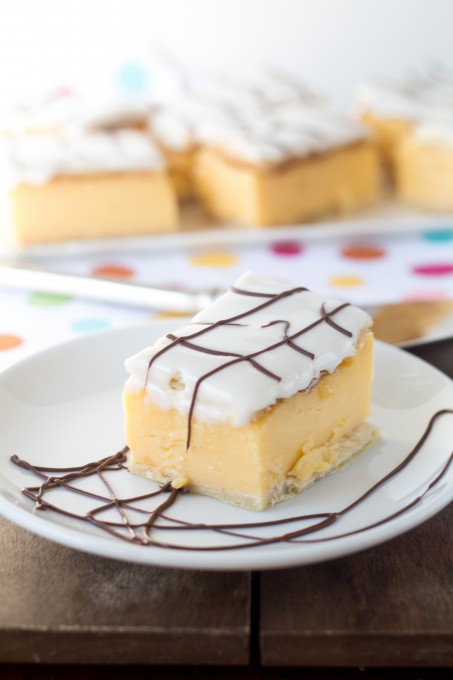 On a side note, the filling in this Vanilla Slice is very firm. I also want to make a Napoleon Custard Slice, which looks very similar but the filling is much softer and creamier. This Vanilla Slice also uses custard powder in the ingredients too, but the amount of cornstarch (known as cornflour in Australia) makes this Vanilla Slice much thicker than the Napoleon. I remember getting both kinds in the bakeries – both kinds make me weak at the knees!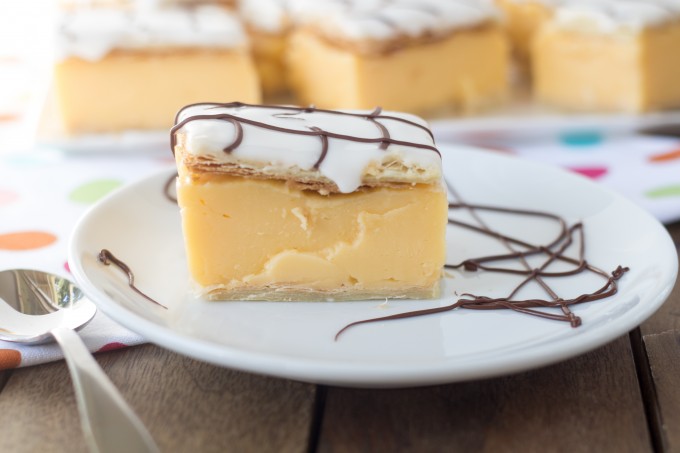 Another thing to note – custard powder is not a common ingredient in America however, I often find Bird's Custard in larger stores and at Cost Plus World Markets in America, and it's always available at Amazon
!
Vanilla Slice
2015-03-09 13:14:20
Ingredients
1 lb package puff pastry
1 cup sugar
3/4 cup cornstarch
1/2 cup custard powder
4 cups full cream milk
2 oz butter (1/2 stick)
2 egg yolks, beaten
2 teaspoons vanilla extract
Icing
2 1/2 cups confectioner's sugar
3 tablespoons milk
2 teaspoons vanilla extract
1/4 cup semisweet chocolate melts
Instructions
Thaw puff pastry for about 40 minutes, or until manageable.
Preheat the oven to 400°F. Line two large baking trays with parchment paper. Line a 9 inch square tin with aluminum foil, ensuring the ends hang 1-2 inches over the edges for easy lifting.
The puff pastry should come in two 9" inch squares. If not, cut the puff pastry into two 9 inch squares. Place each sheet of puff pastry on a separate baking tray.
Bake the puff pastry in the oven for 15 minutes, or until the puff pastry is well browned. Remove from the oven and allow to cool for approximately 10 minutes. Flatten the puffy side of the pastry with your hand.
Place one piece of puff pastry in the square tin, with the flattened side facing up. You may need to trim your pastry slightly for an exact fit.
Combine the sugar, cornstarch and custard powder in a heavy based saucepan, and mix to combine. Blend with approximately 1/2 to 1 cup of milk until a smooth paste is formed. Gradually stir in the rest of the milk. Add the butter.
Stir constantly over a medium-low heat until the custard boils and thickens. This may take up to 30 minutes. Reduce the heat, and simmer for 3 minutes, stirring constantly.
Remove from heat, and quickly stir in the vanilla, then stir in the beaten egg yolk.
Immediately pour the hot custard over the pastry in the tin.
Optional: for ease of cutting, you may like to slice the top piece of pastry prior to placing on top of custard.
Place the remaining piece of flattened puff pastry on top of the custard. The flattened side should be touching the custard. Press the pastry firmly with your hand.
Refrigerate for several hours or overnight until the filling has set.
Icing
Combine confectioner's sugar, milk and vanilla is a small bowl. Mix well.
Spread the icing over the top of the cooled vanilla slice.
Melt the chocolate melts in the microwave for 1 1/4 minutes on medium power. Stir until smooth. If required, heat for a further 30 seconds on medium power. Stir until smooth.
Transfer the chocolate to a small plastic sandwich bag. Cut a small hole in the corner and decorate the top of the vanilla slice. (Suggestion: draw lines with the chocolate, then quickly run a knife through in the opposite direction to make a triangular pattern)
Cookies or Biscuits? https://www.cookiesorbiscuits.com/