I always have some curry powder in my pantry as I use it quite often. Growing up in Australia, it was a popular ingredient in many savory recipes. Funnily enough, I have always associated curry powder with Indian food, however I have since discovered that authentic Indian food rarely uses curry powder. Instead, each recipe has it's own unique spice blend.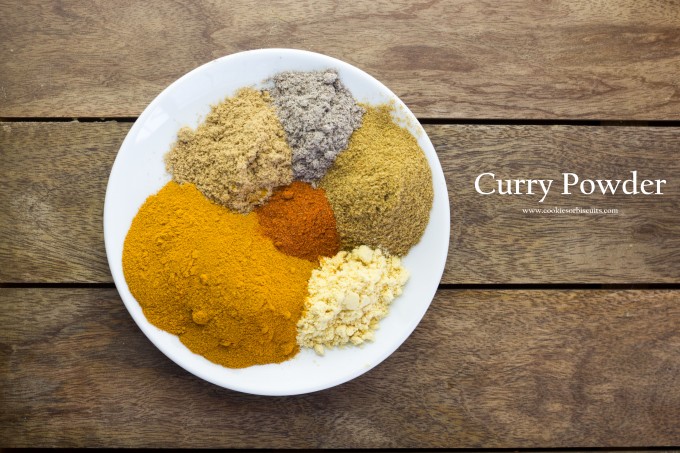 That does not stop me from using my westernized curry powder however. We ran out last week when I made one of my family's favorite meals – Chicken in Peanut Butter Sauce. As a result, you get to see how I make my own personal blend of curry – simply because I can't live without curry powder. I usually mix it straight into the bowl in the background – I just wanted to show you all the different spices that I use – turmeric, mustard, cayenne pepper (which gives the curry powder it's heat – increase this for a hotter curry powder), cumin, cardamon and coriander.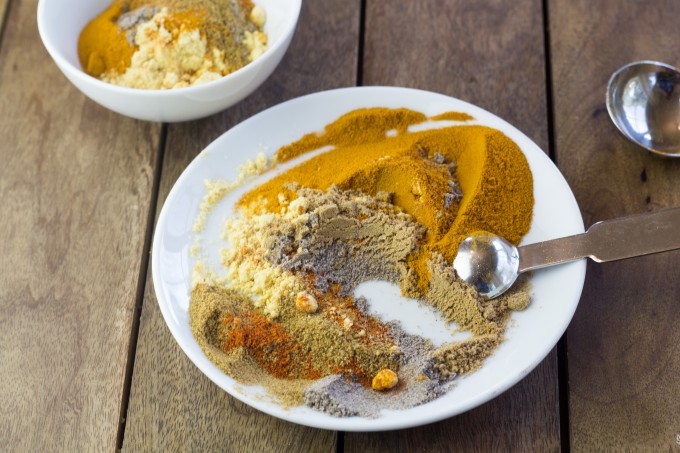 I choose to use all pre-ground ingredients as I have most of these spices in my pantry already. Plus I usually only remember that I need a spice mix as I'm about to make a dish and this is very quick to make. However, if you have some more time on your hands, you can always buy the spices in their whole form, lightly toast them and then grind them. To do this, you toast one kind at a time. Heat a dry saucepan over medium heat. When it's warm, add one kind of whole spice. Shake the pan as the spice is browning. Remove the spice immediately from the pan to cool. When it's cool, grind the spice, usually with a Mortar and Pestle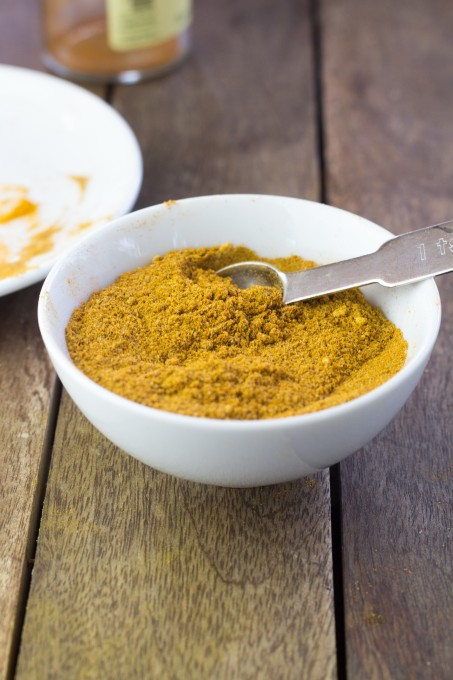 This recipe makes slightly over 4oz of curry powder. I can fit all but 1-2 teaspoons into my 4 oz jar, filled right to the brim. I use that last teaspoon in which ever recipe I'm using when I've panicked and realized that I need more curry powder. One day I'm going to get more organized and make it the moment I run out.
I love the smell of curry powder. The bitter, pungent smell of ground mustard, mixed with the sweet smell of the cardamon and other spices. Just take a deep breath when you make it – it's delightful and unique.
Curry Powder
2015-03-26 21:24:52
Ingredients
2 tablespoons ground cumin
1 tablespoon ground cardamon
1 tablespoon ground coriander
3 tablespoons ground turmeric
1 tablespoon dry, ground mustard
1 teaspoon cayenne pepper
Instructions
Measure out each spice and place in a small bowl.
Mix spices together and store in an airtight container.
Spices are good until the best buy date of the spices used - usually about a year.
Cookies or Biscuits? https://www.cookiesorbiscuits.com/