Homemade Tomato Ketchup, or Tomato Sauce as my family calls it, is a simple recipe which will impress your ketchup loving family. Nearly every household has ketchup in their refrigerator, so instead of reaching for a bottle on your next shopping trip why don't you reach for a box of fresh tomatoes and make your own?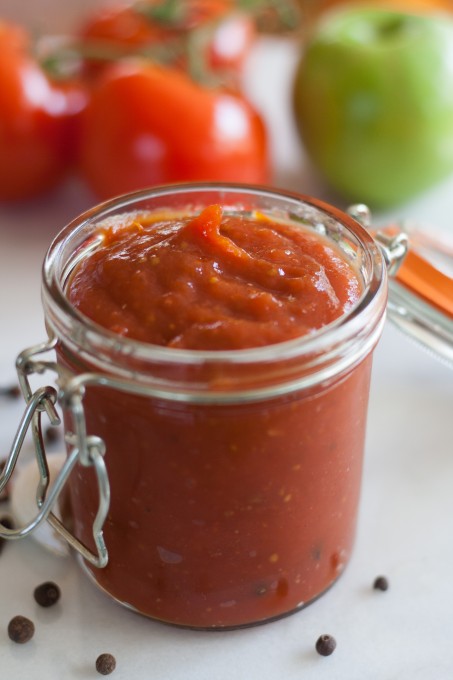 My kids use it on nearly everything, from fries and meat to the veggies that I have served that they don't like. I even have one child who will dip fresh carrots into ketchup. We often joke that ketchup makes anything taste tolerable.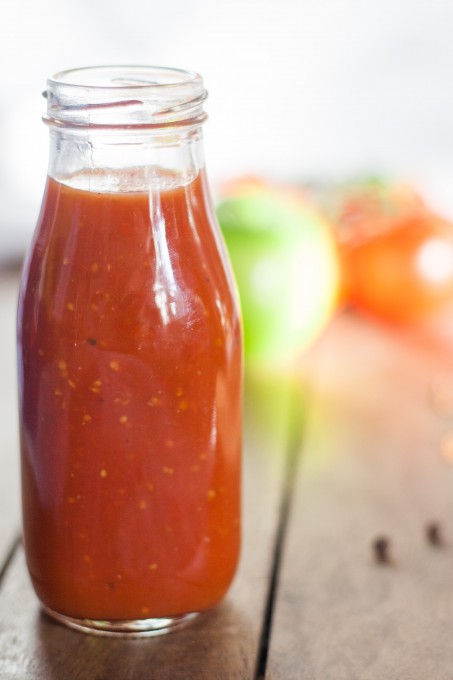 Every year, I plant tomatoes in my garden so that by mid summer my ketchup is almost free! I have some apple trees too, but the ones that survive usually get eaten straight off the tree. Making homemade ketchup from home grown tomatoes gives me that hippy earth momma feeling – I fall down on many aspects of that image but it's nice to dream. You can use any kind of tomato. If I'm buying from the shops I usually will use beefsteak or vine ripened tomatoes but if I have any tomatoes which are fading quickly I use them in tomato sauce. If you look at the picture of my ingredients you will see for this batch of ketchup I used Roma and cherry tomatoes. My daughter goes through tomato phases, sometimes eating them like fruit and then she suddenly stops. The result – a few bottles of ketchup!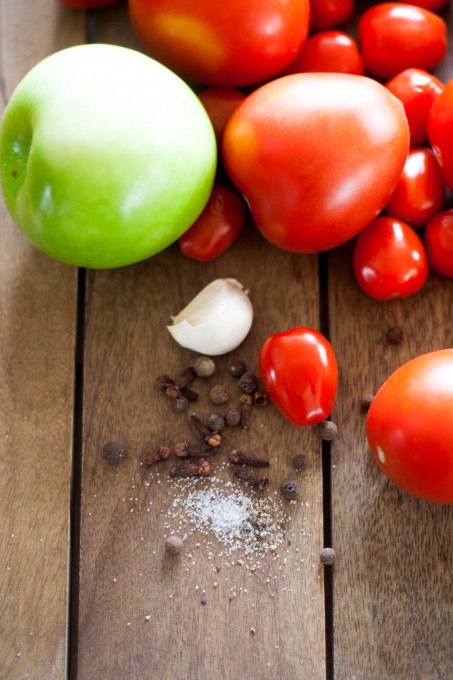 I think it is the combination of spices which make this ketchup. The combination of sugar and vinegar give it that tart sweetness but the spices give it the body. After making your own ketchup, you probably will not want to buy store bought ketchup again.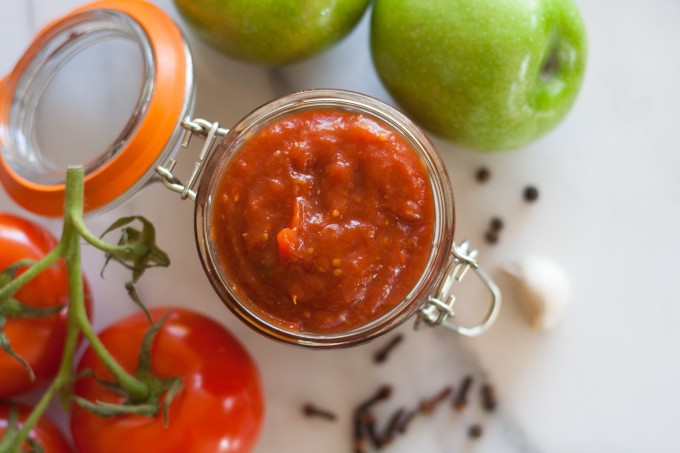 This recipe will yield around 4 cups of ketchup.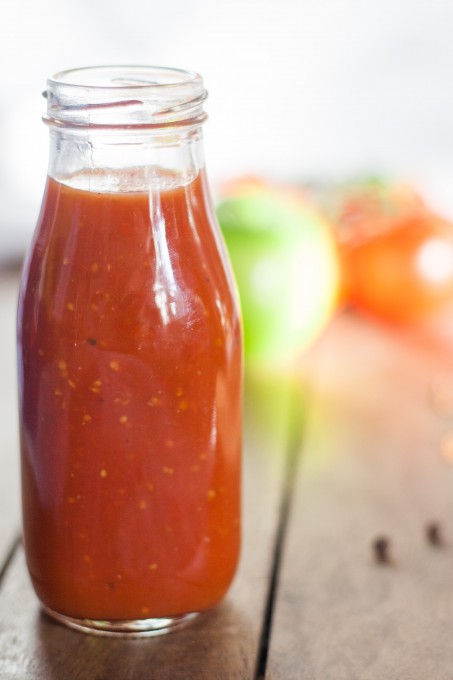 Tomato Ketchup
2014-04-03 21:42:00
Ingredients
5 lb ripe tomatoes
3 tart apples, such as Granny Smith, peeled and cored
2 garlic cloves
1¾ cups sugar
2 teaspoons salt
¼ teaspoon pepper
6 whole cloves
8 whole allspice
1 teaspoon ground ginger
2 cups white vinegar
Instructions
Roughly chop the tomatoes, apples and garlic. Place them in a large saucepan along with the sugar, salt, pepper, cloves, allspice, ground ginger and vinegar.
Bring the ingredients to a boil, reduce the heat and simmer, covered, for 20 minutes or until tomatoes and apples are very tender.
Puree the ingredients with a food processor or immersion blender. If none of these are available, you can also push the ingredients through a sieve twice.
Return the pureed ketchup to the saucepan and bring it to a boil. Boil, uncovered, for 25 minutes or until the mixture is thick. Stir occasionally. The longer you boil the ketchup, the thicker it will be.
Remove from the heat and store the ketchup in the refrigerator.
Cookies or Biscuits? https://www.cookiesorbiscuits.com/