Cream Cheese – two ways in two days! I love the versatility of Cream Cheese. From savory dips like today's Cob Loaf Dip and yesterday's Cheese Ball, to the sweetness of cheesecakes and frosting. You've got to love an ingredient which can be used in both sweet and savory recipes.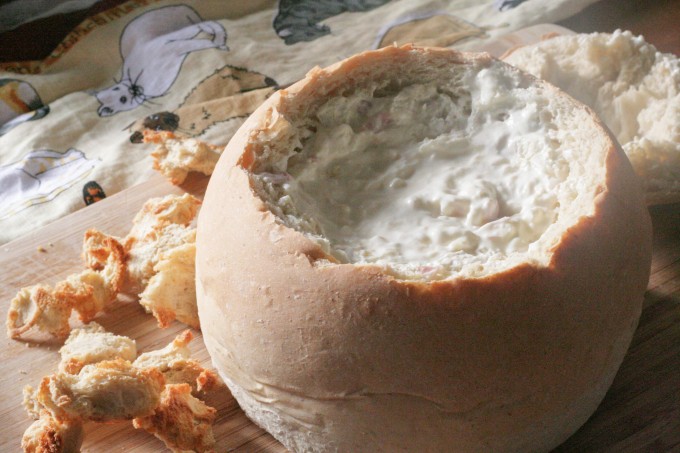 Today's Cob Loaf Dip is a creamy, soft dip, thanks to the addition of sour cream. It does not hold it's shape like the Cheese Ball, which is why it is served in a bread bowl. There is no reason why you can't just serve it in a regular bowl but half the charm of this dip comes from it's rustic look. You might also need to come up with another name! It is called a Cob Loaf Dip because in Australia (and I think in England too), a round loaf of bread is called a Cob Loaf. My local bread shop (Great Harvest) often sells a white and whole wheat round loaf which tastes divine. You can also often find a sourdough round loaf at supermarkets.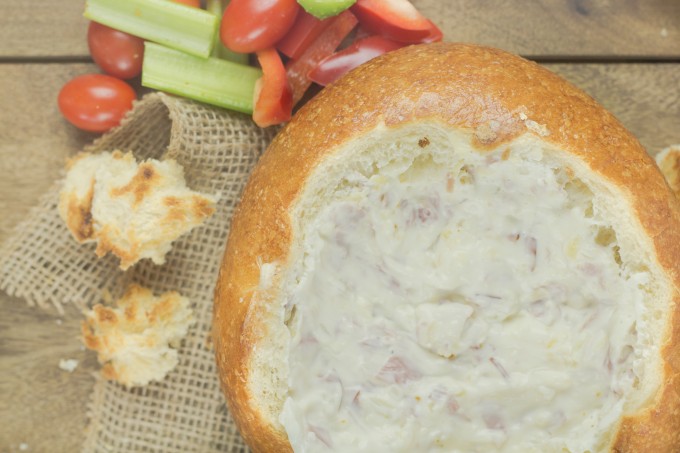 I can just picture this dip being served up in a country kitchen, with a breeze blowing though the windows, and fresh vegetables from the garden ready to dip into this cheesy goodness. My vegetable garden is going to look a little pathetic this year, as we are heading to Australia for a month later this year. I've got some chard and peas growing right now, but as I won't be able to maintain the garden while I'm away, not much is being planted right now.
This recipe makes quite a bit of dip – it fills up a large round loaf of bread – so it's a perfect appetizer for a night with your friends. When you dig out the inside of the bread, make sure you keep the insides for dipping!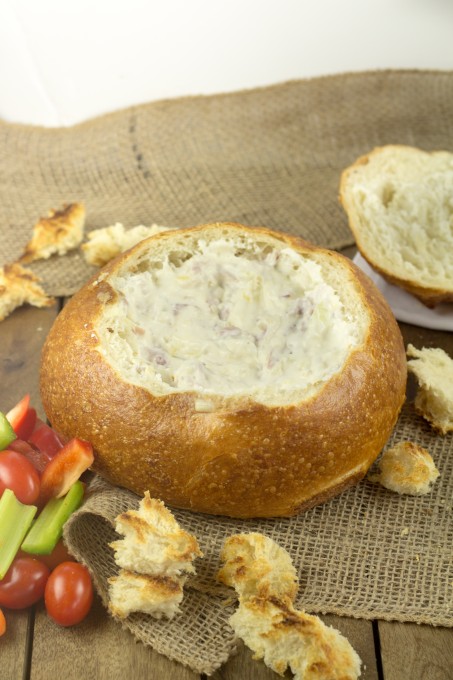 Cob Loaf Dip
2014-05-20 21:54:56
Ingredients
Philadelphia cream cheese 8oz
sour cream 8oz
grated cheddar cheese 1 cup
onion 1 small, chopped finely (about 1/2 cup)
ham 4 oz, chopped
cob loaf (large round bread)
Instructions
Preheat the oven to 350°F.
Beat the cream cheese and grated cheese together. Mix in the sour cream, onion and ham.
Cut a lid off the top of the cob loaf.
Scoop out the middle of the cob loaf, reserving the scooped out bread, and put the mixture into the hole.
Put the bread lid back on the cob loaf.
Wrap the bread in aluminum foil and cook in the oven for 1 hour or until heated.
Toast all the scooped out bread, under the broiler.
Serve warm, with toasted bread and vegetables on the side for dipping.
Cookies or Biscuits? http://www.cookiesorbiscuits.com/