I love, love, love this Cheese Ball. Made from cream cheese and cheddar cheese, with lots of colorful veggies mixed in, it's perfect for a gathering of friends or just to share with your loved ones.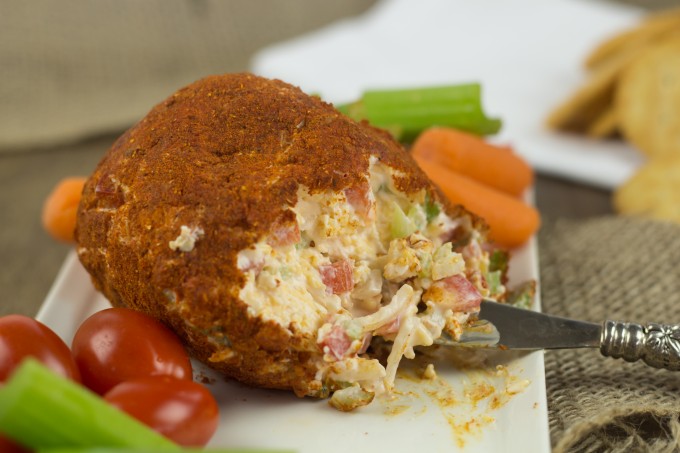 I made this Cheese Ball for News Years, and my 10 year old has been hassling me to make it again. She knows that I've been working through many of my favorite recipes, taking photos for the blog. So I've been hearing "Mum, when are you going to make the cheese ball. It's so good!". So on Thursday, I finally made it again. She was delighted!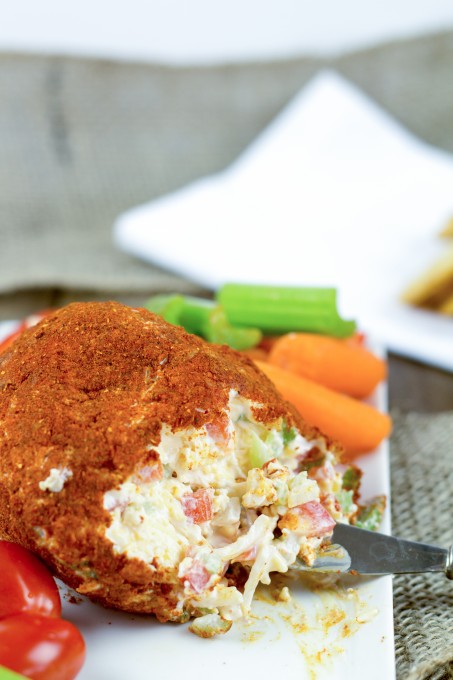 Then I hurt my neck on Thursday night and have been out of action for most of the weekend. After the kids were in bed on Saturday night, my love bought down the left over cheese ball, crackers and wine. I think the wine helped relax the neck a little too. It was a perfect evening, getting waited upon and watching a little bit of TV! I've just found "Chuck" on Netflix, and have been enjoying the silliness of what can only be described as action/comedy. I wouldn't recommend hurting yourself just for a little spoiling though!
I cannot remember a time in my life when I didn't eat this Cheese Ball. Mum used to make it for special occasions and it was always well loved. When I moved to America, I had to change the recipe a little as Mum's original recipe calls for a mix of Kraft Processed Cheddar Cheese and mature cheddar cheese. I had no clue what to substitute for the processed, although I have since worked out that Velveeta is the American equivalent. Instead of using the processed cheese, I use Sharp Cheddar Cheese for everything. I found that it works just as well, plus I get to avoid the additives in the processed cheese. Win, win, if you ask me!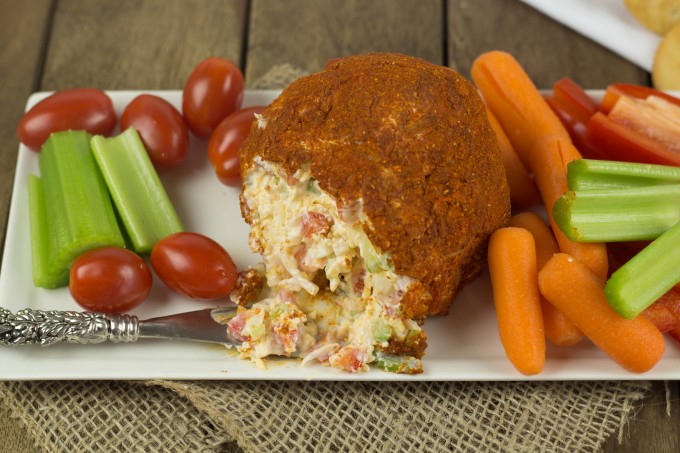 This is such an easy appetizer to make. The cheeses are beaten together, then the chopped vegetables are mixed in. Chopping the vegetables is probably the most time consuming part of this recipe, as it's critical that you cut them very finely. But that really only takes a few minutes – less if you have a food processor. Finally, the ball is rolled in a mixture of curry and paprika (unless you are freezing the ball, in which case you just wrap the ball in foil and do the rolling when you thaw it at a later date)
I remember, as a child, I would avoid the curry and paprika on the outside. But these days, it's my favorite part. It's funny how our tastes change as we get older! My eldest is just like I was as a child, and he avoids the outside. But my daughter loves the spices – she takes after her father in that regard!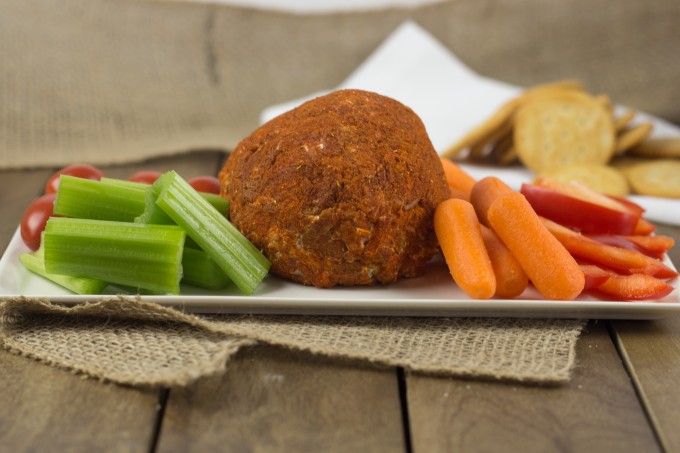 This recipe makes 2 cheese balls. You can either serve both for a large gathering, or you can freeze one of the balls (without the curry and paprika) until you are ready to serve.
Look out for another cream cheese dip in the next few days!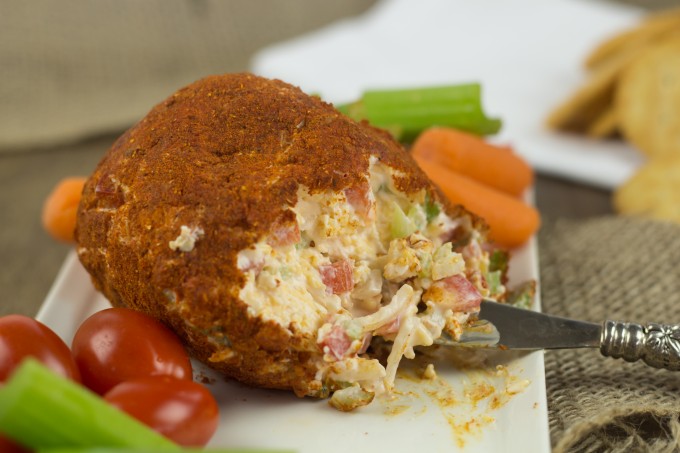 Cheese Ball
2014-05-17 23:04:52
Ingredients
8oz cream cheese, at room temperature
8oz mature cheese such as sharp cheddar, grated
1 celery stick, finely chopped
1 bell pepper, finely chopped
1 small onion, finely chopped (about 1/2 cup)
1 teaspoon paprika, for rolling
1 tablespoon curry powder, for rolling
Instructions
In a large mixing bowl, beat the cream cheese until it is soft.
Add the grated cheese, and continue to beat until the cheese is well combined.
Chop the vegetables very finely and combine with the cheese.
Roll the mixture into two balls. If not using immediately, wrap the ball in foil and place in the freezer.
On a flat plate, mix the paprika and curry powder together. Roll the cheese ball through the spices until it is completely covered.
Notes
If freezing the cheese ball, thaw the ball completely in the refrigerator. Just before serving roll the cheese ball in the mixture of paprika and curry powder.
Cookies or Biscuits? http://www.cookiesorbiscuits.com/