It's Copper River Salmon season! This is big news in the Northwest, as this salmon is only available for about one month. Supermarkets have signs up saying "Copper River Salmon is Here" – and Northwesterners come out in droves to buy this delicious, dark red, rich, fish. And without fail, I have bought Copper River Salmon at least once for the past few years so I could make Salmon with Herbs and Tomato Salsa.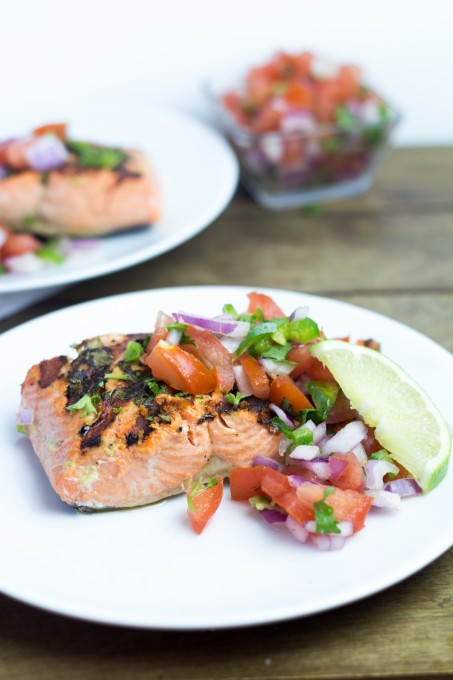 The truth is, I'm actually not a big fan of fish. I tend to treat fish more like medicine. I know it's good for me, so I eat it. But if you put nearly any other meat in front me and a plate of fish, I will always choose the other. However, I do like Salmon – especially Copper River.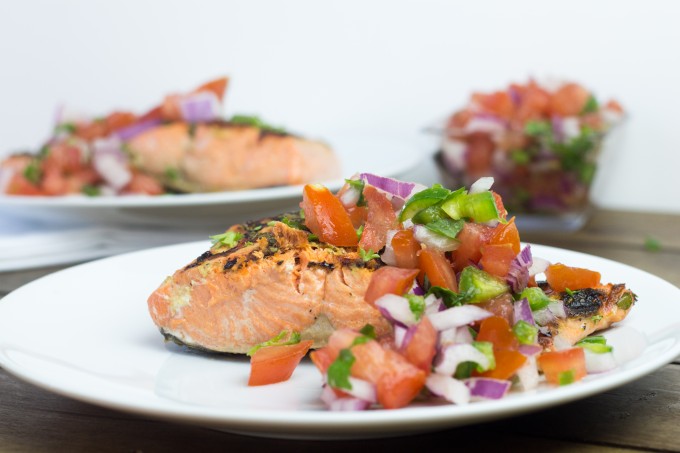 I actually never tasted fresh Salmon until I moved to America. I grew up near the sea, and my parents now live right on the beach. So fresh fish was on the menu quite often. However, salmon was not a variety that was readily available as a child or young woman. Salmon came canned or smoked. And I was not impressed. Apart from Salmon patties (from canned meat) I would not touch the stuff. It took me a while to even be willing to try salmon in America, and this was the first recipe I ever tried. And I keep coming back to this recipe, time after time. It is adapted from a Weight Watchers recipe, published in 2004. Obviously it was a cookbook that I bought when trying to loose baby weight after my daughter!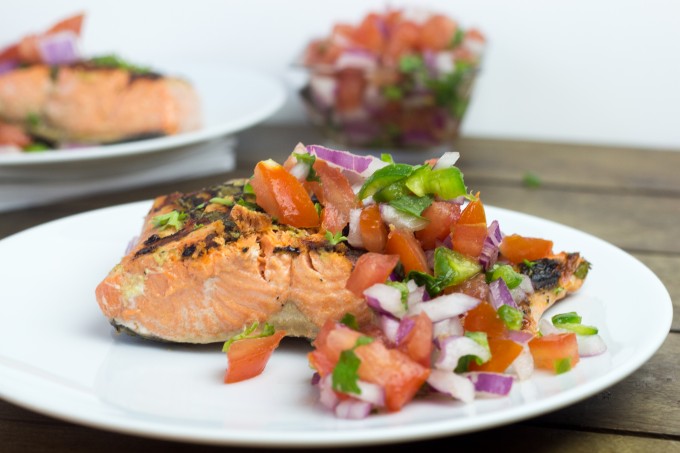 Of course, you do not have to use Copper River Salmon – any variety tastes wonderful. I've used Sockeye and King Salmon in the past. Australians should be able to buy Tasmanian Atlantic Salmon.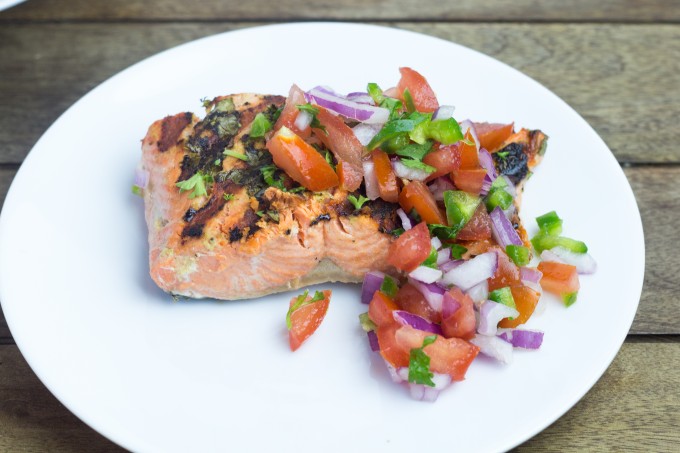 The Salsa complements the fish beautifully. It is a basic salsa recipe, which you may like to use for other meals. It would be great for a taco night or just for dipping. You can make this salsa the day prior, making the preparation really quick on the serving day. If you do this, you can have this meal served in about 15 minutes, as all you have to do is sprinkle salt & pepper on the salmon, spread on some mustard and then put the herbs on top! Cook and enjoy. Easy!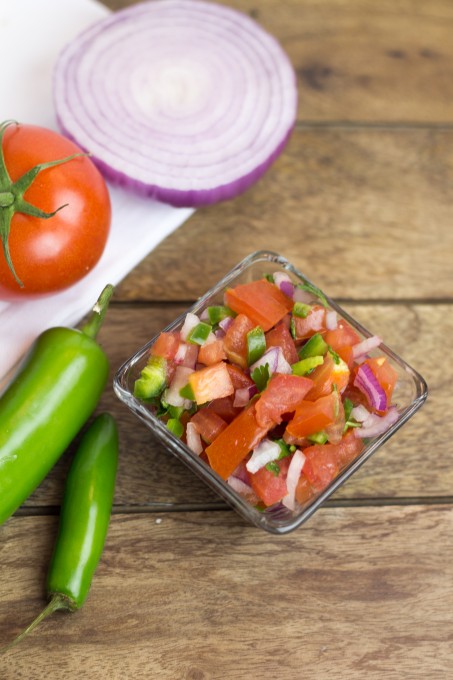 I have used 2 types of chili – Jalapeno and Serrano. I would rate this as a mild-medium salsa. If you want a hotter salsa, you can increase the amount of Serrano peppers. For a completely mild salsa – change the Jalapeno and Serrano peppers to green bell peppers (green capsicum).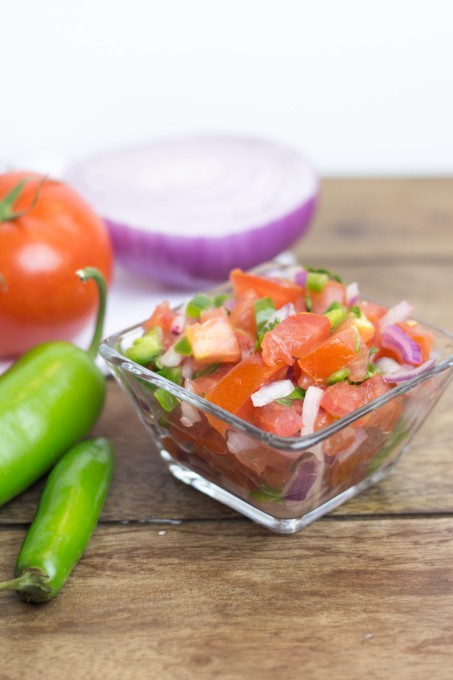 This recipe serves 4-6. For our family, it only serves 4 because I have 3 salmon lovers.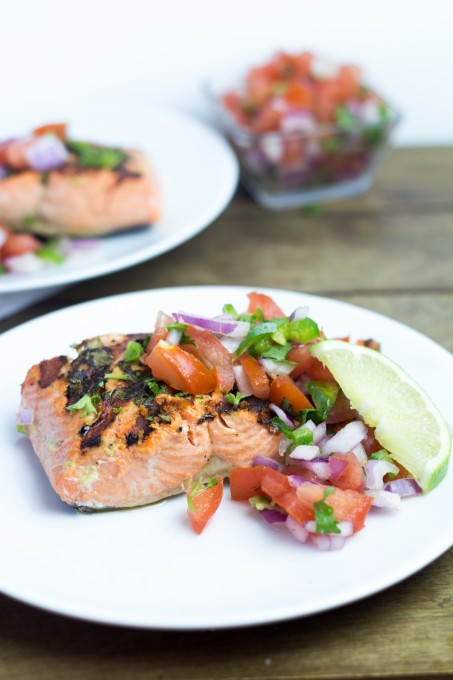 Salmon with Herbs and Tomato Salsa
2014-06-01 00:03:02
Ingredients
2 lb salmon
2 tablespoons fresh parsley
2 tablespoons fresh basil
2 tablespoons Dijon mustard
salt & pepper to taste
Tomato Salsa
1 tablespoon fresh cilantro
2 large tomatoes
1 jalapeno pepper
1/2 serrano chili pepper
1/2 red onion
2 tablespoons fresh lime juice
1/4 teaspoon salt
Instructions
Chop the parsley and basil finely and combine in a small bowl. Set aside.
Cut the salmon into 4-6 servings.
Spray a nonstick ridged grill pan with nonstick spray and heat to medium-high.
Sprinkle the salmon with salt & pepper.
Spread the mustard over the flesh side of the salmon.
Sprinkle the basil & parsley evenly over the salmon fillets.
Place the fillets flesh side down on the grill and cook for 4-5 minutes. Flip the fillets and cook for a further 4-5 minutes or until the salmon is opaque in the center.
Serve with the salsa
Tomato Salsa
Chop the cilantro and place in a medium sized bowl.
Remove the seeds from the tomatoes, jalapeno and serrano pepper. (Wear a pair of gloves to prevent irritation from the peppers).
Finely chop the tomatoes and add to the bowl with the cilantro.
Chop the jalapeno and serrano peppers very finely. Add to the bowl.
Finely chop the red onion. Add to the bowl.
Add the lime juice and salt and stir to combine.
Notes
The salsa can be made the day before and refrigerated.
Cookies or Biscuits? http://www.cookiesorbiscuits.com/