Imagine this…a scone with cheese mixed into the dough. Then put a filling of sausage, peppers and cheese into the center. This is a Savory Scone Ring – the most amazingly delicious scone you will ever try.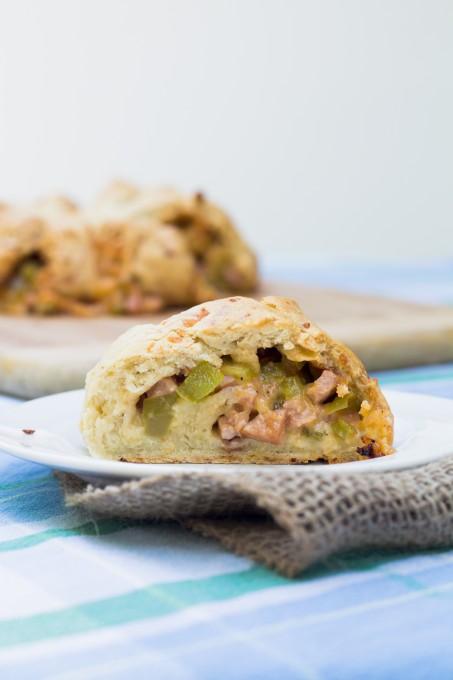 I have reached a milestone: This blog is 3 months old today! 78 recipes – most of them being my favorite family recipes – although a few have been new favorites that I have added to my collection since moving to America.
In celebration, I'm sharing another of my favorites – the Savory Scone Ring. It's one of those recipes that wasn't made very often growing up, but it really stands out in my memory as one of the most delicious things I've ever tasted. About a year or two ago, this memory was nagging me so I called my mum and said "Do you remember that scone ring that you used to make? Do you still have the recipe?" She knew exactly which recipe I was talking about!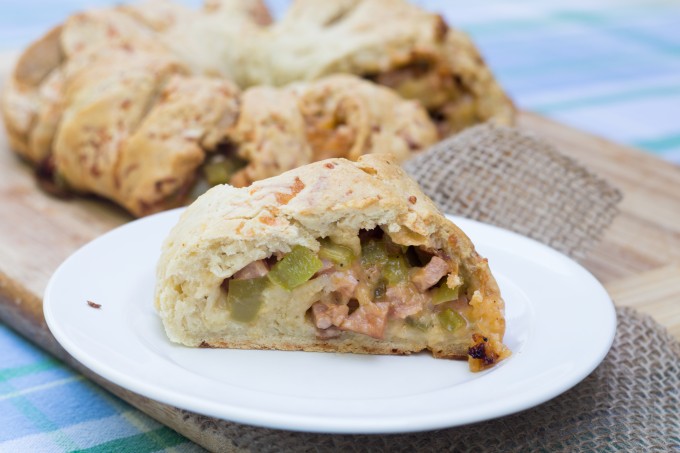 I've made this scone ring a couple of times in the past few months, as I haven't been happy with my photos. I mentioned to my 10 year old that we wouldn't be eating it as often now that I had photos I liked. Her response was that it was OK, because she would make it at least once a month for me! She has now earned the position my number one savory scone ring fan.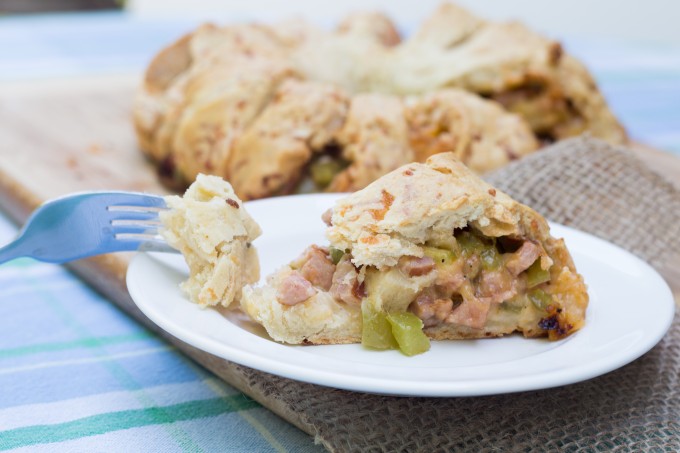 OK. So here's how to make this delicious Savory Scone Ring. I start out by making my dough first. This is very similar to making any scone dough. You combine the dry ingredients and then rub in the butter. Cheese is then added, followed by the liquids.
This is when we deviate from typical scone making. The dough is rolled out into a 15×9 rectangle. I like to roll my on lightly floured parchment paper. That way I can easily lift the finished scone roll and the parchment paper onto a baking tray at the end. Trust me, it avoids a huge mess!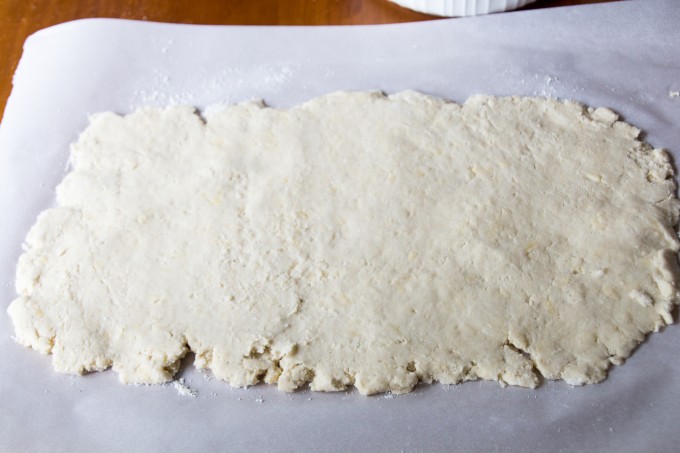 Next I cut up my sausage and bell pepper finely. It's then mixed with butter, ketchup, more cheese and salt & pepper. Spread the filling out onto the dough, leaving about an inch around the edges to join the dough.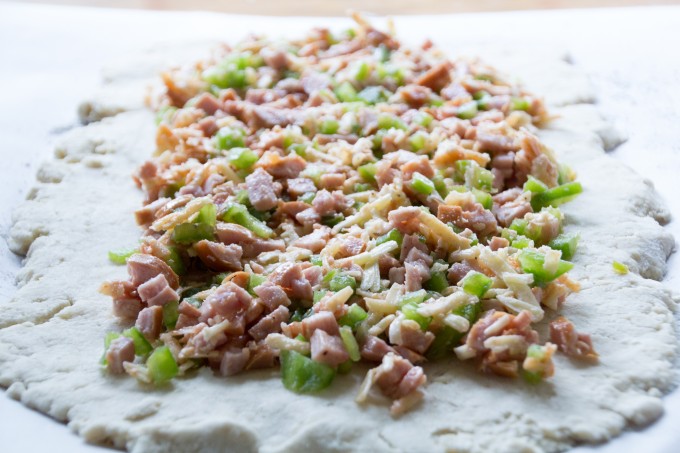 Roll the dough and filling into a log shape and join the edges together lengthwise. You can use a pastry brush to brush milk along the edge as this can help it seal. I often skip this step though and it stays together.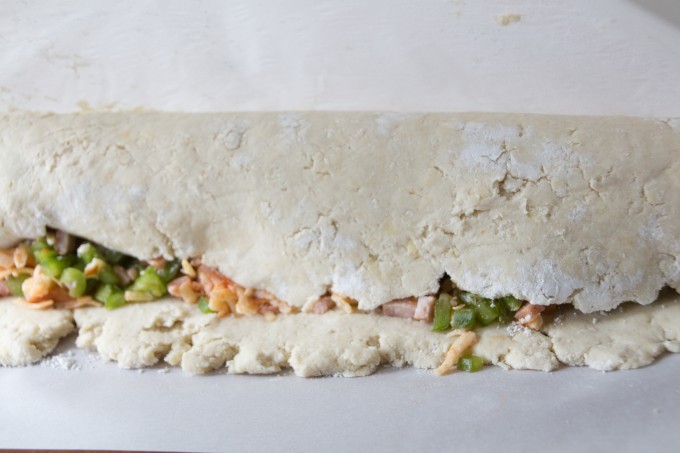 Carefully move the dough into a circle shape. Some of the dough is going to crack, but that is OK because we are going to cut the dough soon and you can just use the cracks as your cutting point!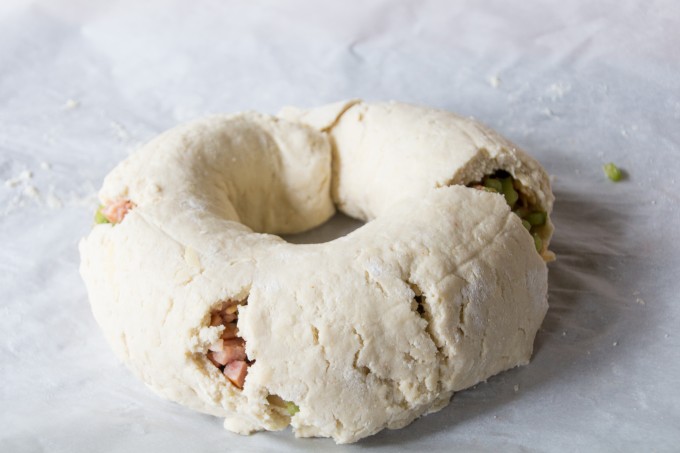 Take a pair of kitchen scissors, and cut the dough into 12 slices. Do not cut the bottom – just the tops and sides. Brush the top of the Savory Scone Ring with a mix of milk and egg. This helps the ring get that lovely golden brown crust.
Bake in the oven for 45 minutes or until the Savory Scone Ring is golden brown.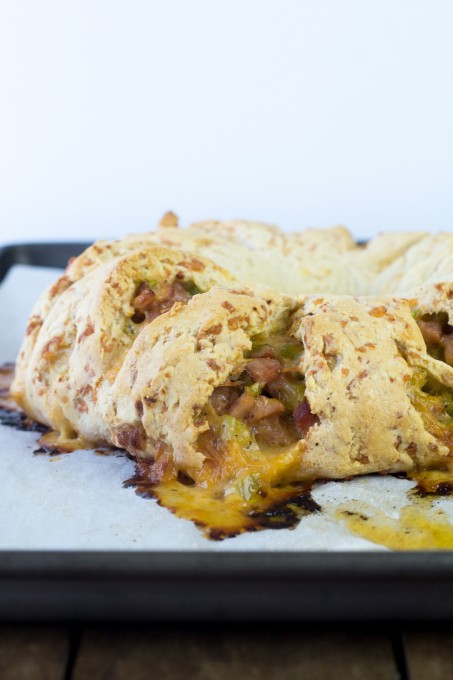 When it comes out, there is going to be some cheese and filling that has oozed out. When you transfer the ring to a plate, if you wish, you can just pull these bits off for a prettier presentation. Although I have to admit that those little bits taste pretty good, and I eat them in the cleaning up process!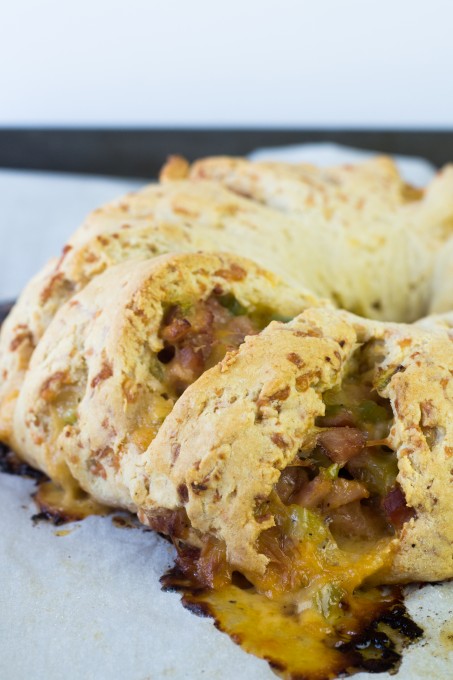 We've eaten this for both an appetizer and a main meal. It's perfect for a night of watching sports too – we made it for Superbowl last year.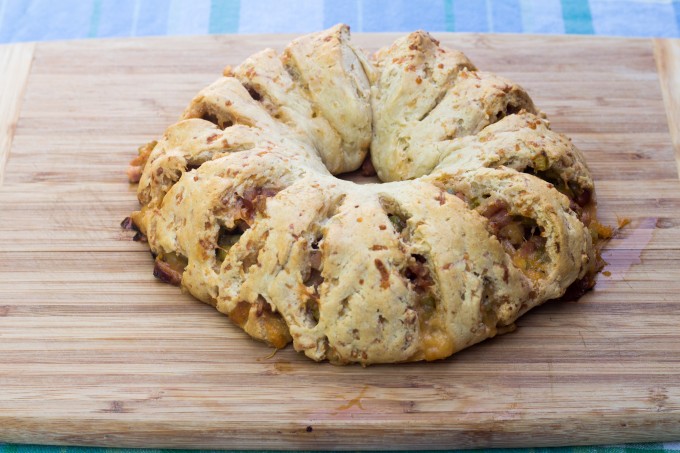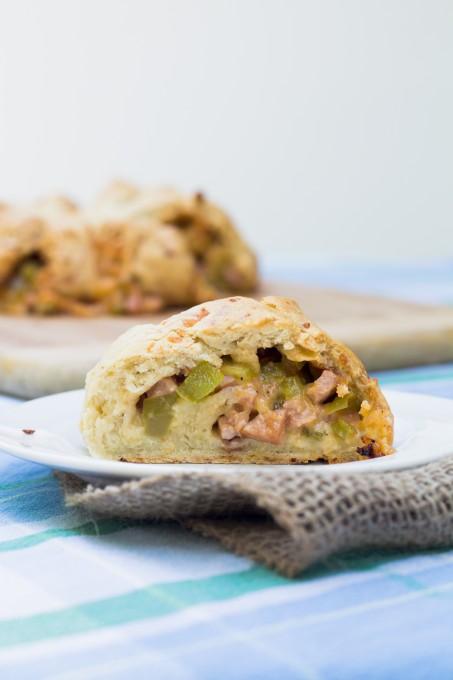 Savory Scone Ring
2014-06-02 22:04:27
Ingredients
12 oz (2 cups) plain flour
3 teaspoons baking powder
½ teaspoon salt
1/8 teaspoon cayenne pepper
1 egg
2 oz butter
grated cheese 3 oz
milk 1 cup
Filling
½ lb, Kielbasa or Strasbourg, finely chopped
1 cup green bell pepper, finely chopped
½ tablespoon butter, melted
Salt & pepper to taste
1 tablespoon tomato ketchup
1 cup grated cheese
Glaze
1 egg
1 tablespoon milk
Instructions
Preheat the oven to 350°F.
Combine flour, cayenne and salt in bowl. Rub the butter into the flour.
Add cheese and mix well.
Beat milk and egg together. Pour into the flour mixture and mix well, to form a moist firm dough.
Place the dough on lightly floured parchment paper and roll until the dough is a rectangle measuring 15" x 9".
Combine all filling ingredients in a medium bowl, and mix well. Spread the filling ingredients on the dough, leaving an inch gap on the long side.
Roll the dough into a log shape and then form a ring. Lift the parchment paper with the scone ring on it and place on a baking tray. Join the ring with a little milk mixture.
Cut the scone ring with scissors about ¾ inches apart to half the depth of the ring.
In a small bowl, combine the egg and milk and brush the scone ring with a pastry brush.
Bake in the oven for 45 minutes, or until the scone ring is golden brown.
Serve hot.
Cookies or Biscuits? http://www.cookiesorbiscuits.com/