I love this time of year. I've got beautiful bright red strawberries growing in my backyard and the kids love to pick them and eat them straight from the garden. Luckily for me, there are enough to go around for everyone. I love how garden strawberries are so sweet – every mouthful is an explosion of flavor. With so many strawberries available, both in the garden and the shops, it's no wonder that Strawberry Shortcakes are popular at this time of year.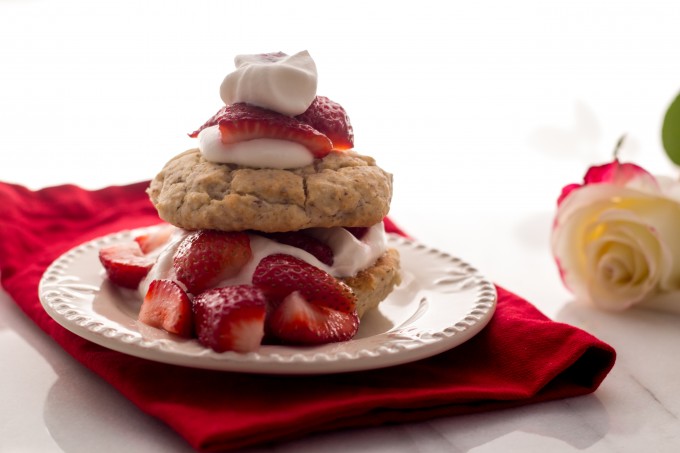 There is something romantic about Strawberry Shortcakes too. It might just be the color of the strawberries, but I always think they are perfect for a date night dessert. Can't you just picture a lovely dinner – for me it would be a juicy steak – with wine, followed by this dessert? I'd serve it up out on the back patio after the kids had gone to bed, but the sun was still up. I love that about living in Seattle – the sun in late spring and summer is up at 9.00pm still.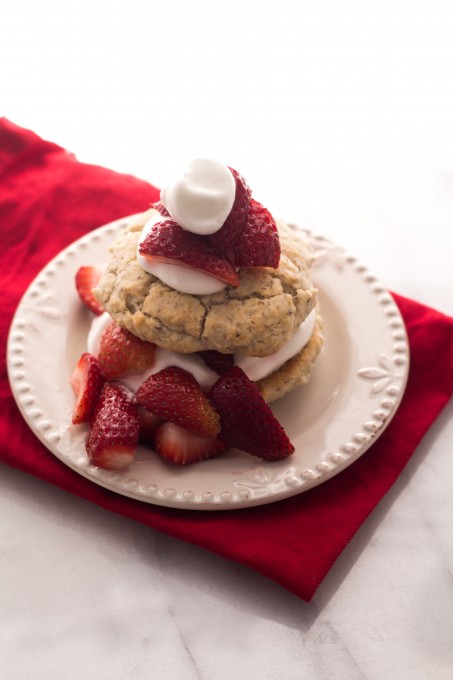 These Gluten Free Strawberry Shortcakes are very easy to make. I start by removing the stems from the strawberries and cutting them in quarters (or half for my smaller garden strawberries). I then mix the cut strawberries with sugar. If you are using very sweet strawberries, you may like to reduce the sugar by a tablespoon. While you are preparing the Shortcakes, you allow the strawberries and sugar to sit on the counter. The juices of the strawberries will start running and mix with the sugar, making a lovely liquid within about 20 minutes. To save time, you can prepare the strawberries and sugar earlier in the day, and keep it in the refrigerator until you are ready to serve.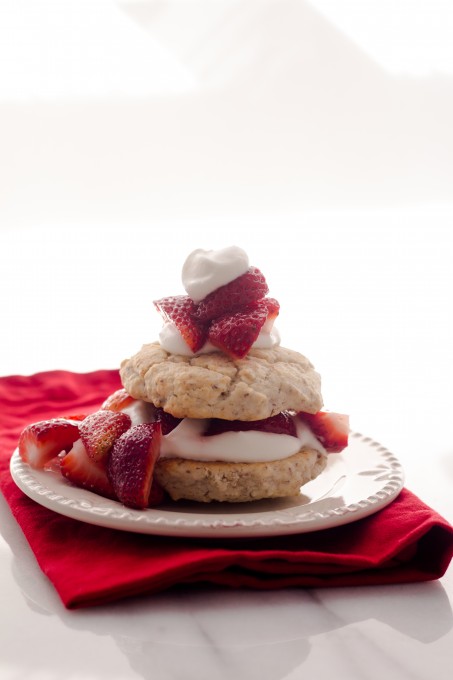 The next step is to make the actual Shortcakes. I simply combine all the dry ingredients together in a bowl, then mix in the cream. Gluten Free flours do not like a lot of mixing, so make sure you mix with a wooden spoon and only mix until the cream is just combined. Divide the dough into 12 balls, and place them on a baking tray lined with parchment paper. Flatten the dough to make circular shapes about 1/2 inch thick. This dough does not rise very much, so you can place them fairly close together on the baking tray.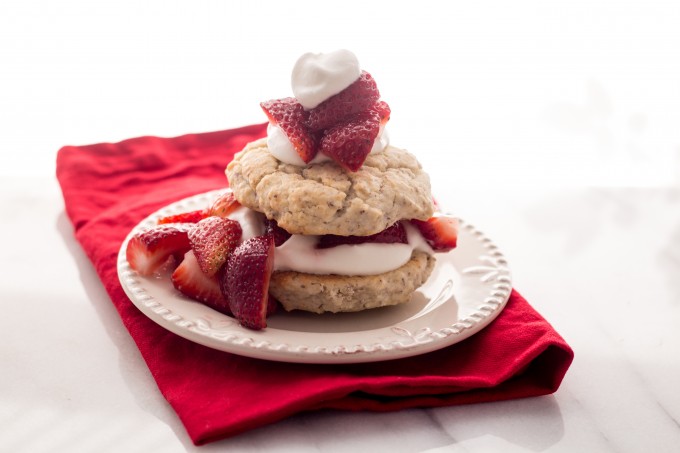 Although the dough does not rise very much, it tastes amazing. It's soft and slightly crumbly – just as you would expect from a biscuit/scone. Because the dough doesn't rise very much, I have chosen to not split the shortcake in half. Instead, I use two shortcakes for one serving. Cream and strawberries are placed between the shortcakes, and then again on top.
It's pure romance and deliciousness.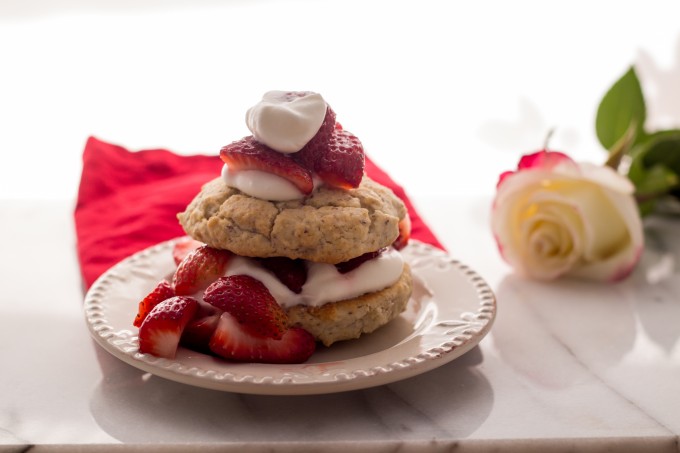 I've just read that Strawberry Shortcake Day is on June 14th! Maybe we'll have some more Strawberry Shortcake for dessert next week.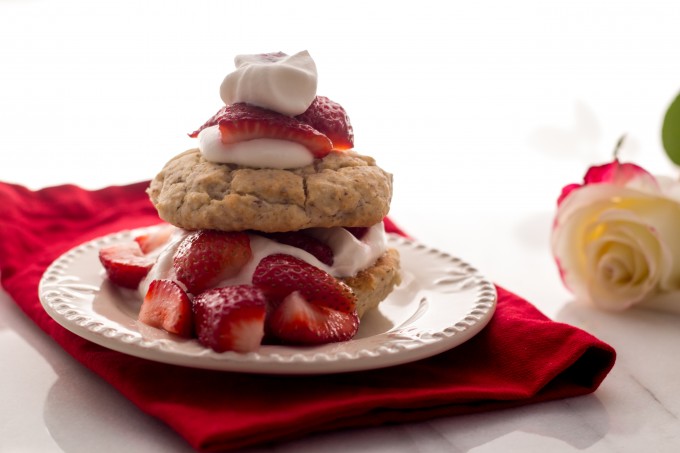 Gluten Free Strawberry Shortcakes
2014-06-05 22:11:09
Strawberries
1 1/2 lb strawberries
4 tablespoons sugar
Shortcakes
1/2 cup arrowroot flour
1 1/2 cups brown rice flour
2 tablespoons flaxseed meal
1 teaspoon salt
2 teaspoons baking powder
2 tablespoons sugar
1 1/2 cups heavy cream
Whipped Cream
1 1/2 cups heavy cream
2 tablespoons sugar
Strawberries
Remove the stems from the strawberries and quarter them. Mix the strawberries with the 4 tablespoons of sugar. Leave to sit while preparing and cooking shortbread, to allow the juice to develop.
Shortcakes
Preheat the oven to 400° F and line a baking tray with parchment paper.
In a large bowl, combine the arrowroot flour, brown rice flour, flaxseed meal, salt, baking powder and sugar. Add the heavy cream and mix with a wooden spoon until just combined.
Divide the dough into 12 balls. Place each ball on the baking tray. Flatten the dough until it is about 1/2 inch thick. The dough can be close together.
Bake in the oven for 16-18 minutes or until the shortcake is golden.
Allow the shortcakes to cool slightly on the tray, and then transfer them to a cooling rack.
To serve, take one shortcake and place it on a plate. Spoon 1-2 tablespoons of whipped cream onto the shortcake, and then add a tablespoon of strawberries. Place a second shortbread on top of the cream and strawberries. Top with strawberries and cream.
Whipped Cream
Combine the cream and the sugar in a medium sized bowl. Using an electric mixer, whip the cream until stiff peaks form.
Cookies or Biscuits? http://www.cookiesorbiscuits.com/