Sponge Cake is hugely popular in Australia. It's a delightful, light and airy textured cake, often served with cream and jam in the middle. I used to call this recipe a Victorian Sponge Cake, but I have since learned that a true Victorian Sponge contains butter! This recipe is adapted from a Sponge Cake recipe I found in the Australian Women's Weekly Cooking Class recipe book, and contains no added fat.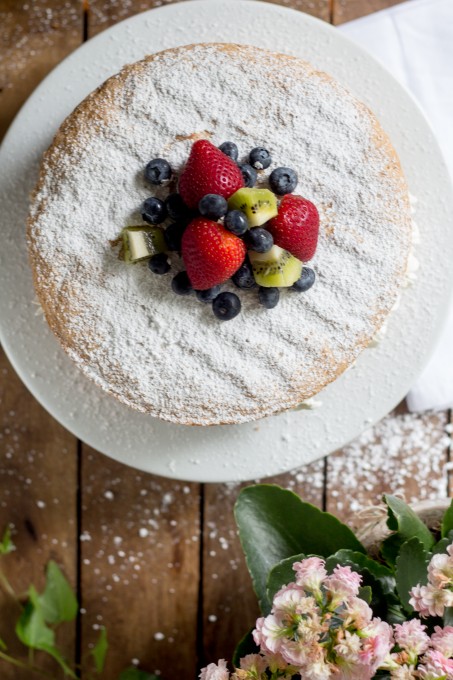 In Australia, we used to be able to buy a plain sponge cake at the supermarket and decorate it anyway we want to at home. I'm sure I am not alone in my memories of popping down to the shops when I was in a hurry and buying a basic cake – then taking it home, decorating it and making it look homemade. I kind of miss that these days. (Gasp – it's true – I don't make everything at home!). In America, sponge cakes are a rarity. They are usually only found in the home bakers' kitchen. On the other hand, I can buy all the Angel Food Cake in America that I want!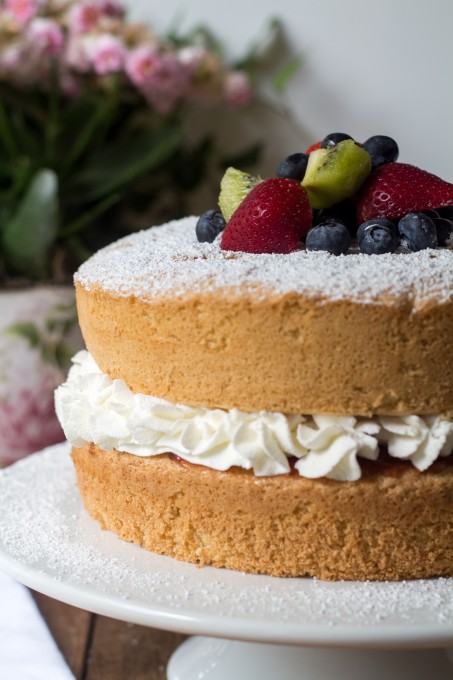 Sponge Cake is always a light and airy cake. There are a couple of ways this is achieved. The first is by sifting the flour. I am the first one to admit that I do not always sift flour when making a cake, but for a sponge cake it's really important. It helps separate the flour, giving it more air and volume.
The other important thing is the beating of the eggs. By the time you finish beating the eggs, the mixture will have tripled in size, and will be nearly at the top of your bowl.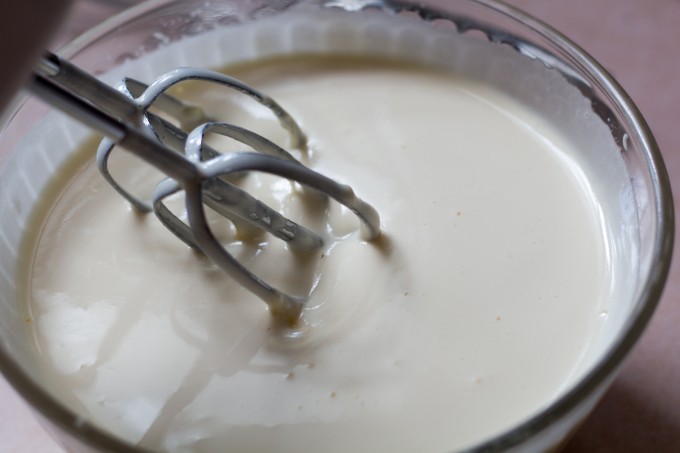 Once you have beaten the eggs, and added the sugar, the beating stops. Now the flour is folded into the cake. Folding the batter is important, otherwise the eggs will deflate and your sponge will be flat before you even get it in the oven. I love to use a Flat Whisk
to fold the flour as it helps keep the eggs aerated. Only add small amounts (up to about 1/4 of the flour) at a time.
This recipe makes two cakes, so when the batter is ready you need to divide it into two cake pans. I'm a lazy cook, so I never both with this, but I have heard that if you want a perfect sponge you can weigh the batter to ensure that the cakes will be the same size. I don't even have pans which are exactly the same, let along bothering with exact measurements. But I'll leave that decision with you! Perhaps you want to become a champion sponge maker and you'll thank me in years to come!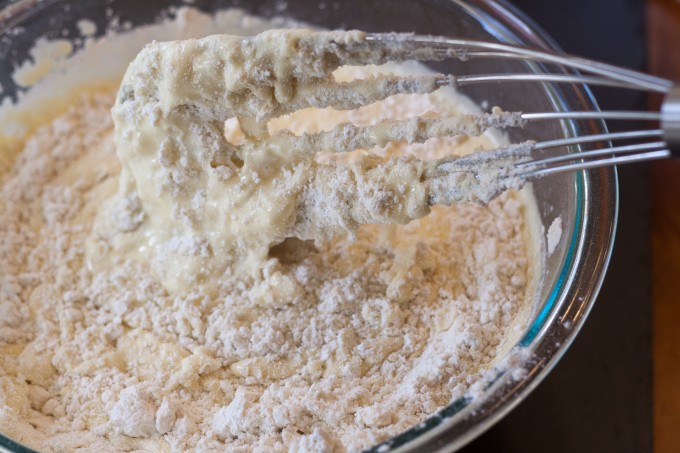 Once the cakes have been cooked, get them out of their pans immediately. Quickly and carefully flip the cakes over so that the top of the cake is facing up, as Sponge Cake does not have icing on top and the lines of a cooling rack will be obvious if not turned quickly. Once they have cooled, you can add jam and cream to the top of one cake. I use Strawberry Jam, but if you are looking for a more authentic Victorian Sponge experience you should use raspberry jam! Apparently that was Queen Victoria's jam of choice on this cake.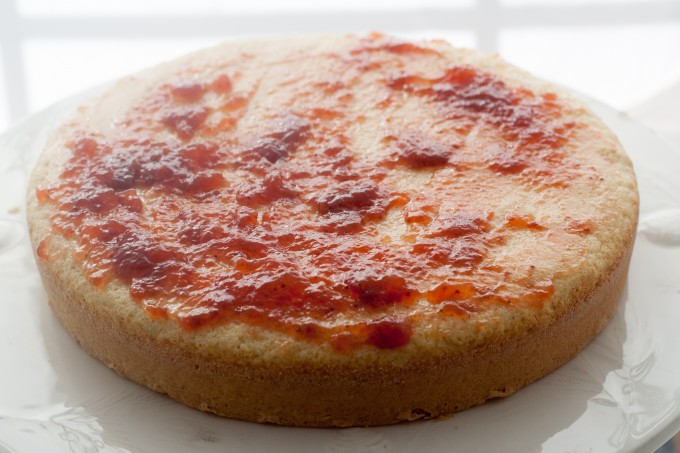 The second cake is placed on top. Using a sifter, sprinkle powdered sugar (otherwise known as icing sugar in Australia) on top of the second cake.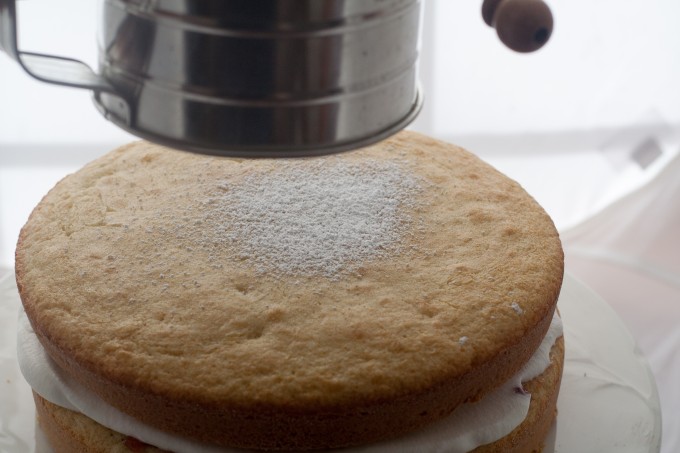 As you can see, I love to serve my Sponge Cake with some fruit on top. I think it looks pretty and pairs well with the cake, jam and cream.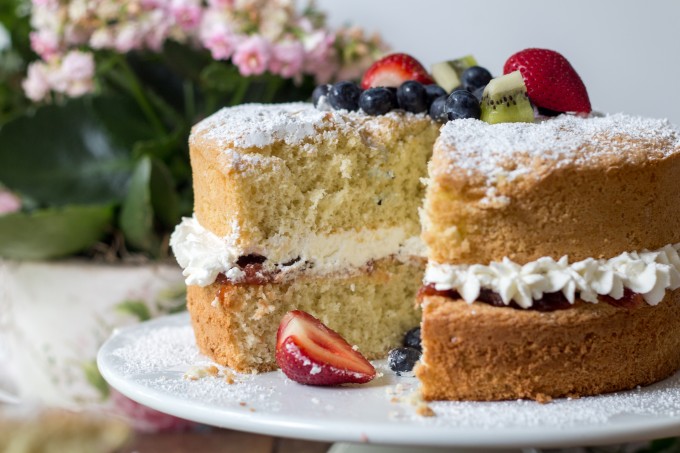 Another tip for making a sponge: Preparation! Because you do not want to have those eggs deflate, it's good to have everything ready to go before you beat the eggs. Preheat the oven and grease the pans before you even lift an ingredient. Sift the flours & baking powder twice and have it ready in a bowl. Have the sugar measured and ready to be poured. This way, when those eggs are thick and creamy you can move quickly, and get the cake into the oven in record time.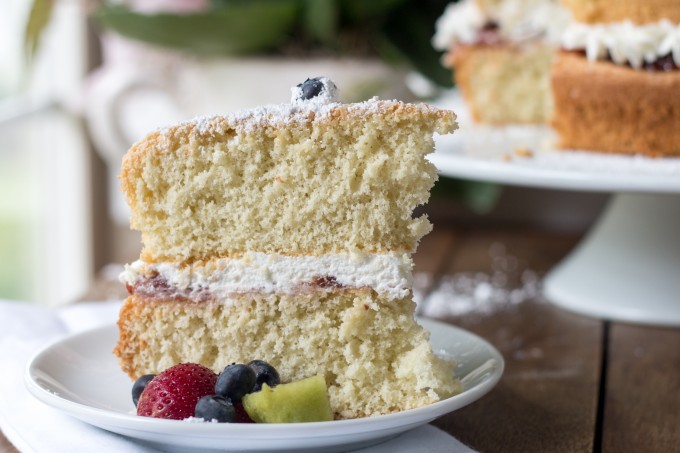 I have happy memories of sponge cake being served at my grandma's house. She was an amazing cook, and I would look forward to having something sweet at her house. I was talking to my mum, and she reminded me of another family friend who used to make her sponge cake with duck eggs! This resulted in larger, fluffier cakes. Occasionally she would give Mum some duck eggs so she could make her own duck egg sponge cakes at home.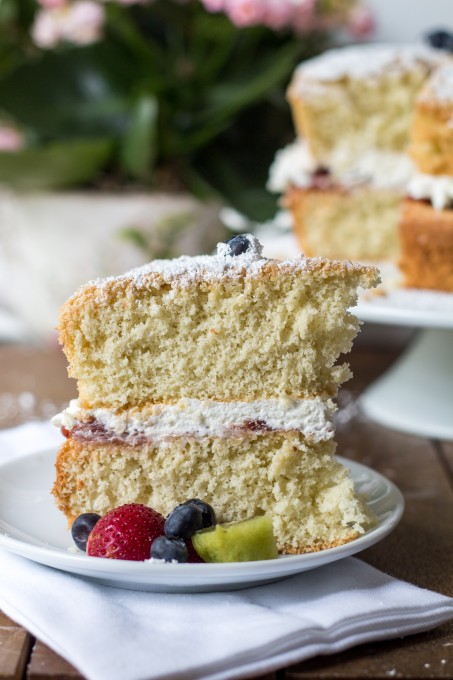 My funny – I have been making sponge cake in America for a few years now but I was never happy with the result. My cakes were always too flat, and I blamed the gluten free flours that I was using. It's embarrassing to admit that I've finally worked out what the problem was! All my cake tins have been bought in America and are 9″ and while Australian sponge cake tins are usually 7″. I'd be using the wrong cake tin size for years! Now that I have doubled the recipe, it works like a charm. And yes – this has been made with a gluten free flour blend – Namaste Foods Gluten Free Perfect Flour Blend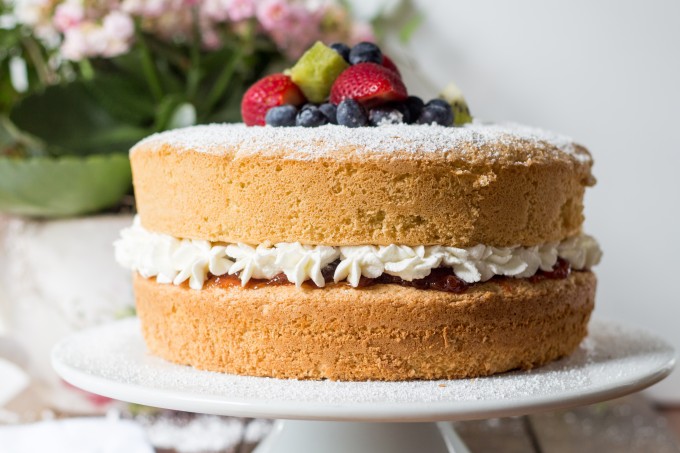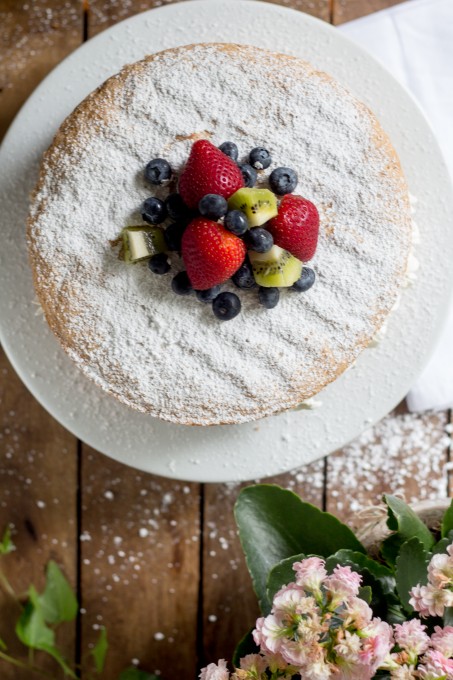 Sponge Cake
2014-06-23 23:08:26
Ingredients
1 1/3 cups all purpose flour
2/3 cups cornstarch
2 teaspoons baking powder
8 eggs
1 1/2 cups superfine baker's sugar
Optional Filling and Decoration
1 cup whipping cream
1 tablespoon sugar
1/2 teaspoon vanilla extract
2 tablespoons strawberry jam
3-4 tablespoons powdered sugar
Instructions
Preheat the oven to 350° F and grease 2, 9" round cake pans.
Sift the all-purpose flour, cornstarch and baking powder at least twice. Set aside.
Put the eggs into a medium bowl, and beat on medium-high until the mixture is thick and creamy, about 8-10 minutes.
Gradually beat in the sugar, adding only small amounts at a time. It should take about 5-6 minutes to add all the sugar. Continue to beat until all the sugar is dissolved, about another minute.
Using a flat whisk, gently but quickly fold the sifted flour into the egg mixture.
Pour the mixture evenly into two round cake tins.
Bake for about 25 minutes. The cake is cooked when the cake shrinks slightly from the sides or when the top springs back when pressed with fingertips and leaves no impression.
Turn the cakes out onto a cooling rack, and invert so the top of the cake is visible.
When cool, spread one cake with strawberry jam and whipped cream. Put the second cake on top and sprinkle with powdered sugar.
Whipping Cream
Place whipping cream in a small mixing bowl. Add the sugar and vanilla extract and whip until the peaks are firm.
Notes
If using a smaller cake pan, you will need to half the recipe.
Cookies or Biscuits? http://www.cookiesorbiscuits.com/