I mentioned the other day that I picked up some scallops at Pike Place Markets. While I was there I also bought some Shrimp – with the goal of making Shrimp Pasta.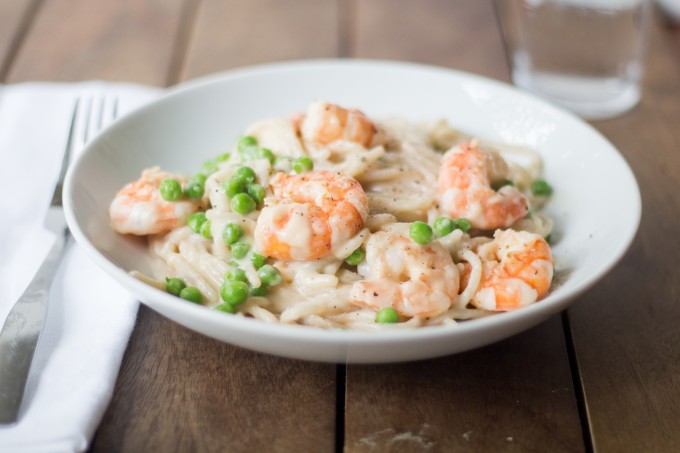 If you have ever made fettuccine, turning it into a Shrimp pasta is very simple. This recipe is based on my favorite fettuccine recipe, although as you can see I used linguine instead of fettuccine. It comes from the Nestle Very Best Cooking website and I have used it for years! We, of course, use gluten free pasta so that my love can eat the meal. These days I actually prefer brown rice pasta over wheat pasta. I find it fascinating how our tastes change over time. It reminds me how I need to keep on trying foods! We're not really that much different from a child who screws up their nose at their first taste!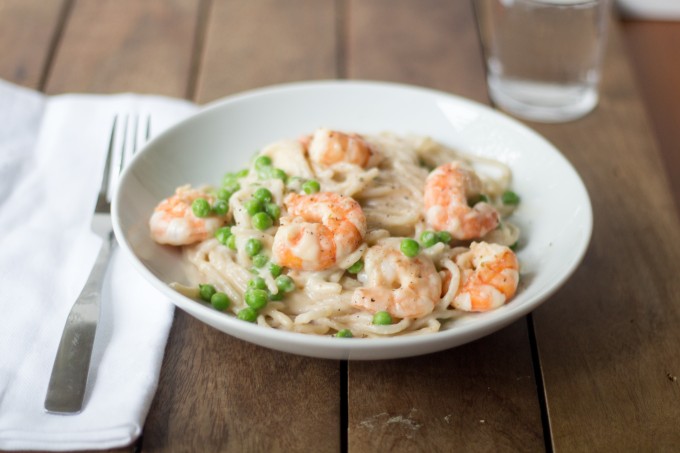 I cook all the elements of this meal separately and everything is tossed together at the end. My peas are in the microwave. I have one pot of pasta cooking on the stove top. In another saucepan I am making the sauce and the shrimp are in the frying pan. Thank goodness for stoves with 4 elements!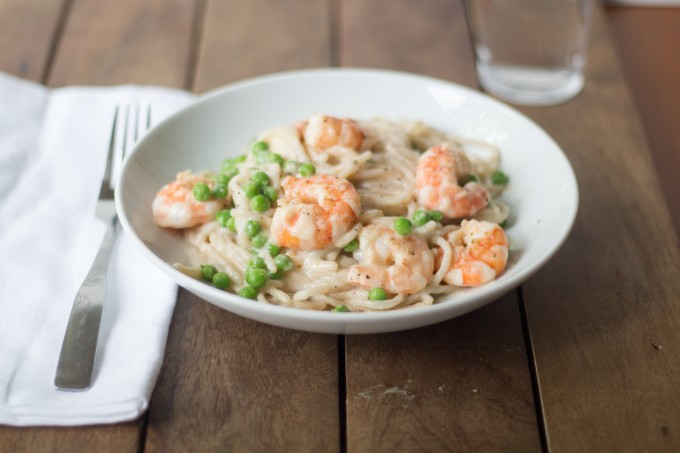 Shrimp Pasta
2014-07-21 17:05:10
Ingredients
12 oz linguine or fettuccine
1/2 cup frozen green peas
1 lb shrimp, peeled and veins removed
5 tablespoons butter, divided
2 tablespoons all purpose flour or brown rice flour
1 can evaporated milk
1/2 cup chicken broth
1/2 cup shredded Parmesan cheese
1/2 cup grated provolone cheese
1/8 teaspoon cayenne pepper
1/8 teaspoon ground black pepper
Instructions
Peel and de-vein shrimp. Set aside, on ice or in the refrigerator until ready to cook.
Boil water in a large saucepan. Add pasta and cook until al dente, according to pasta package directions.
Add 1-2 tablespoons of water to a small microwave bowl. Add the peas and cook for 1-2 minutes until warm. Set aside.
In a large frying pan, melt 2 tablespoons butter over medium heat. Add the shrimp and cook until the shrimp changes color and is cooked through.
In a large saucepan, melt 3 tablespoons of butter over medium heat. Stir in the flour.
Gradually add the evaporated milk and broth. Stir constantly until the mixture comes to a boil and thickens. Stir in the Parmesan cheese, provolone cheese, cayenne pepper and black pepper until the cheese has melted.
Toss the white sauce, peas, shrimp and pasta together. Serve immediately.
Adapted from Nestle Very Best Baking
Adapted from Nestle Very Best Baking
Cookies or Biscuits? http://www.cookiesorbiscuits.com/