My youngest started Kindergarten this week. It's such a huge milestone for both me and him. He has been so excited about finally starting school. I have been full of mixed emotions. On one had I am thrilled that he is about to start the most exciting journey in a child's life. Within a few months he's going to be reading and writing. His mind is going to explode – and I love seeing this happen. But he is my baby. For the past 12 years, I've always had at least one child at home. Tuesday was a strange day – it felt like something was missing all day long. However, our school does a staggered start for Kindergarten, so he was home again on Wednesday. I suggested that we do something special together, such as visiting the zoo or the aquarium. He didn't like this idea. He wanted to bake something with me. How could I resist this request? I knew I was in trouble when he walked away from my bed singing "Chocolate, chocolate, chocolate". Ten minutes later he was back, recipe book in hand. "I want to make cupcakes with orange tasting frosting and snakes on top".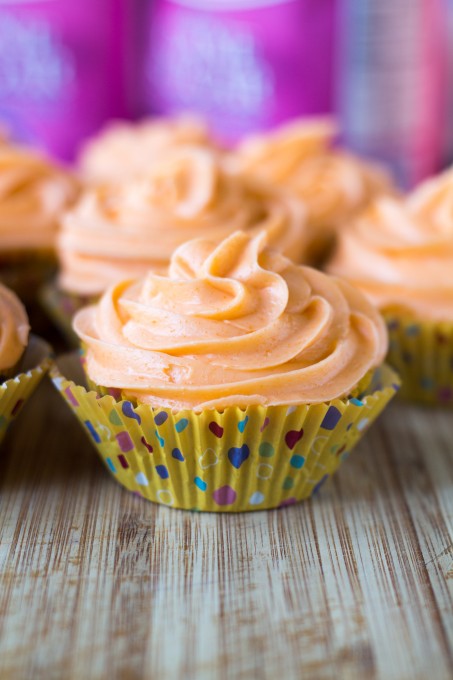 That was all well and good, but the recipe he had given to me was for Vanilla cupcakes with orange colored frosting. Chances are he was more interested in the picture of the candy worm on top but I wanted to get it right for his last day at home with me. Those cupcakes were going to be chocolate and the frosting was going to taste like oranges. Unfortunately we had eaten the candy snakes we had bought home from Australia, so there was no way I could put snakes on top. Gummy worms came to the rescue. Thank goodness he is a fairly laid back child and was happy for me to make some changes.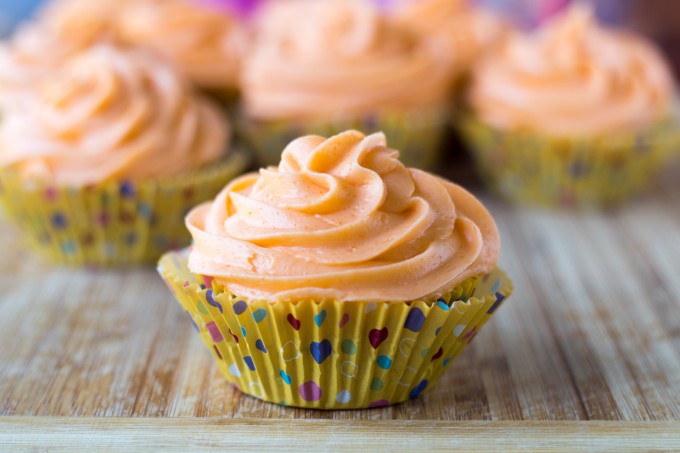 There was much impatience as he waited for me to photograph the cupcakes. But finally, he got to stick a gummy worm into the orange frosting. The verdict when served up: "This is even better than chocolate!" That is saying a lot from the boy who regular declares that chocolate is his favorite food. Personally, I found the frosting much too sweet. But I'm that strange lady who removes half the frosting from cakes at the store because it's too sweet. I can guarantee this is a child pleasing frosting!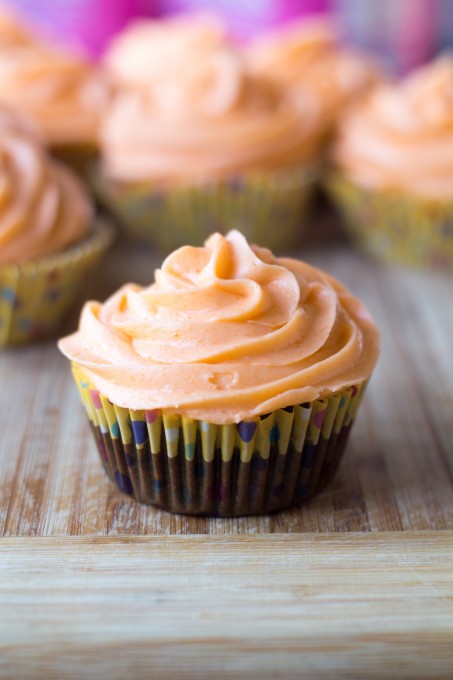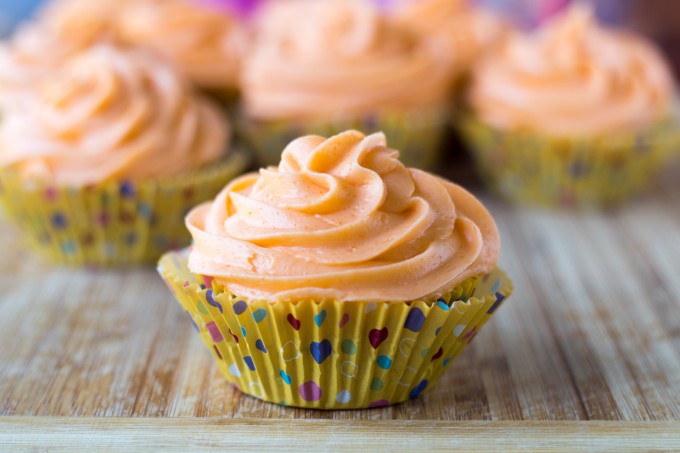 Chocolate Cupcakes
2014-09-03 22:08:41
Ingredients
1 1/2 cups self rising flour
1/3 cup cocoa powder
4 oz butter, room temperature
1/2 cup sugar
1 teaspoon vanilla
2 eggs, room temperature
3/4 cup milk
Instructions
Preheat the oven to 390°F and grease or line a large muffin pan.
Add all the ingredients into a large mixing bowl. Beat at low speed for 1 minute and then increase the speed and beat for 2 minutes.
Spoon the batter into the prepared cups, filling approximately 2/3 of each muffin cup.
Bake for 15-18 minutes, or until a toothpick comes out clean.
Allow cakes to cool.
Cookies or Biscuits? http://www.cookiesorbiscuits.com/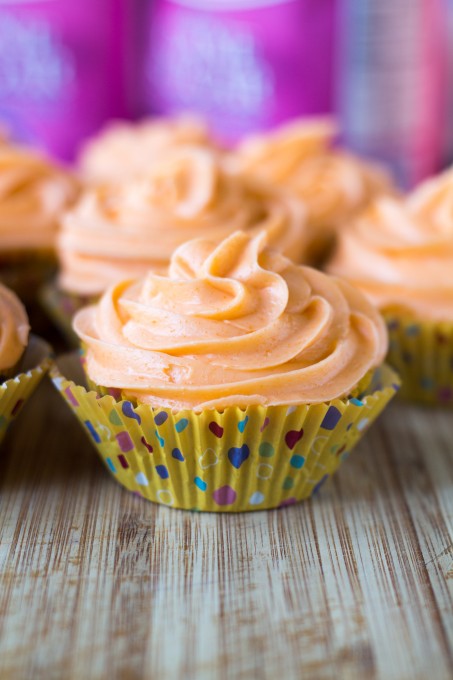 Orange Flavored Frosting
2014-09-03 22:12:19
Ingredients
6 oz (1 1/2 sticks) butter, melted
4 oz orange gelatin (jello/jelly)
4 1/2 cups confectioner's sugar
2 tablespoons milk
1 teaspoon vanilla extract
1/2 teaspoon salt
Instructions
In a large bowl, add the orange gelatin to the melted butter. Stir well.
Add the confectioners sugar, milk, vanilla extract and salt.
Beat well for 2-3 minutes, until the frosting is smooth and creamy.
Cookies or Biscuits? http://www.cookiesorbiscuits.com/