As summer draws to a close in Seattle, I'm madly eating as much salad as I can. Soon all I am going to want to eat is steaming hot vegetables to keep me warm. But right now, my garden is producing some lovely garden salad ingredients, and what is missing is, of course, at the stores.
It seems a little strange to blog about a garden salad – but a small part of the reason I write is so that my children have a resource for our family favorites. I'm a huge advocate for getting kids into the kitchen. Depending on their age, they can do different jobs.
For this salad, my five year old is old enough to use a plastic lettuce knife to cut the lettuce, or he can simply shred it. My ten and twelve year old are old enough to peel the cucumber or carrots. They can also chop the salad ingredients. Granted – they are slower than me but the point is to teach them. The more often they get the chance, the more confidence they gain and the better they get. A toddler can even get in on the picture, by helping toss the salad. Just make sure you have a big bowl because otherwise it will go everywhere! Hey – it still might but they will enjoy themselves.
A garden salad is simply as the name states – made from ingredients that you (could) find in your garden. While I would love to have all of these in my garden, I don't at the moment. This year all I have grown are the radishes and parsley. I have grown all the others at some stage except the bell pepper. That's not from lack of trying – for some reason my peppers always die. Of course, the cheese is not from the garden!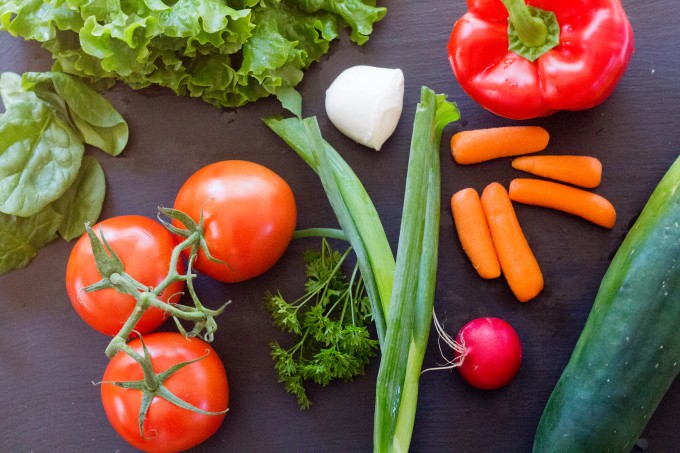 Until this summer, I had never used parsley in my garden salads. While I was visiting my family in Australia, my sister-in-law made the most amazing salad with parsley. As it's in my garden, I decided to make use of it. You should try it at least once. I love the extra zest that it gives the salad.
The beauty of a garden salad is you can use as many or as few ingredients as you like. If you are serving it as a meal, perhaps you might like to add some sliced mushroom to give it some protein. Don't like radish? Just take it out. It's one of those flexible meals.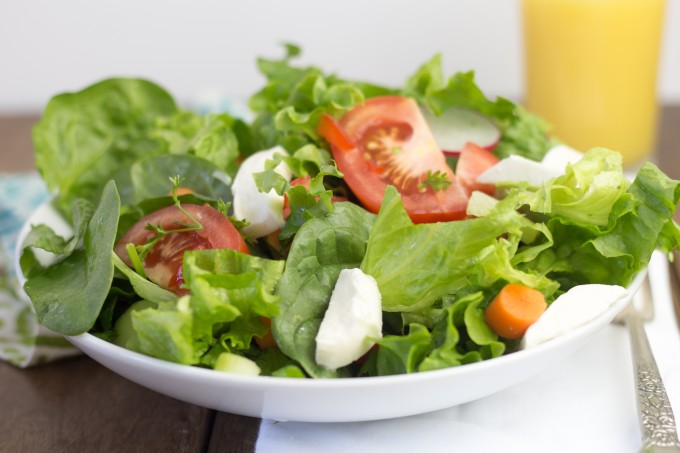 This is also a good time to talk about Australian and American words. This salad is full of words that need translation.
Green Leafed Lettuce = Fancy Lettuce
Red Bell Pepper = Red Capsicum
Spring Onion = Green Shallots
Vine Ripened Tomatoes = Truss Tomatoes
Baby Carrots = there is no translation. You'll just have to cut up a regular carrot!
Did I miss any? Let me know in the comments!
Simple Garden Salad
2014-09-14 22:39:25
Ingredients
1 cup Green Leafed Lettuce
1 cup Baby Spinach
3-4 springs Parsley
5 baby Carrots
1/2 Cucumber
1/2 Red Bell Pepper
1 Tomato
1 Spring Onion
1 Radish
1 small ball Fresh Mozzarella Cheese (Bocconcini)
2 teaspoons olive oil
1 teaspoon balsamic vinegar
Instructions
Roughly cut the green leafed lettuce.
Cut the parsley, carrots, cucumber, bell pepper and tomato into bite sized pieces.
Slice the spring onion and radish thinly.
Slice the fresh mozzarella.
Add all the cut ingredients ingredients and the spinach to a large bowl and toss with oil and vinegar or your favorite dressing.
Cookies or Biscuits? http://www.cookiesorbiscuits.com/