Summer is drawing to a close in Seattle, and I'm starting to see the first signs of fall. The rain has come in and our days are cooling down. One of the best things about this time of year is I have apples on my apple trees. I have no idea what type of apples they are – along with plums, prunes and cherries, they were already there when we bought the house. The crows, squirrels, raccoon and my family love that I have abundant fruit. Right now, apples are the star of the moment. I'm trying to pick them faster than they fall. Otherwise my backyard smells like a rotten orchard. The latest picking resulted in these delicious Apple Cinnamon Muffins.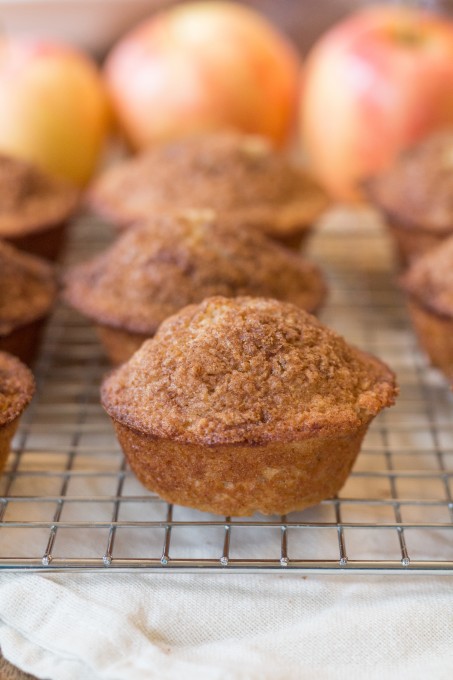 I decided to make a batch of low fat muffins. I've been eating way too much lately, and my pants are feeling it. I can partly blame a wonderful vacation back in Australia for that – I love going home and tasting all my old favorites. Now I'm back in the land of reality and need to be a little more careful. Plus I wanted something the kids could take to school for a treat, without it being too unhealthy.
To make them low fat, I substituted butter with applesauce. It's a common trick for reducing fat in cakes and muffins, but particularly ideal for these Apple Cinnamon Muffins, as we are already dealing with apples. If your recipe calls for 4 oz of butter, simply use 4 oz of applesauce. I also used fat free milk. Using the fat free milk and applesauce, these muffins contain 1 gram of fat. The downside is the sugar content is pretty high, but you can cut some of it out by skipping the sugar topping.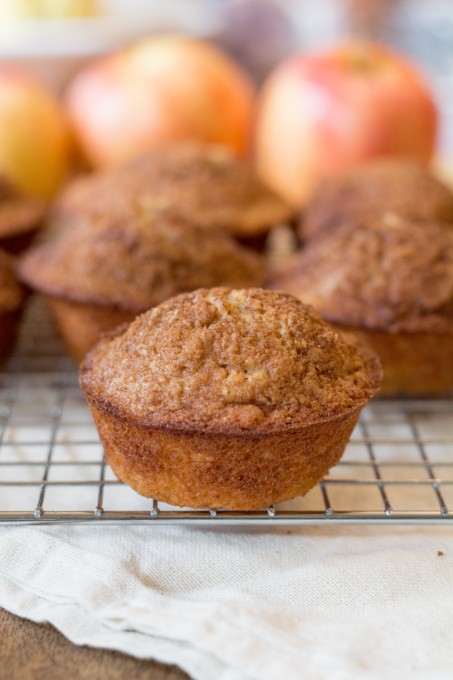 Thinking of applesauce, perhaps that is something else I should make with my apples.
Like most muffins, they are best served warm. This recipe makes about 12-15 muffins.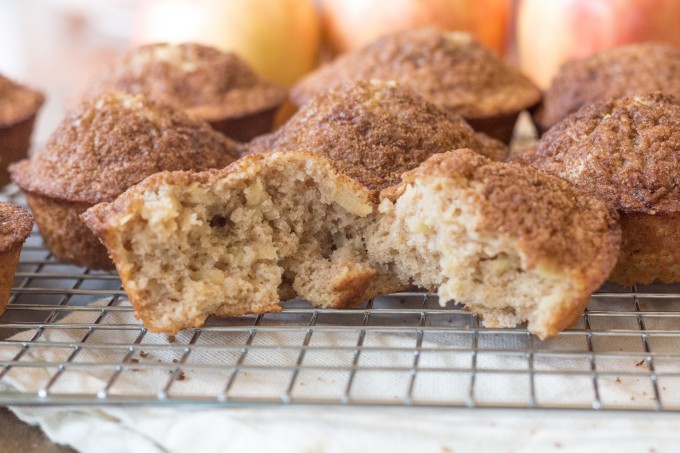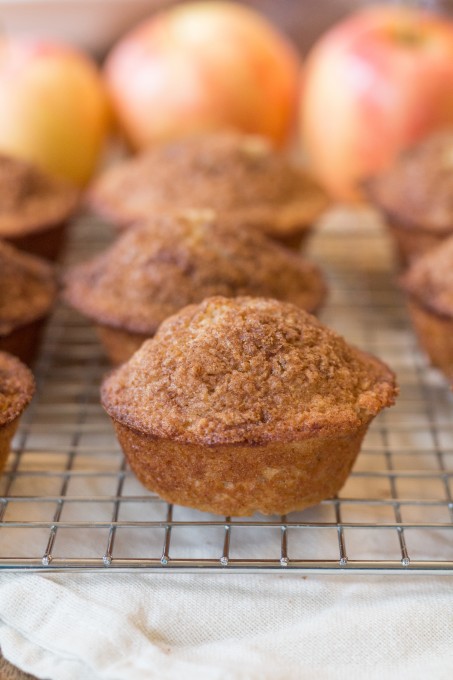 Apple Cinnamon Muffins
2014-09-09 13:26:27
Ingredients
2 cups self rising flour
2 teaspoons ground cinnamon
1 cup granulated sugar
2 large apples, peeled and grated
4 oz apple sauce
2 large eggs, beaten
1 teaspoon vanilla extract
1/2 cup milk
Topping
1/4 cup brown sugar
1 teaspoon ground cinnamon
Instructions
Preheat the oven to 375° F. Spray a 12 cup muffin tin with cooking spray or line with muffin papers.
In a large bowl, combine the self-rising flour, cinnamon and sugar. Add the grated apple and stir, ensuring that the apple is coated in the flour mixture.
Gently stir in the applesauce, eggs, vanilla extract and milk, until just combined.
Spoon the batter into the prepared muffin tin, filling approximately 2/3 of each muffin cup.
In a small bowl, prepare the topping by combining the brown sugar and cinnamon. Sprinkle the top of each muffin with the sugar mixture.
Bake in the oven for 25-30 minutes, or until a toothpick inserted in the middle comes out clean. Allow the muffins to cool for about 5 minutes in the muffin tin, then turn out onto a cooling rack.
Serve warm.
Cookies or Biscuits? http://www.cookiesorbiscuits.com/