I was down at our local Farmers Market on Saturday when I suddenly saw them: Leeks! And in our house, that means it's time to make Potato and Leek soup again. I'm not a big fan of colder weather, but I do love cold weather food.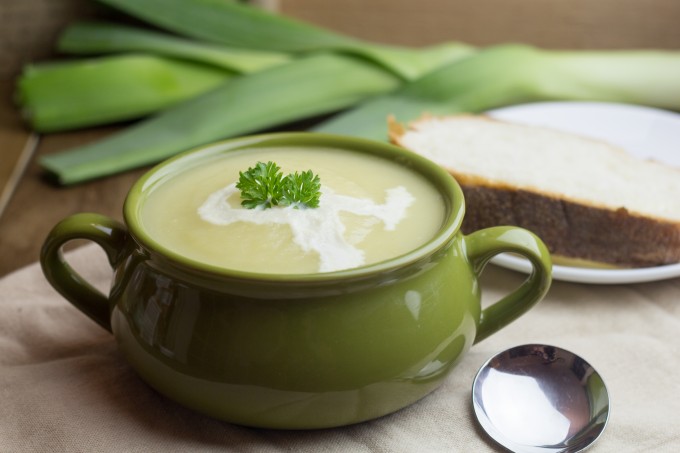 Potato and Leek soup is a fairly easy soup to make. It starts with preparing the leeks and potatoes, then cutting them up finely. The leeks are then cooked on low with a little butter. After a few minutes, the potatoes are added. (For full recipe details scroll down to the bottom). This photo shows you how I cut the leeks and potatoes. It's not critical that you do it the same way as eventually all the vegetables will be pureed together.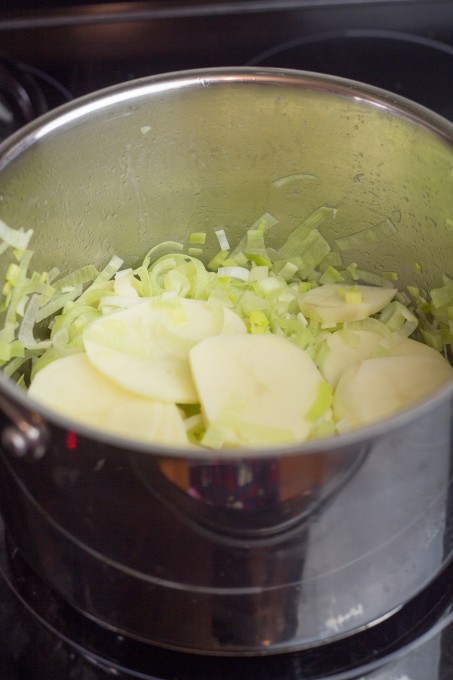 One of the steps of making this Potato and Leek soup is to make a bouquet garni. A Bouquet Garni is simply a french word for herbs which are tied together with string, but removed prior to serving. The aroma of the herbs give the soup an extra boost of flavor.
This recipe calls for a bouquet garni containing parsley, bay leaves and thyme. I use fresh parsley and thyme and dried bay leaves.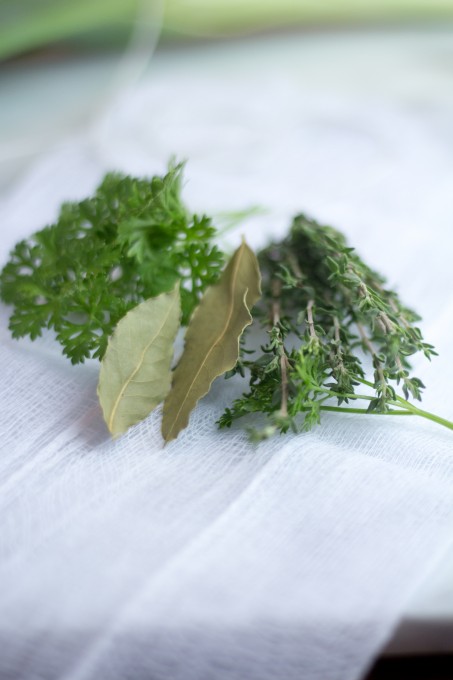 I wrap my herbs in cheesecloth and secure the cheesecloth with a string. One end is left long so that I can hang it over the side of my saucepan. This makes it easier to pull out at the end.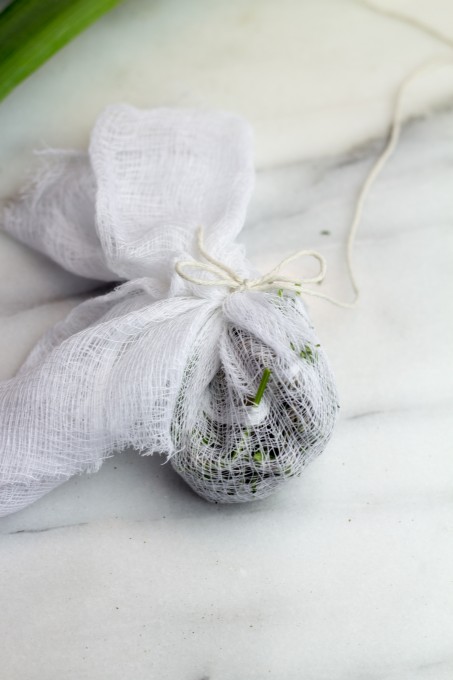 I usually use chicken broth in my recipe, however if I ever make it for my vegetarian friends and family, I simply use vegetable broth. It still tastes great but meets their dietary needs.
This recipe calls for salt, pepper and nutmeg to be added at the end. I never add this to mine, as I love the taste without it. Instead I have these ingredients on the table, and let my family add it if they want. My husband often does add the extra seasonings but not always. I would therefore recommend a taste test before adding any seasoning.
The cream can also be added all at once and stirred into the soup, or you can let your guests add their own cream. Leaving out the cream cuts calories, and it still tastes fabulous.
With the colder weather starting to bare down on us, I hope you get a chance to try some Potato and Leek soup. I think you'll love it!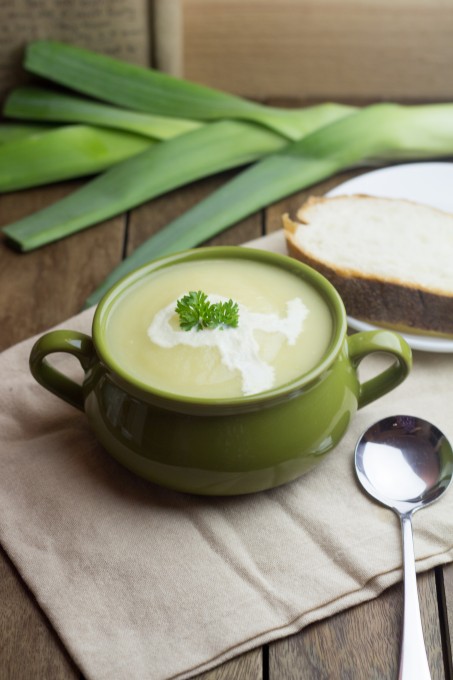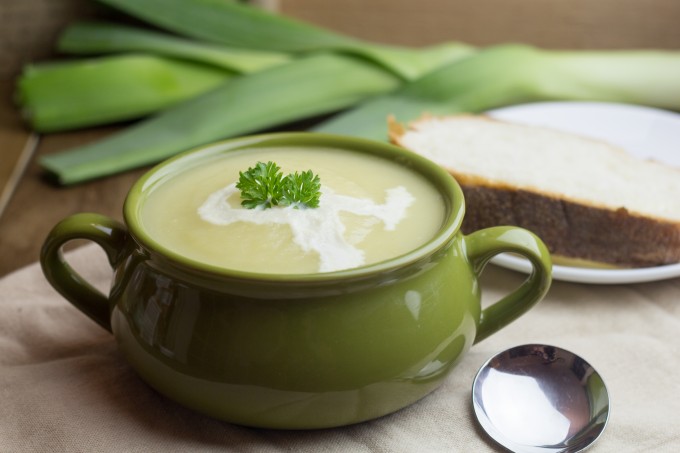 Potato and Leek Soup
2014-10-05 22:41:54
Ingredients
2 Leeks
2 tablespoons butter
1 lb (500g) potatoes, peeled and sliced
4 cups chicken stock
parsley, thyme & bay leaf, in cheese cloth (bouquet garni)
salt to taste
pepper to taste
dash ground nutmeg
1/3 cup whipping cream
Instructions
Remove the green leafy tops of the leeks and discard. Slice the leeks length-wise, wash thoroughly, drain well, and chop finely.
Heat the butter over low heat, in a large, heavy-based saucepan. Add the leeks and cook over low heat for 3-4 minutes.
Add the potatoes, cover and cook over a low heat for 10 minutes, shaking pan gently occasionally.
While the potatoes are cooking, make a bouquet garni by wrapping the parsley, thyme and bay leaf in cheesecloth. Secure the cheesecloth with string. Leave enough string to hang over the side of the saucepan, for easier removal.
Add the chicken stock and bouquet garni to the saucepan. Cover and simmer for 20 minutes or until the potatoes are tender.
Remove the bouquet garni and season to taste with salt, pepper and nutmeg.
Puree mixture in a blender or food processor. Return to pan and reheat.
Stir in cream, remove from heat and adjust seasonings if needed.
Cookies or Biscuits? http://www.cookiesorbiscuits.com/