There are some days where you just want some chocolate cake but know that you'll eat too much if you make a whole cake. That's when the 5 minute Chocolate Cake in a Mug comes to the rescue. Chocolate craving taken care of – check. No leftovers – check.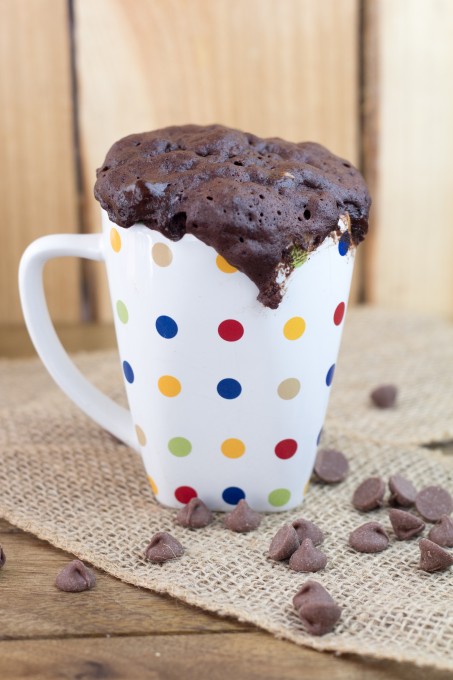 I was first introduced to this recipe when I was pregnant with my first child. I have to admit that I made this a little too often in those days. It's probably the reason I put on about 40 pounds 🙂 These days I have 3 children who share one mug of cake with me, which works much better for my waistline.
One of my aunts emailed me just after I started blogging, to make sure I had this recipe. I promised that I would post it, and I've finally got around to it. So this is for you Aunty Marg!
Life has been quite busy lately, so this recipe is perfect for when life is feeling a little crazy. Who ever knew that things would get busier when you finally get all your children into school?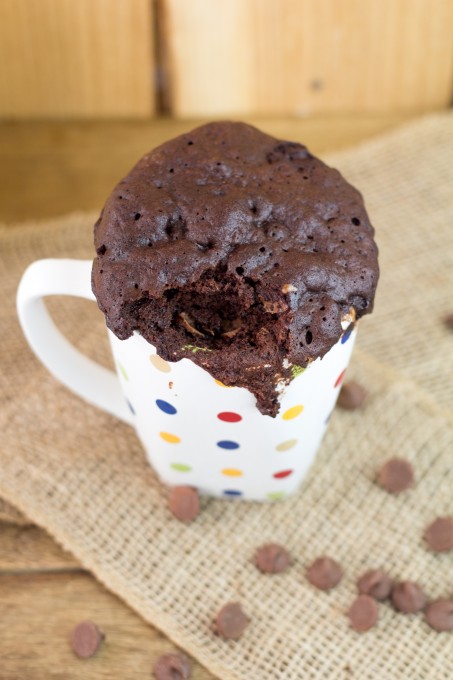 5 Minute Chocolate Cake in a Mug
2014-10-08 22:51:48
Ingredients
4 tablespoons self-rising flour
3 tablespoons milk chocolate chips
4 tablespoons sugar
2 tablespoons cocoa powder
1 egg
3 tablespoons milk
2 tablespoons canola oil or coconut oil
1/4 teaspoon vanilla extract
1 large coffee mug
Instructions
Add the flour and chocolate chips to the large coffee mug. Mix to coat the chocolate chips in flour.
Add the sugar and cocoa and mix well.
Add the egg, milk, oil, and vanilla extract and mix with a spoon until combined. Make sure the flour at the bottom of the mug has combined.
Place the mug in the microwave and cook on high for 3 minutes. (1000 watt microwave).
Notes
The cake will rise over the top of most large mugs during cooking.
Cookies or Biscuits? http://www.cookiesorbiscuits.com/