There are days when I just have to eat meat. Actually there are many days like that! A nice juicy steak is my meat of choice, but between all the other options I don't get it eat it as often as I would like. (Except when we go home to Australia and my wonderful father-in-law always seems to have the BBQ running. That's when I get my hearts desire of beef!)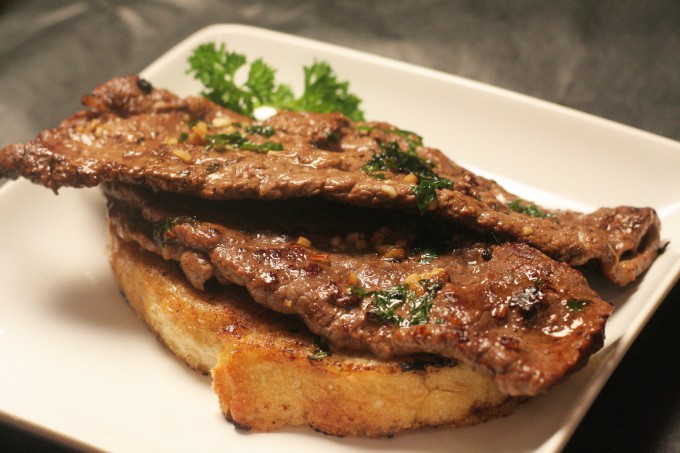 This is the Steak Diane my father always made. Dad didn't cook dinner often, but when he did this was often the meal of choice. He always fried the bread in the juices at the end – and that rivaled the steak as my favorite part. There was no fancy Steak Diane sauce – anything that could be used to make a sauce was soaked up into the bread. And I wouldn't have it any other way.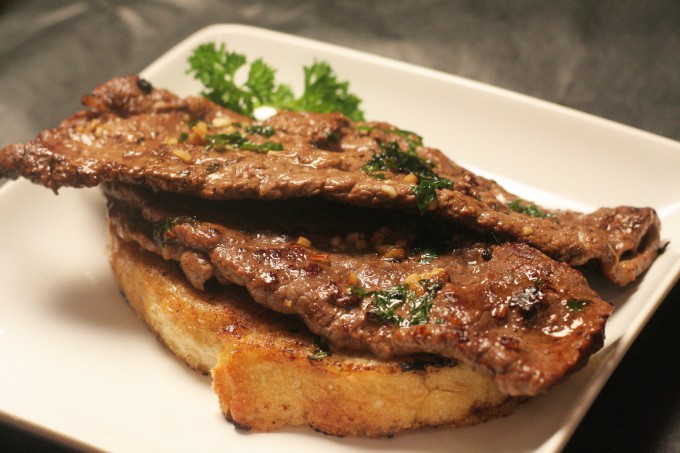 Steak Diane
2014-03-11 11:11:59
Ingredients
1 lb sirloin steak, thin cut
pinch of salt & pepper
2 oz butter
2 tablespoons parsley, chopped and divided
1 clove garlic, minced and divided
1 tablespoon Worcestershire sauce
4 slice bread
Instructions
Remove any visible fat from the meat.
Using a meat tenderizer, flatten the meat.
Sprinkle a small amount of salt & pepper on the steak, then gently rub it over the steak to ensure an even coverage.
Melt the butter in an electric skillet and when sizzling, place the flattened meat in the skillet.
Cook each steak for 1 minute on each side.
Combine the garlic and parsley in a small bowl. Sprinkle the steaks with half the garlic mixture. Cook the steak until it is medium done, turn and then sprinkle on the remainder of the parsley and garlic. Cook until medium.
Pour the Worcestershire sauce over the meat and cook for another 1 minute.
Lift out the meat and keep it warm in either a warming draw or on a plate, covered with foil.
Fry the bread in whatever juices are left in frying pan.
Serve the steak immediately on a slice of bread.
Cookies or Biscuits? http://www.cookiesorbiscuits.com/