I love a good chili and what could be better than adding more meat to a chili? Vegetarians, turn your eyes away now for that's exactly what my lovely husband has done. This chili used to just have ground beef, but the addition of bacon and stew meat makes a meaty, hearty chili. And I've got to admit that it is amazing!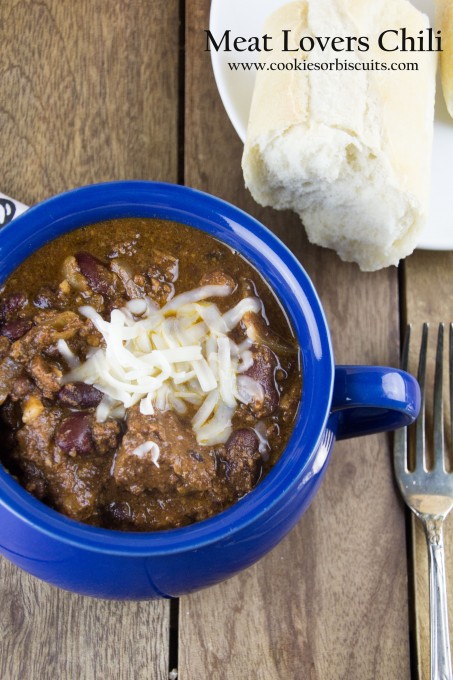 We've been married for over 15 years now, but it's only recently that my love has started making dinner. I love to cook, so the kitchen has always been my domain. However, with the busyness of life, he offered to make dinner once or twice week – and who can resist a man who wants to cook you dinner? So Tuesday nights have now become Chili night. We've had this chili for the past two months now and it's a hit – however it seems to be evolving as time goes by. It's at a point now, though, that I want to share it.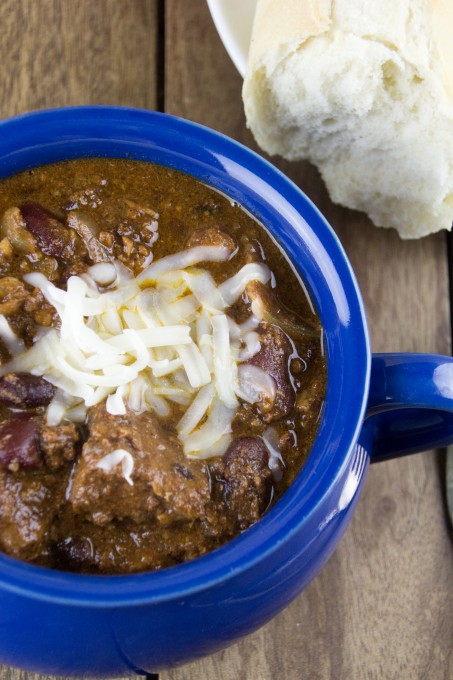 One child loves to add cheese and sour cream. I love it with some crusty bread to soak up the juices. We have one child who really does not like beans. He groans each Tuesday as the chili appears on the table. He loves the meat, but the beans are to be avoided at all costs. My love has been toying with pureeing the beans – I'll let you know how that goes too! I remember Mum used to mash the beans into the ground beef when she made taco meat – so I think it has potential.
My love is going to put some sausage in next time. He is probably going to use some kielbasa. If we were still in Australia, he would have used Kabana. Oh how we miss Kabana.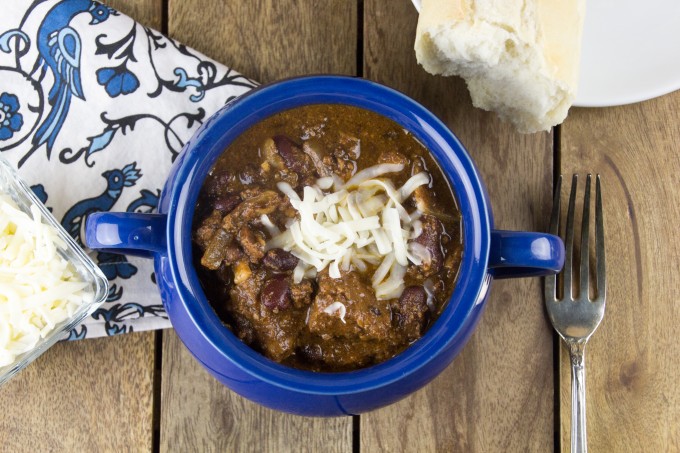 This meal is fabulous as a make-ahead frozen meal. I think it tastes even better as leftovers, as the meat breaks down even more and you get a pulled beef effect in the chili. After being in the slow cooker all day – I simply put any leftovers into a Ziplock plastic bag and freeze. When I want to eat it again, I defrost it overnight in the refrigerator or in the microwave. Once it is defrosted, simply reheat the meat in the microwave or saucepan, until the meat is thoroughly heated through.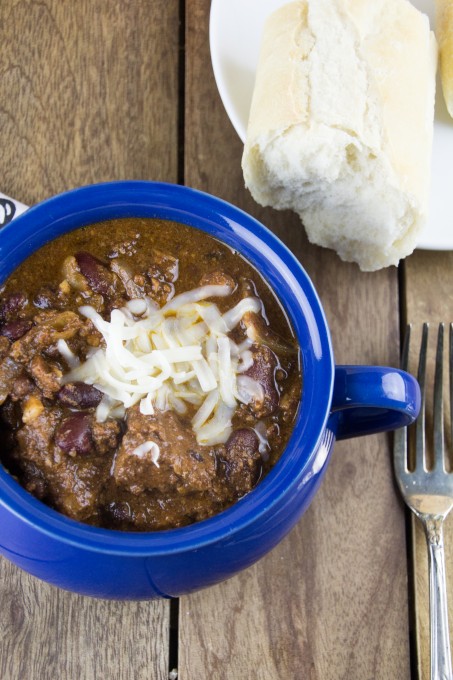 Meat Lovers Chili
2015-02-09 11:18:12
Ingredients
1 lb stew meat or beef chuck, cut into cubes
1 lb ground beef
4 rashers of bacon, diced
1 can (14 oz) black beans
1 can (14 oz) kidney beans
1 onion, chopped
1 can (14 oz) tomato sauce
2 garlic cloves, minced
3 tablespoons chili powder
Instructions
Place stew meat, ground beef, chopped bacon, black beans (including liquid), kidney beans (including liquid), chopped onion, tomato sauce, minced garlic and chili powder into the slow cooker stoneware.
Stir ingredients until combined.
Cook on high for 4-6 hours or on low for 8-10 hours.
Top with cheese and sour cream, if desired. Serve with cornbread or crusty bread.
Cookies or Biscuits? http://www.cookiesorbiscuits.com/