Chocolate Waffles are otherwise known as "I love you Mom" waffles. This is due to the spontaneous outbursts of affection from chocolate loving 5 year olds when he finds out that Chocolate Waffles have been made! As you can tell, these are a big favorite in our household.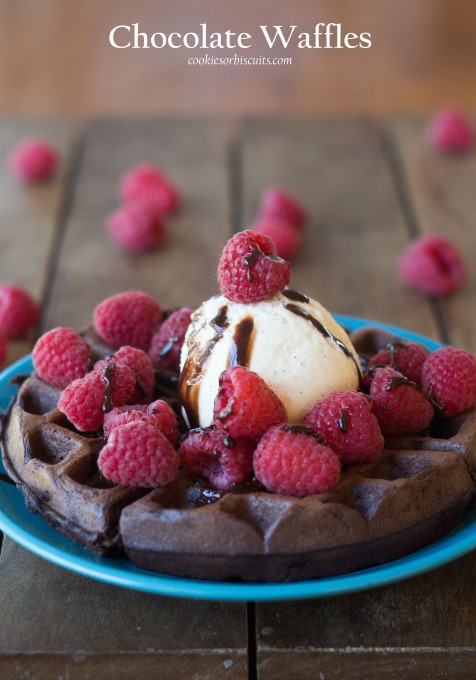 These waffles can be served for breakfast or for dessert. For breakfast, I like to skip the ice cream and just serve them with fruit and maple syrup. But one scoop of ice cream, topped with some chocolate topping, and this typical breakfast food is transformed into a fantastic dessert! I've got to admit a certain fondness for serving waffles in the evening. Back in Australia – pancakes and waffles were always a dessert food. Breakfasts were all about eggs, bacon, fried liver (much to my horror) and other savory delights.
My kids are more likely to eat waffles for breakfast though. Usually we make a big batch of these waffles – this recipe makes 5-6 very large circular waffles – and put them in the freezer. In the morning, the kids take them out and put them in the toaster for a minute. It's just like having store bought boxed waffles – just without all the additives and preservatives! Win, win, if you ask me!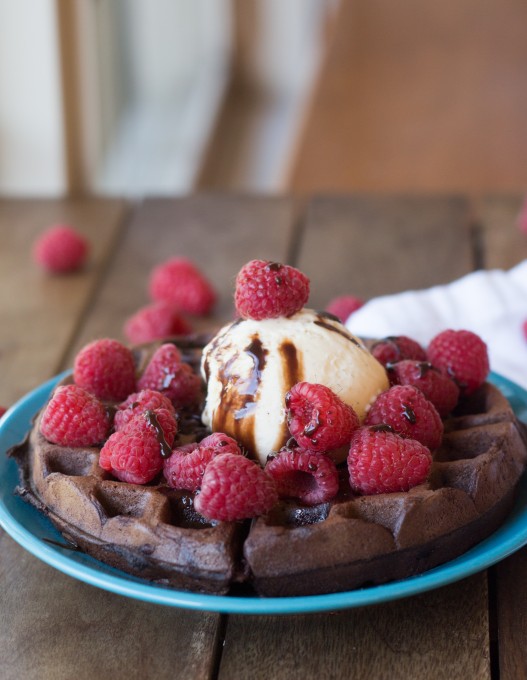 How do you like to eat your chocolate waffles? My personal favorite is with sliced banana, ice cream and caramel topping. Obviously, that's a dessert version! My daughter serves hers with strawberries and maple syrup.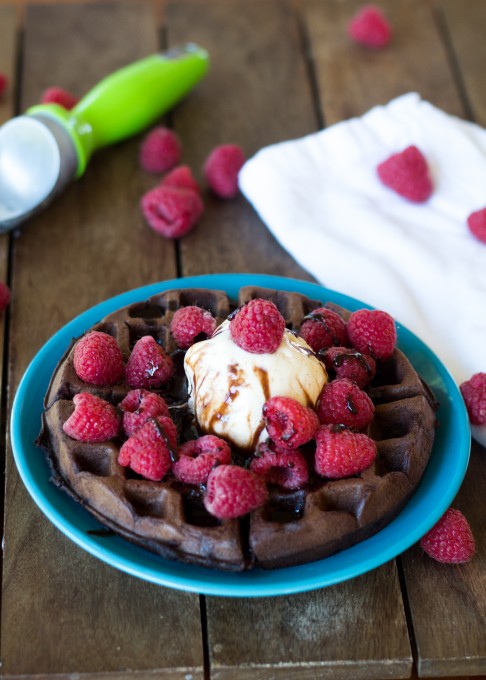 Chocolate Waffles
2015-03-09 23:19:32
Ingredients
3 eggs
1 1/2 cups buttermilk
1 1/4 cups all purpose flour
1/2 cup cocoa powder
1 teaspoon baking soda
2 teaspoons baking powder
1/2 teaspoon salt
6 tablespoons butter, melted
2 tablespoons sugar
1 teaspoon vanilla extract
Instructions
Heat and grease a waffle iron.
Beat the eggs and buttermilk. Add the flour, cocoa, baking soda, baking powder, salt, sugar, vanilla and melted butter.
Pour 1/2 cup of mixture onto the greased waffle iron, using a spatula to ensure the mixture covers the waffle iron. (The amount may need to be adjusted according to the size of the waffle iron.)
Cook for 2-3 minutes, or according to the directions on your waffle iron.
Serve with chocolate sauce and berries or your favorite toppings.
Cookies or Biscuits? http://www.cookiesorbiscuits.com/