I love, love, love Beef Stroganoff. I had forgotten how much I loved it until I made it again last week – it hasn't been in my rotation for years! When we first moved to America, I could no longer buy the ingredients that I had always used. Instead of adapting the recipe, it fell off my radar. But I was looking over old recipes again, and it caught my eye. With more experience of what I can find in America, I decided to dust off the recipe and make it again with American ingredients. Best…Choice…Ever! It was everything I remembered: Tender cuts of meat, covered in a creamy tomato sauce that tastes awesome smothered over the noodles too!
And even better – the kids raved about it! That's always the truest test in my household on whether a meal is going to be made again soon. We have a household rule that everyone must try the meal. It's acceptable to politely say that you don't like the meal once you have tried. If that happens, you are responsible for making an alternative for yourself.
I think the next time I make Beef Stroganoff I'm going to serve it with rice. This recipe is adapted from a recipe from my Aunt, so I've been eating it for a long time. When my mum used to make this meal, she always served it on hot, steaming rice. Sometimes, you've just got to make it like your Mum. However, this time round I really wanted to try these locally made gluten free noodles. They were delicious, and I'll definitely be looking out for them again at my local store. But next time, it's going to be on rice.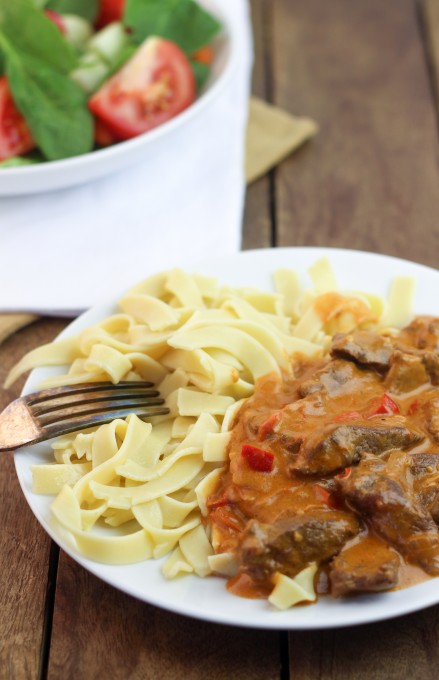 Now is a great time to have a little discussion on cuts of meat! One of the most confusing things when I first moved to America was navigating my way around the meat department. Where was my rump steak? Where was my silverside? Turns out we use different terms for different parts of the cow. If you are interested in comparing the different names, I have a couple of images on my Pinterest page which are very helpful.
Australian Beef Cuts – detailed
(The image for the American cuts is condensed into one picture)
This recipe calls for sirloin steak – this is essentially the same as rump steak in Australia. If you choose not to use sirloin or rump, I would recommend using another tender cut. If you choose a tougher cut, you will need to increase the time simmering the meat in the sauce.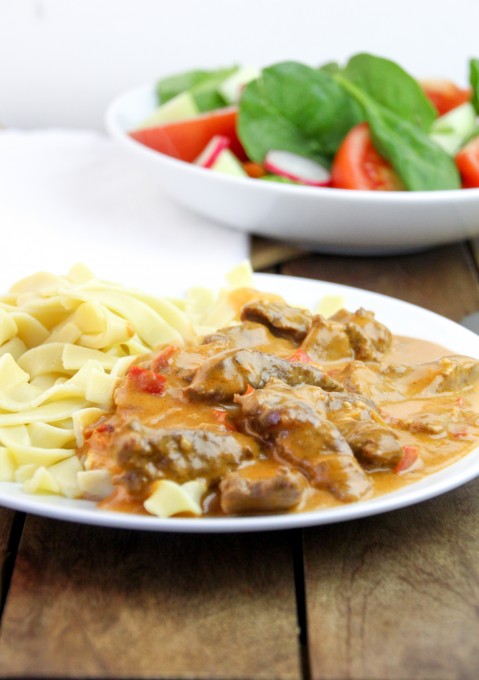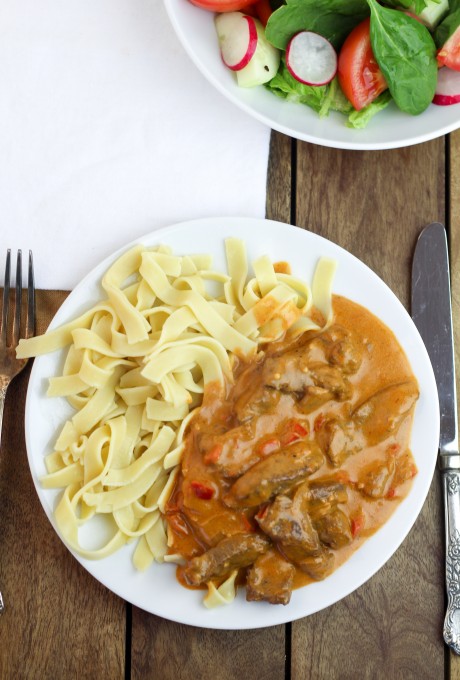 Beef Stroganoff
2015-04-26 16:50:54
Ingredients
2 lb sirloin steak
2 tablespoons canola oil, divided
1 medium onion, finely chopped
1 small red pepper, finely chopped
2 garlic cloves, minced
1 lb white mushrooms, sliced
salt & pepper to taste
2/3 cup water
2 beef bouillon cubes
2 tablespoons tomato paste
1 cup sour cream
1 teaspoon cornstarch
Instructions
Cut the sirloin steak into 1/4 inch slices. Cut each slice to about 2 inches long (optional).
Heat 1 tablespoon of oil in a large frying pan over high heat. Add one quarter of the meat, cook very quickly until browned. Remove the meat from the pan immediately. Repeat with the remaining meat, a quarter at a time.
Reduce the heat to medium, and heat the remaining tablespoon of oil in the frying pan. Add the onion, red pepper and garlic and saute until lightly brown.
Add the mushrooms and saute until the mushrooms are tender.
Return the meat to the frying pan. Add the salt, pepper, water, crumbled bouillon cubs and tomato paste. Stir until combined.
Bring the mixture to a boil. Reduce the heat and simmer, covered, for 5 minutes.
In a small bowl, mix the sour cream and cornstarch until well blended. Gradually add the sour cream mixture to the meat. Stir constantly until the mixture boils and thickens (increase the heat if needed).
Reduce the heat to medium-low and simmer, uncovered, for another 5 minutes.
Serve with noodles or rice, and a side salad.
Cookies or Biscuits? http://www.cookiesorbiscuits.com/