Happy Cinco de Mayo for Tuesday! I find it fun and funny that America celebrates so many international holidays (although they haven't caught onto Australia Day yet!). As someone who loves food, it means that we have another excuse to try another food. We're going to be having Burrito bowls on Tuesday night, and a part of them will be this Mexican Salad with Creamy Lime Cilantro Dressing. I do love salads generally, but the addition of cilantro and black beans give this a south of the boarder feel. The Lime Cilantro dressing tops it all off, for the perfect blend of healthy and tasty.
I've been trying lots of different Mexican foods lately, as the youth from our church are heading to Mexico this Summer to help build houses, and I've been asked to provide a meal to help raise funds for the trip. I have finally decided that I'm going to be serving this salad, along with Shredded Mexican Chicken and Lime Cilantro Rice. As you can tell, I've got a real thing for cilantro. It's taken me about 35 years to eat cilantro but it's really started to grow on my. Maybe middle age is causing a change of taste buds too 🙂 I've even planted it in my garden this year. You know you're a favored food when you compete for a place in my garden!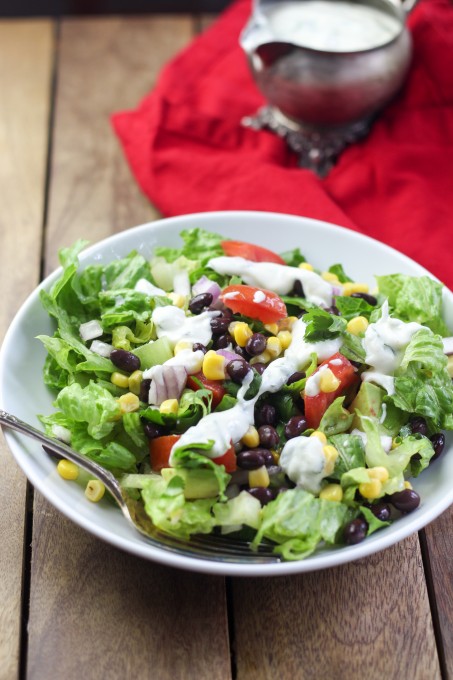 Growing up in Australia, we rarely ate Mexican food. It's just not as popular in Australia as it is in America. Last time we were home, I think I found one Mexican restaurant – even then it was more of a food stall than restaurant. Home cooked Mexican stopped at tacos. Moving to California was an eye opener for me, with the variety of Mexican foods available. Seattle is not quite up there with the Mexican food scene, but it's not far behind.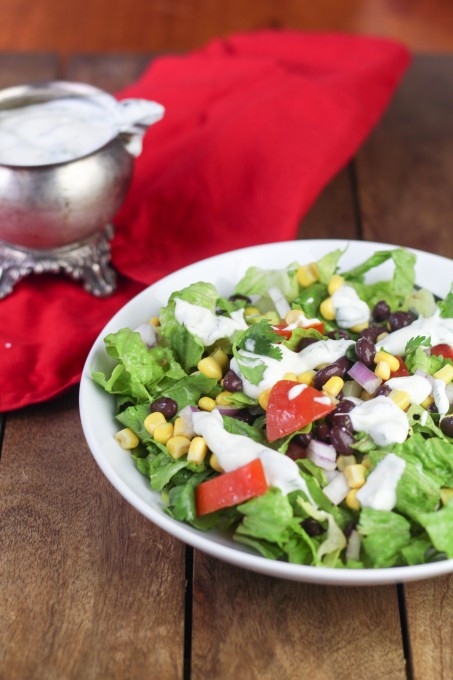 This salad is really quick to pull together. It's a mix of romaine lettuce, cilantro, tomato, red onion, avocado, corn and black beans. The real treat is the creamy dressing. To lighten this dressing, I used fat free plain Greek yogurt. Mix in some mayonnaise (I used light mayonnaise), garlic, milk, lime juice, cayenne pepper, cumin, onion salt and chopped cilantro and you have a delicious dressing to go with your salad. Now that was easy! If you don't have onion salt, just use salt to your own taste preference.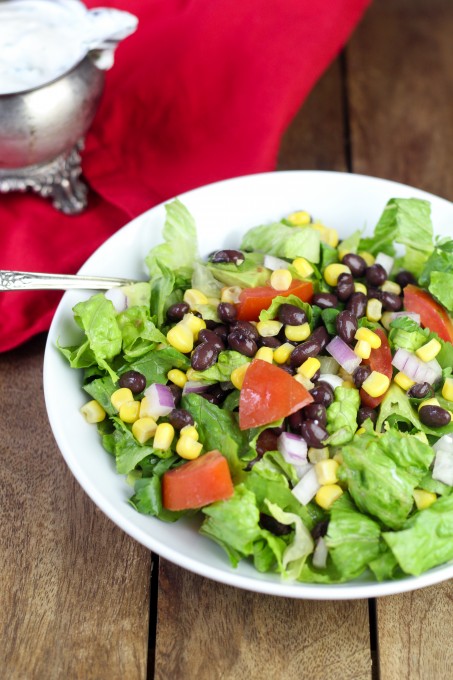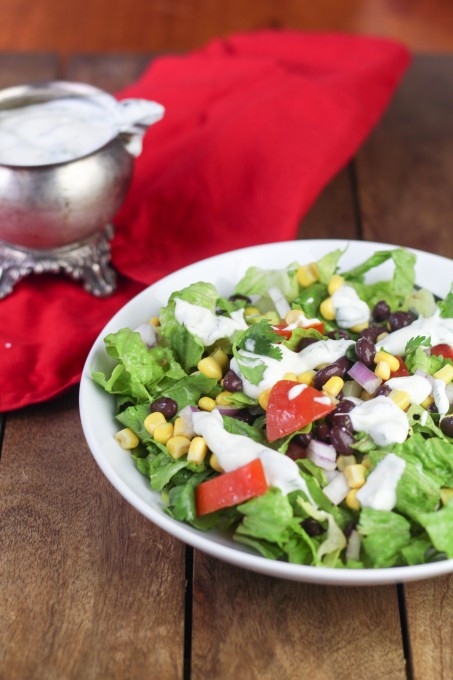 Mexican Salad with Creamy Lime Cilantro Dressing
2015-04-27 12:04:11
Ingredients
1 head romaine lettuce
1 roma tomato, or 1 cup grape tomatoes
1/4 cup, chopped cilantro
1/4 cup, red onion
1 avocado
1 can corn, drained
1 can black beans, drained and rinsed
Creamy Lime Cilantro Dressing
1 cup fat free, plain Greek yogurt
2 tablespoons light mayonnaise
6 tablespoons fat free milk
2 tablespoons freshly squeezed lime juice
2 garlic cloves
1/4 cup, finely chopped cilantro
1/2 teaspoon onion salt
1/4 teaspoon cayenne pepper
1/4 teaspoon cumin
Instructions
Chop lettuce into ribbons.
Finely chop roma tomato, red onion and avocado.
In a large bowl, combine the lettuce, tomato, onion, avocado, corn and black beans. Toss gently.
Creamy Lime Cilantro Dressing
In a small bowl, combine the yogurt, mayonnaise, milk, lime juice, garlic, cilantro, onion salt, cayenne pepper and cumin. Mix well.
Refrigerate in a airtight container until ready to serve.
Cookies or Biscuits? http://www.cookiesorbiscuits.com/