I am truly spoilt living in the Northwest. We have quick access to some of the most delicious salmon in the country. When we head over to Orcas Island, we often go out on a boat trip and see huge salmon jumping out of the ocean. Or more locally, we can go to the locks and see salmon coming up the ladder into Lake Washington. My kids learn about the salmon life cycle in school, and help the salmon population by releasing baby salmon into local streams. Given that, I've been hesitating posting this blog post because these delicious Salmon Patties are made from, gasp, canned salmon!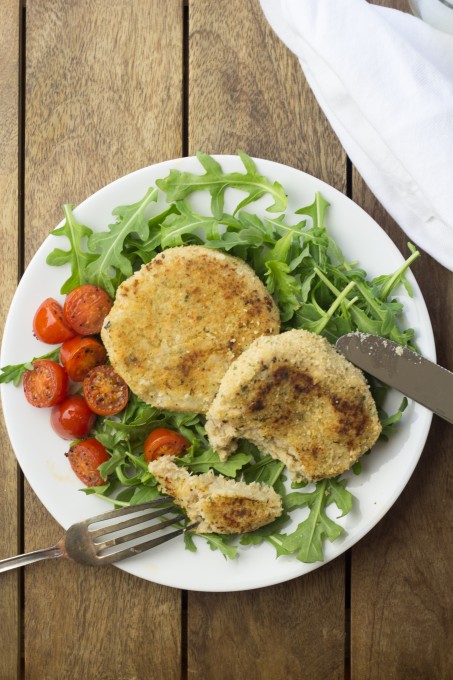 Why would I use canned salmon when I have fresh salmon at my fingertips? Well, it all goes back to my childhood. In Australia, salmon is not as easily available as it is in the Northwest. I didn't even eat fresh salmon until I was on my honeymoon in Tasmania. Don't get me wrong, we have plenty of fish but just not salmon. So mum used to make these salmon patties, and I loved them. This is kind of surprising because I'm not a huge fish fan, and I was even worse as a child. But I would eat these and I still love them today, as much as I did as a child.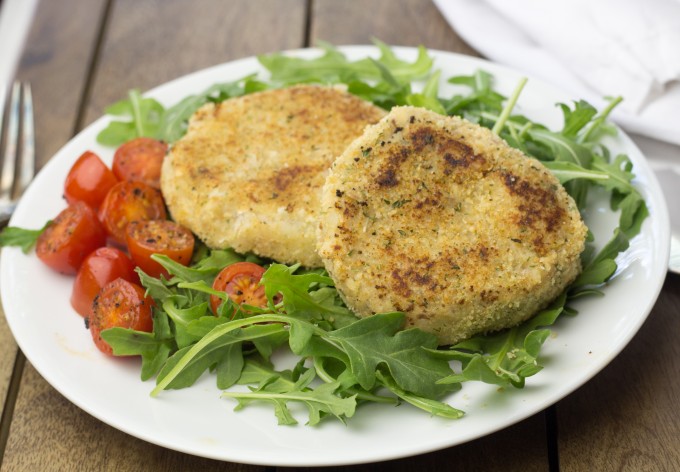 I only eat them when my husband is not around though. He can walk upstairs and smell the canned salmon. He is my fish lover, but he claims canned salmon smells like cat food and refuses to eat these patties. I claim he's the one missing out, but after 15 years of marriage I haven't convinced him. Oh well, at least I have my older children eating them with me.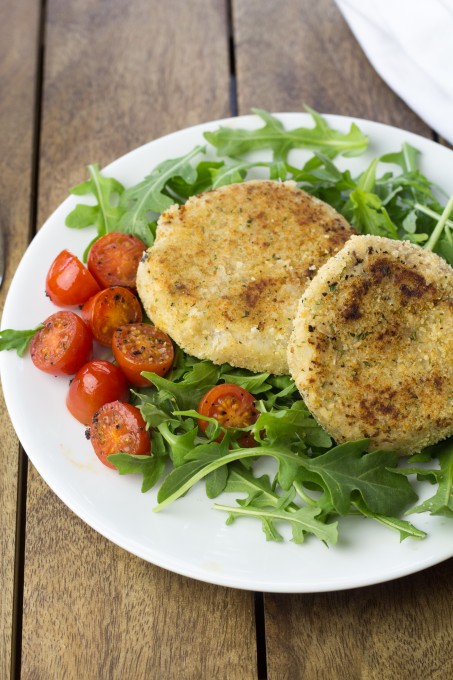 I love to make these for lunch. There are only 6 ingredients – canned salmon, potato, butter, flour, milk and breadcrumbs. And even better, they only take about 10 minutes to make. I'll often make a batch of 7-8, and then have them as leftovers. They store well in the refrigerator for 1-2 days. Just take one along to work and reheat it in the microwave for 30-60 seconds!
I often make these gluten free, as I often only have gluten free ingredients available. I always have gluten free breadcrumbs laying around the house, and just use any plain gluten free flour blend.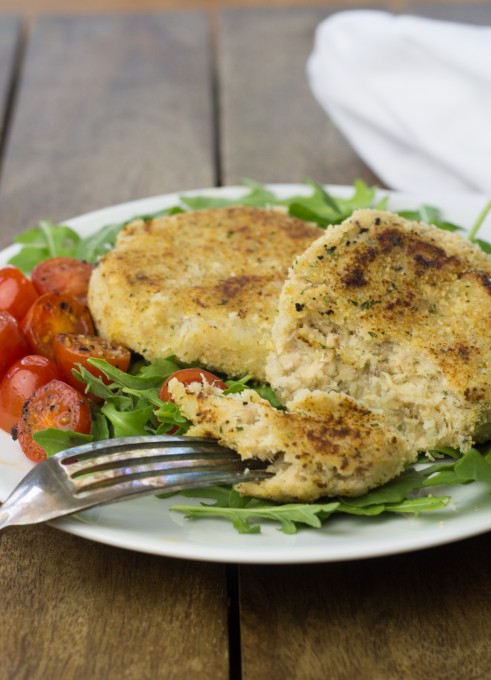 Now for a shameless plug! If you have a look over on your right, you will see that I have added a new ad for greenestbeans.com If you live in America, and are interested in finding special dietary foods and products, such as organic, gluten free, GMO free, lactose free and many more, you might be interested in checking out my friends new search engine. As one of their customers in NY said "I struggle with a gluten allergy and I find it nice to know that there is an online tool that is at my fingertips that I can refer to when I am looking for foods in my area that meets my special dietary needs". I have no affiliation with this company – unless you count friendship 🙂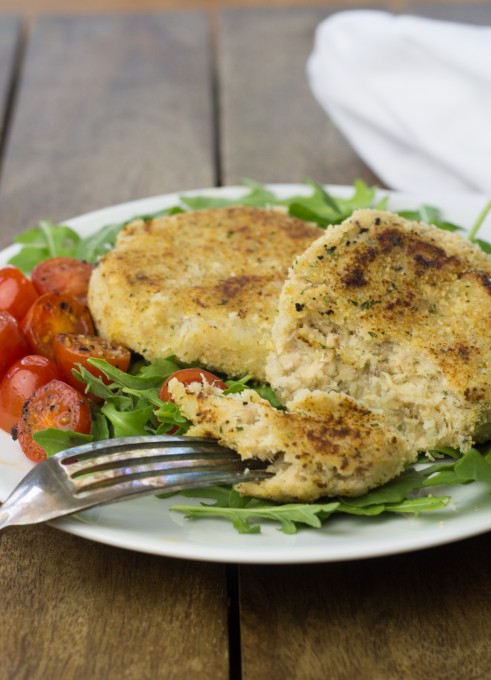 Salmon Patties
2015-06-11 10:11:11
Ingredients
1 can pink salmon (14 oz)
1 russet potato (about 1 lb), peeled and cut into cubes
2 teaspoons butter
2 teaspoons plain flour
2 teaspoons milk
breadcrumbs, about 1 cup
Instructions
Place the peeled and cut potato to a medium sized microwave safe bowl. Add 1/4 cup of cold water. Microwave for about 5-7 minutes, or until the potato can be easily poked through with a fork.
Meanwhile, drain the salmon juices into a small microwavable container. Add the butter, flour and milk. Whisk the mixture and set aside.
Remove the potatoes from the microwave and drain any excess water. Mash the potatoes with a fork. Add the canned salmon and mix together.
Place the salmon juice mixture in the microwave and cook on high for 1-2 minutes, stopping every 30 seconds to whisk the mixture. Remove the mixture once it has boiled.
Add 1/2 the salmon juice mixture to the potatoes and salmon. Mix together. Add more of the salmon juice mixture until the salmon patties are moist but hold their shape when you form a patty. If you find that the mixture is too moist, you can add some of your breadcrumbs.
Divide the salmon mixture into 8 parts. With each part, form into a ball and then flatten into a patty. Roll each salmon patty in breadcrumbs.
Grease and heat a frying pan to a medium heat. Add the salmon patties to the pan and cook until lightly browned, about 2-3 minutes on each side.
Serve on a bed of salad, or on a hamburger bun for salmon patties.
Notes
If you prefer, you can cook your potatoes in a saucepan. You will need to add enough cold water to cover the potatoes. Bring the water to a boil, then reduce to the heat to low. Cover and cook for 15-20 minutes.
Cookies or Biscuits? http://www.cookiesorbiscuits.com/