Summer has come early to Seattle – and I'm loving it! Usually, May is still cold and rainy but this year we've had an amazing month of sunshine and warmer days. OK. I'm hearing you all snigger when I call 22C/72F "warm weather", but I've acclimatized and am enjoying wearing my shorts and going bare foot today. We're even having a BBQ tonight for dinner, and I've made some Limeade for the family to drink. Limeade is simply Lemonade, made with limes instead of lemons!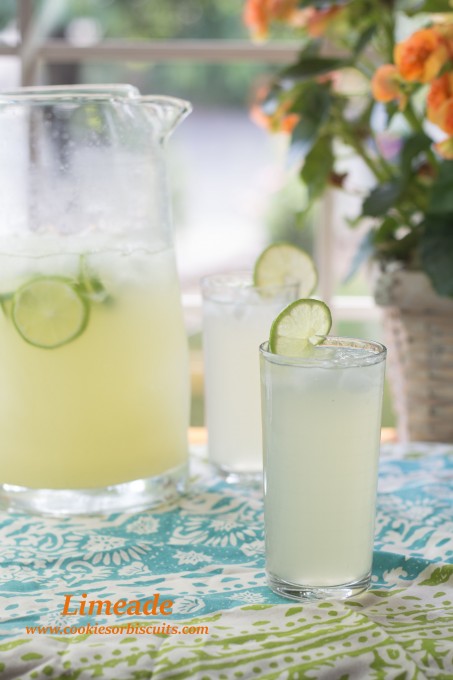 The real reason I made Limeade tonight was because I bought too many limes for a dinner I prepared the other week. I had a bag of left over limes, and I hate seeing food go to waste. Time was running out, and I knew I had to do something that would use them all up in one go. Limeade was the answer.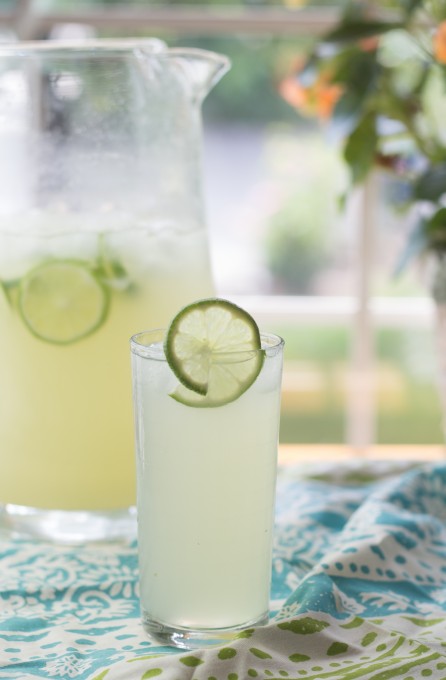 I have a little Australian story for you about lemonade. When we first moved to America, I ordered a lemonade one night at a restaurant. I was very dubious when the waitress bought me a glass of yellow stuff. My husband said "just try it and find out what it is". I fell in love – sweet, lemony and no carbonation! It was a perfect storm. For you see, in Australia, lemonade is a clear, sweet carbonated soda, very similar to 7-Up. I'm not a huge soda fan, so American lemonade was an instant hit for me. Australians – think Solo without the carbonation! I don't drink it often these days, as it's got so much sugar in it! But a little lemonade or limeade now and then is always welcomed.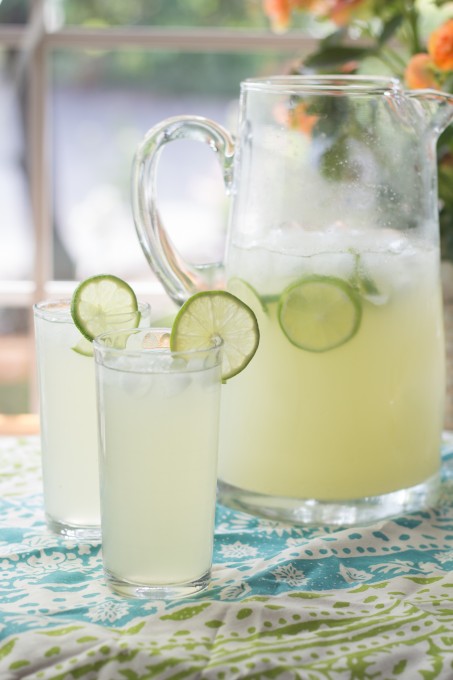 This recipe calls for 10-15 limes. You may even need more – this time round I ended up using 19 as my limes were quite small. I know this is very vague, but limes vary in the amount of juice they produce depending on size and age. A heavy lime is often a juicy lime and will produce more juice.
Also, I like my limeade quite sweet. If you don't have a sweet tooth, you may like to only add 3/4 of the sugar syrup you make, and test for sweetness first.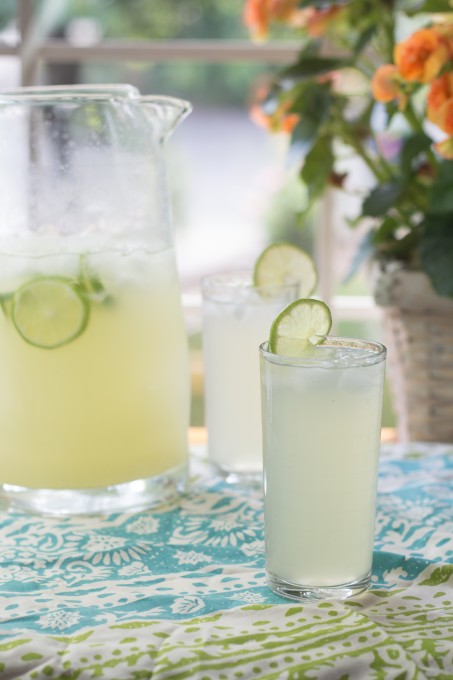 Limeade
2015-05-31 16:16:45
Ingredients
2 cups sugar
2 cups water
zest of 2 limes
2 cups fresh lime juice (from about 10-15 limes)
3 cups cold water
Instructions
In a saucepan, add the sugar, water and lime zest. Over medium-high heat, stir the mixture frequently until the sugar dissolves and the water comes to a boil. Remove from heat. Using a fine mesh sieve, strain the sugar syrup into a bowl or wide mouthed pitcher to remove the lime zest.
In a large pitcher, combine the sugar syrup (or less for a less sweet taste), lime juice and cold water. Stir and refrigerate until chilled, about 2 hours.
Serve with ice and thinly sliced lime.
Cookies or Biscuits? http://www.cookiesorbiscuits.com/