I have always loved scones. Soft and delicate, then topped with jam and cream. Or, perhaps eaten how I ate them as a child, with butter and honey.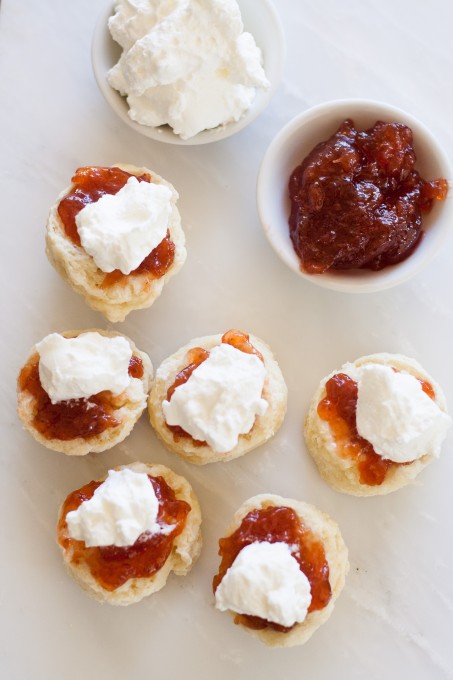 I was confused by scones when I first moved to America. To start with, I had never seen a scone in the shape of a triangle. My first American scone was a blueberry scone. It was delicious, but so much heavier and denser then any scone I had ever eaten. I struggled explaining to my family back in Australia what an American scone was like, as there really is nothing comparable. I have since eaten lighter scones than my first taste, but none are as light and fluffy as an English scone.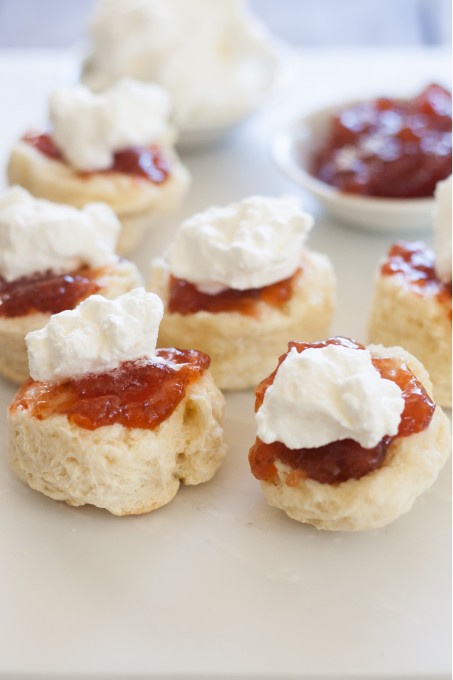 The beauty of the English Scone is in it's plainness. With such a mild taste, the toppings are what bring them to life. Sometimes, scones are made with additions such as raisins, dates or pumpkin – giving them a new life. I'll be making some of these variations over the next few months for you!
An English scone is essentially what you would call a biscuit in America. But I can assure you that you will never find gravy served on a scone in Australia! You can probably imagine my disbelief when I first saw gravy on a biscuit. It seemed so bizarre after only knowing sweet toppings.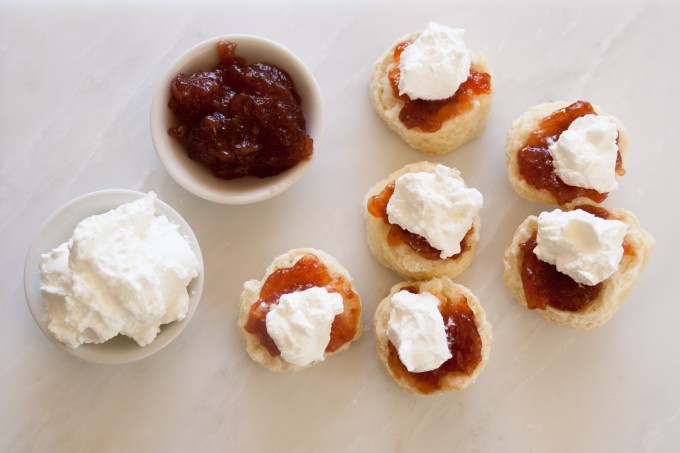 For an authentic English experience, you need to find some Clotted Cream.
However, we lowly convicts from Australia, made do with whipped cream – so if anyone questions you about why you don't have clotted cream, just tell them you're doing it the Australian way!
English Scones
2014-03-17 15:28:04
Ingredients
2 cups plain flour
1 tablespoon baking powder
1/2 teaspoon salt
1 tablespoon sugar
2 tablespoons butter
1/2 cup milk
1/4 cup cold water
Instructions
Preheat the oven to 420°F, and grease a small baking sheet.
In a large bowl, combine the flour, baking powder, salt and sugar. Mix well.
Rub the butter into the flour with your fingertips until the mixture resembles fine breadcrumbs.
Combine the water and milk in a cup. Make a hole in the center of the dry ingredients and pour in the liquid. Mix the ingredients quickly to form dough.
Turn the dough out onto a floured surface. Knead the dough lightly. Too much kneading will result in a heavy scone. The dough should be soft and moist but not sticky. If the dough is too sticky, add a little more flour. If it is too dry, add a little more milk.
Roll or press the dough out flat, until it is about ¾ inch thick. Using a circular cutter, cut the dough, flouring the cutter between each cut.
Place the circles of dough closely together on the greased pan. Brush the tops with a little milk.
Bake for 10 minutes or until the scones are golden brown.
Scones are best served warm, but can also be served at room temperature. Use your hands to split the scone in half and serve with whipped cream and jam.
Scones without toppings can be kept in an airtight container for 2-3 days.
Cookies or Biscuits? http://www.cookiesorbiscuits.com/