Bread and Butter Pudding is an old English dessert, which both the love of my life and I ate as children. As a child I would have much preferred that Mum just left out the golden raisins (or as I would call them, sultanas) – but as I've aged I've come to appreciate their juicy sweetness.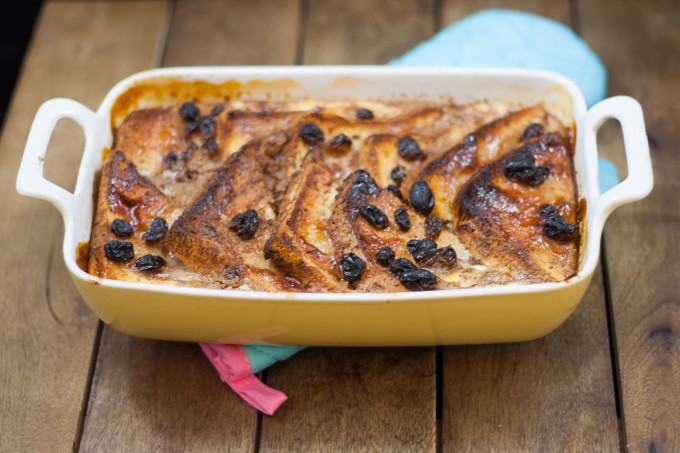 This recipe is a combination of a recipe from my Mum and a few recipes that I have found over the years. Some Bread & Butter puddings have a very firm custard, while some are quite runny. I like mine to be in the middle – not too firm but not full of liquid.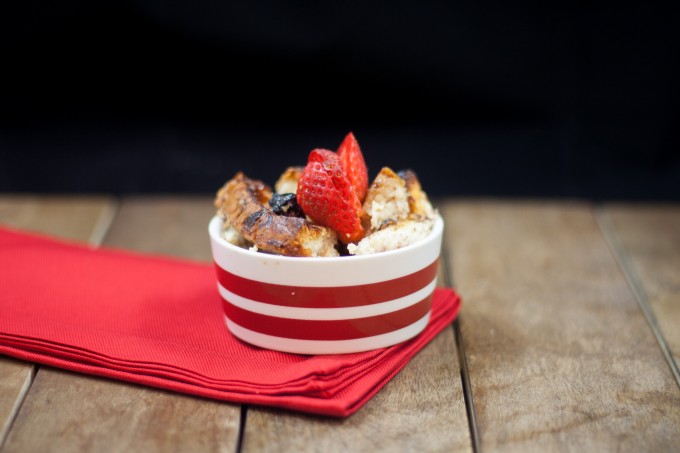 The recipe adapts very easily to become a gluten free dessert. So far my favorite bread for this dessert is Udi's Gluten Free Whole Grain Bread
, as it absorbs the custard really well. I do use which ever gluten free bread is in my home at the time though – the bread in these photos is All But Gluten Sliced White Loaf. It has a higher rice content, which I find does not absorb the custard as well, but it still tastes fine.
My favorite part of the pudding is the custard. The milk and eggs become baked custard in a Bread and Butter Pudding, giving it that delicious creamy taste.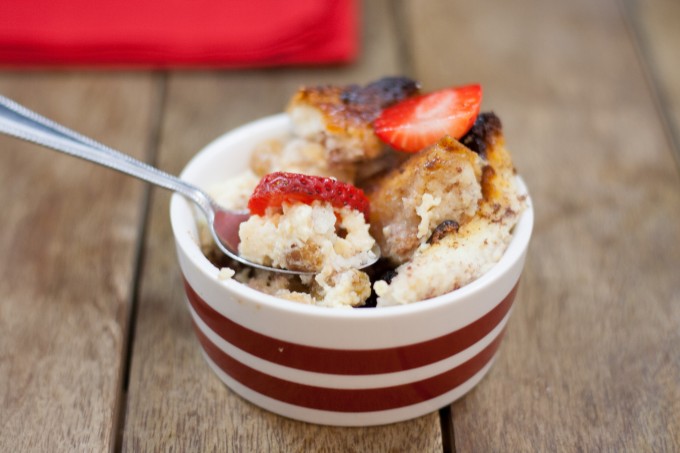 The preparation is really quite easy for this dessert. You do need to let the bread soak for 10 minutes, but I use that time to quickly clean up the mess that I've just made. 45 minutes in the oven, and you have a delicious, satisfying dessert.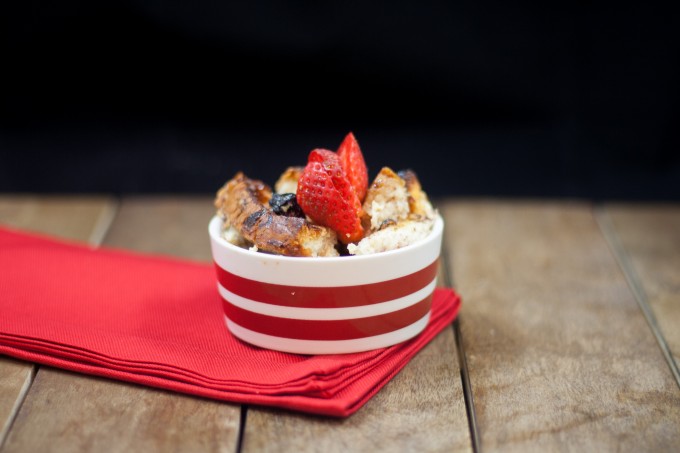 Bread and Butter Pudding
2014-03-23 01:14:06
Ingredients
5 slices of bread
butter to spread on bread
strawberry jam to spread on bread, optional
1/4 cups sugar
1 teaspoon ground cinnamon
2 cups milk
2 large eggs
1 teaspoon vanilla extract
1 cup golden raisins
Instructions
Preheat the oven to 390° F. Lightly grease a baking dish.
Butter the bread and cut in half. For a slight variation, spread strawberry jam on the bread. Layer the bread in the baking dish.
Mix the sugar, cinnamon, milk, eggs and vanilla together, and whisk lightly. Add the golden raisins.
Pour the liquid over the bread and allow it to soak for 10 minutes.
Bake the pudding in the oven for 45 minutes. The pudding is cooked when the custard is set and the top is browned.
Cookies or Biscuits? http://www.cookiesorbiscuits.com/