America, America! How I love you and your food. There are many foods which I think of when I think of America, and BBQ Pulled Pork is one of them. Australia is well known for their BBQ's (remember the slogan "Put another shrimp on the barbie"? ) but America is the king of Barbecue sauces. As Barbecue sauce is the key ingredient for these very simple BBQ Pulled Pork Sandwiches, in my mind they are uniquely American.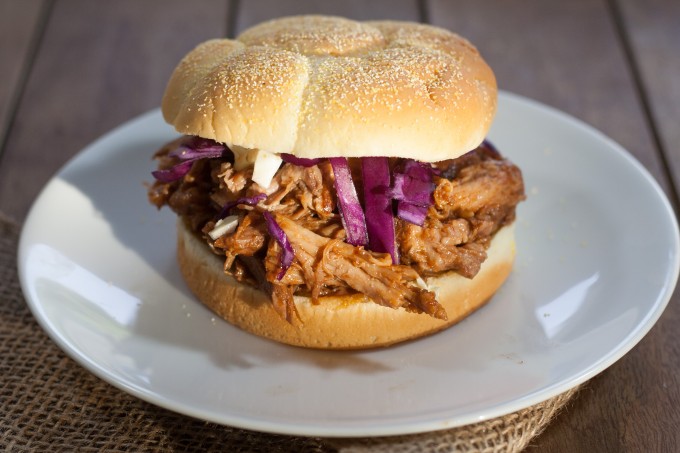 The first step to making this pulled pork is to trim the pork shoulder of some of the fat. Don't worry about getting too picky here – just go for the big chunks of fat. It's OK to leave some fat on the pork. Next place the pork in the slow cooker and pour a cup of BBQ sauce over the pork. Turn on the slow cooker, and at the end of the day – the pork is tender and falling apart. You don't use the juices – just the pork.
Remove the pork and put it in a casserole dish. Use two forks to pull apart the pork until it is finely shredded.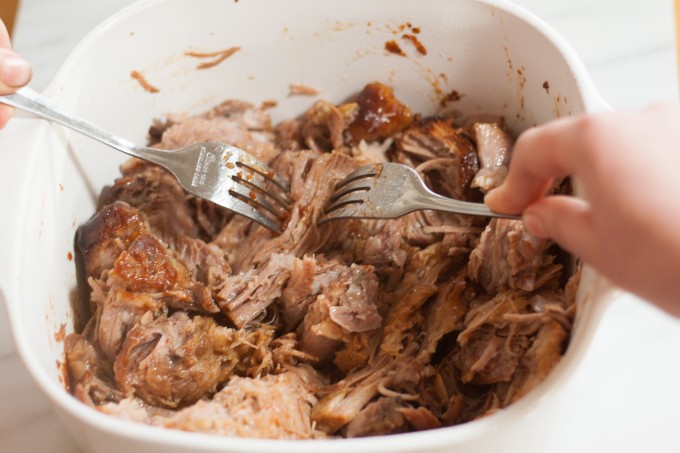 Add the extra cup of BBQ – you may want to use more or less depending on how much you like the taste of BBQ sauce. Put the casserole dish in the oven for about 10-15 minutes. This is just to heat up the BBQ sauce that you added, so if you are short on time you can just use the microwave!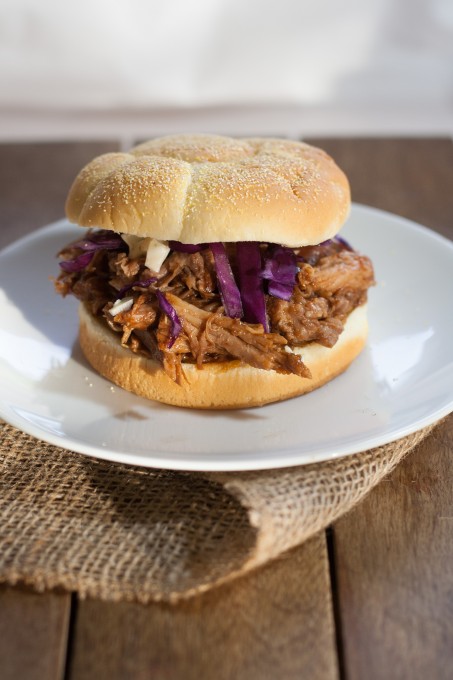 Pulled Pork Sandwiches taste wonderful served with some coleslaw and a cob on the corn on the side. Now I think I might be ready to sit for my citizenship test. Wait, you mean there are no questions about American foods? What a pity!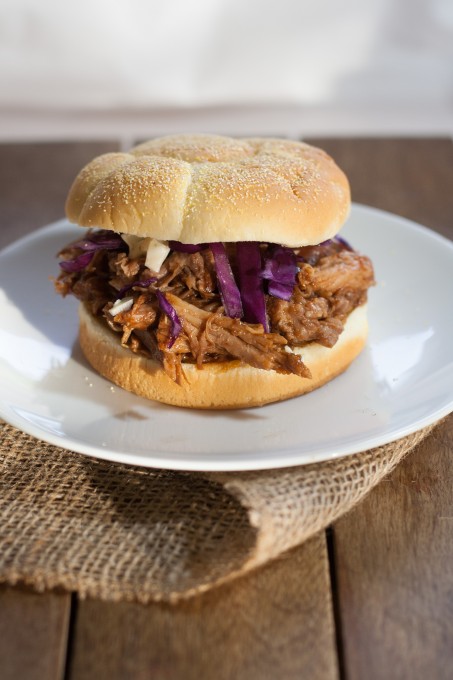 Pulled Pork Sandwiches
2014-04-10 21:32:18
Ingredients
2-3 lbs pork shoulder
2 cups barbecue sauce, divided
8 hamburger buns
Instructions
Remove any large pieces of fat from the pork shoulder.
Place the pork shoulder in the slow cooker and pour 1 cup of BBQ sauce on top of the pork.
Cook on low for approximately 8-10 hours or on high for 4-5.
Just prior to serving, preheat your oven to 350° F (180° C)
Remove the pork from slow cooker and place in an oven safe dish. The juices can be discarded.
Using two forks, pull the pork apart until it is thinly shredded.
Mix the pork with the other cup of barbecue sauce. You can adjust the amount of barbecue sauce to suit your tastes.
Heat the pork in the oven until the sauce is hot, approximately 10-15 minutes.
Serve the pulled pork on hamburger buns.
Notes
Coleslaw and a cob of corn are commonly served with pulled pork sandwiches.
Cookies or Biscuits? http://www.cookiesorbiscuits.com/