I was having a chocolate craving the other day and my youngest had been asking me to make chocolate cookies for days. Maybe it was something to do with the lunar eclipse but everything just fell in place to make these Gluten Free Chocolate Brownie Cookies. On that thought, did you get to see the eclipse? I didn't, thank you cloudy weather, but I did see some stunning photos! Talk about gorgeous.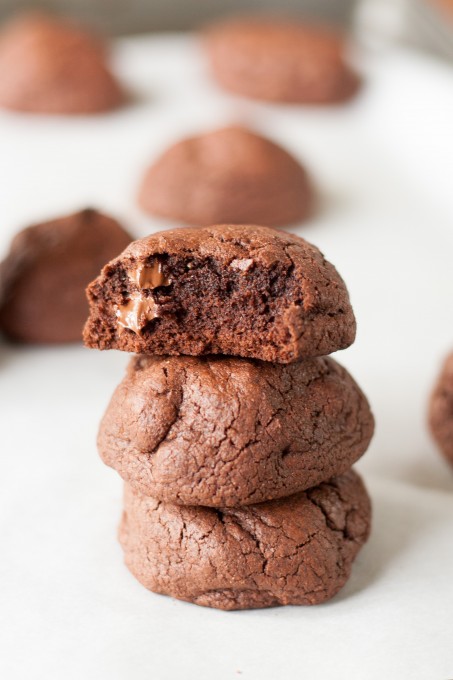 I wanted these cookies to be gluten free so my love could eat them as well, so I played around with my favorite chocolate cookie recipe from Williams Sonoma Kids Baking
The result was delightful! These cookies were like little bites of brownie with the crispier texture of a cookie on the outside. They did not last very long as everyone in my family loved them.
A special milestone has been reached with this blog and these cookies. This is my 50th recipe that I have posted. Yeah!! It's been a lot of hard work, more than I expected, but very rewarding. When I first started in March, my goal was to get 30 recipes up on my website quickly. This was achieved by posting every day, and I've gone beyond what I originally aimed for. With this good news, comes a little bad news for you. I will be starting to post 4 times a week, rather than 7. I am going to try to keep to a schedule, however I have not fine tuned that schedule just yet. Family and friends are very important to me, and I have been neglecting them a little over the past 50 days and it's time to get a little balance. I hope you understand!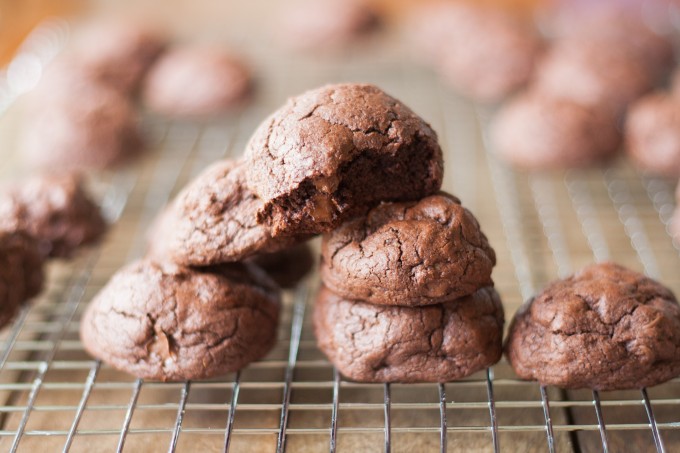 If you are feeling at all sad about my news, I can guarantee that some Gluten Free Chocolate Brownie Cookies will cheer you up 😉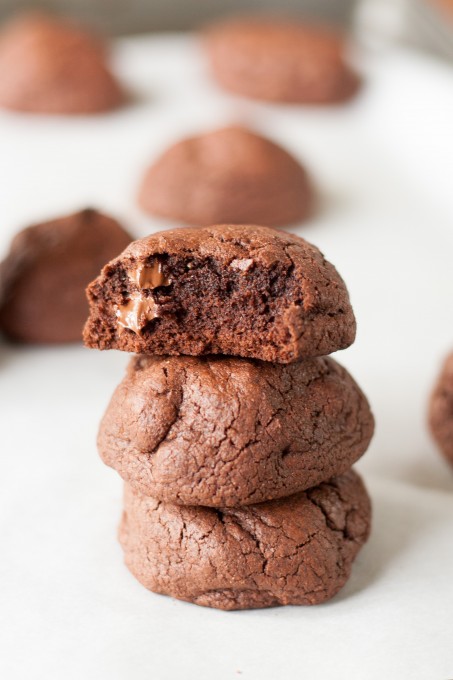 Gluten Free Chocolate Brownie Cookies
2014-04-18 15:47:13
Ingredients
1/4 cup coconut flour
3/4 cup brown rice flour
1 tablespoon flaxseed meal
1/2 cup cocoa powder
1/2 cup confectioner's sugar
1/4 teaspoon salt
1 teaspoon baking powder
1/2 cup butter (1 stick)
3/4 cup sugar
2 eggs
1 cup semi-sweet chocolate chips
Instructions
Preheat the oven to 350°F and line 2 cookie sheets with parchment paper.
In a large bowl, combine the flours, flaxseed, cocoa, confectioner's sugar, salt and baking powder.
Using a standing electric mixer, cream the butter and sugar by beating on medium-high for about 3 minutes, or until the butter and sugar appears pale and creamy.
Add the two eggs to the butter and sugar, mixing until they are combined.
Slowly add the flour, by adding 1/4 of the flour at a time then mixing until the flour is combined.
Using a wooden spoon, fold in the semi-sweet chocolate chips.
Roll the dough into approximately 24 balls. Place each ball on the parchment paper, leaving about 1-2 inches between each cookie.
Bake in the oven for 10-12 minutes, or until the tops of the cookies begin to crack.
Allow the cookies to cool slightly, then transfer them to a cooling rack.
Cookies or Biscuits? http://www.cookiesorbiscuits.com/