I mentioned on Monday that Australians love their beetroot. It should come as no surprise then, that we put beetroot on our hamburgers. In most burger joints in Australia, if you ask for a burger with the works, you are going to get beetroot and an egg on your burger, along with the trappings of a traditional American burger. It's what makes an Aussie Burger unique. Just like the Californian burger will have guacamole and bacon – and Aussie burger has beetroot and egg.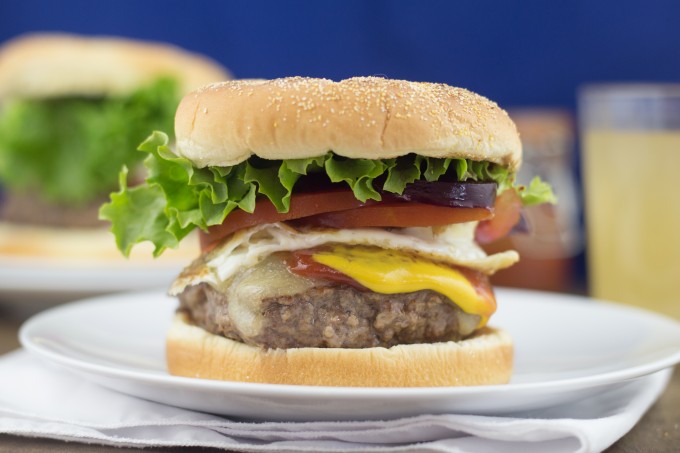 Buy the beets canned or make your own – it's something you have to try at least once! It's not unusual to find fried onions on the burger too. The one thing that you will never find on an Aussie burger is pickles! So if you want to have a real Australian food experience – put those pickles away!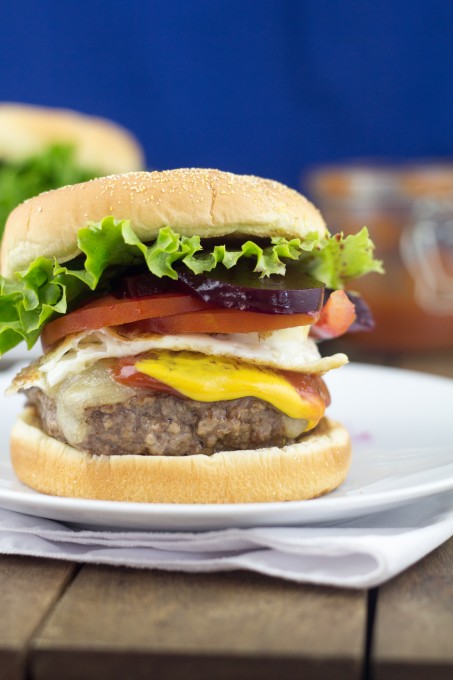 I made my own burger patties this time around, but when I'm in a rush I just buy meat patties from the shop. Sometimes an Aussie burger will come with bacon too – we do love our meats!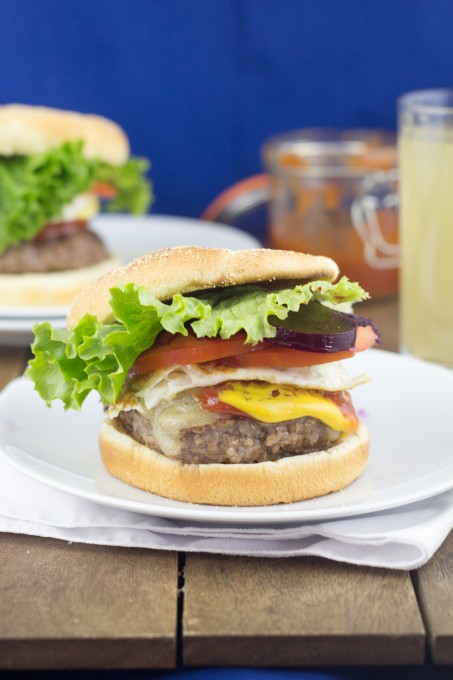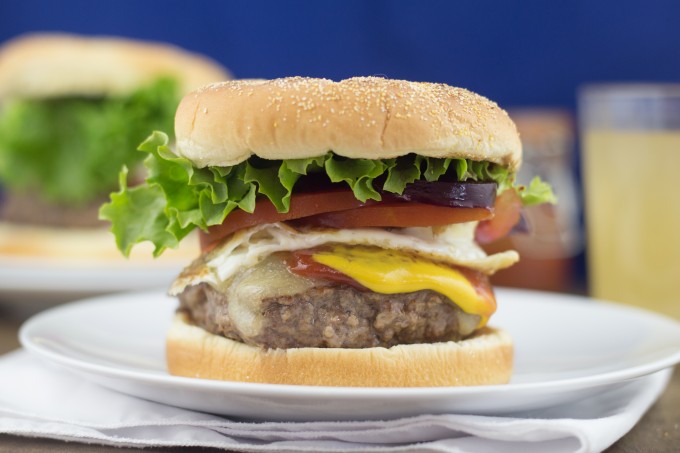 Aussie Burger
2014-06-09 11:01:00
Ingredients
1.5 lb ground beef
1/2 teaspoon salt
1/2 teaspooon pepper
4 hamburger buns
4 leaves lettuce
8 slices tomato
8 slices roasted or canned beetroot
4 slices cheddar cheese
4 fried eggs
ketchup
mustard
Instructions
Preheat your grill or a grill pan.
In a large bowl, combine the meat and pepper. Mix with your hands until just combined. Form 4 large patties, slightly larger than your hamburger buns. Indent the centers using your thumb to ensure nice flat burger patties.
Place the patties on a well oiled grill. Sprinkle with salt and grill for 10-15 minutes, or until the centers are no longer pink. Flip once during grilling. In the last 2 minutes, place a slice of cheese on the burger so that it melts slightly.
In a large frying pan, fry the eggs until the centers are no longer runny.
To make the burgers, layer the bottom of the bun with the meat patty and cheese, ketchup, mustard, fried egg, tomato, beetroot and lettuce.
Serve hot, with fries.
Cookies or Biscuits? http://www.cookiesorbiscuits.com/