Summer is almost here! School is out in two days and I can't wait. I love having my kids at home with me. I love our lazy mornings, followed by trips to the park or walks by the river. Occasional trips into downtown Seattle, where we play tourist yet again. 10 years in Seattle and I still love exploring the Pike Place Markets. I know that I will be battling for kitchen space as my 10 year old loves to get into the kitchen and bake. You'll probably be seeing some cupcake recipes over summer, as she loves to bake cupcakes. I dread the mess afterwards, but I love that she's picked up the cooking bug. The boys will cook too, but they both like to cook with me rather than doing their own thing. Summer also means summer salads. It's no fun to cook on a hot day – so a quick and easy salad like this creamy, tangy Tortellini Salad is perfect for lunch or a meatless dinner.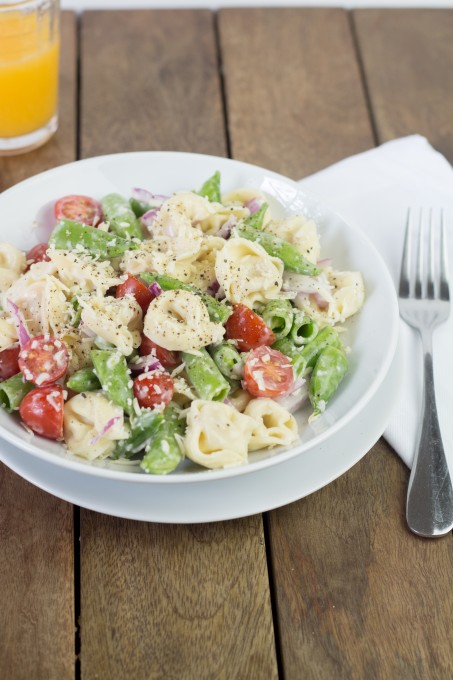 The sauce is made from a simple combination of mayonnaise, white balsamic vinegar and Parmesan cheese – turning this basic pasta salad into an amazingly delicious one. The mayonnaise gives it the creaminess while the vinegar gives it a delightful tang. The cheese complements the cheese tortellini.
I use refrigerated Three Cheese Tortellini – but don't feel confined by this. There is no reason why you can't use frozen or dry tortellini. Just follow the directions on the packet and it will be fine. If you want some meat, choose something like Buitoni's Herb Chicken Tortellini.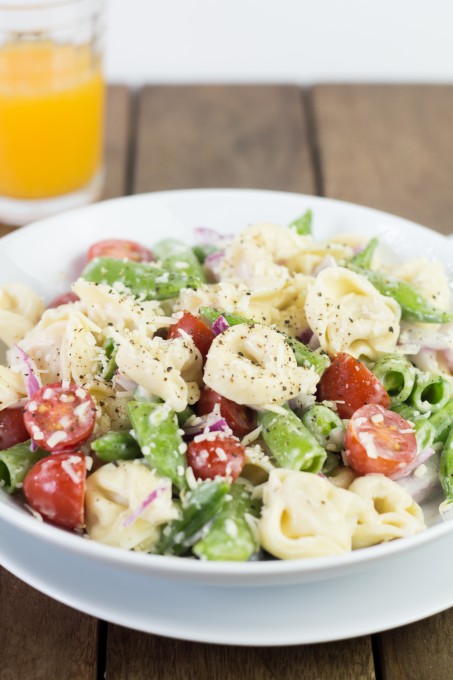 Gluten Free tortellini is still pretty hard to come by – however I have read wonderful reviews about DePuma's Gluten Free Pasta They sell a Three Cheese Tortellini. After seeing a preview of this post, my love decided he wanted some too, so perhaps I'll have to place an order! I'd love to know if you've tried their pasta.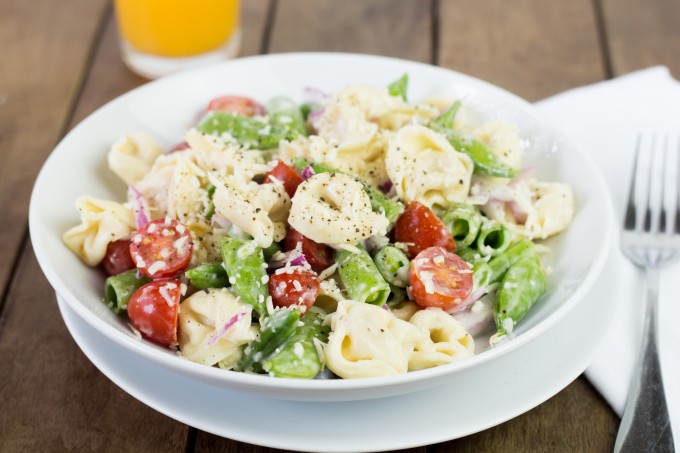 This recipe has been adapted from one of my favorite Weight Watchers recipe books: Dining for Two
It's a 2004 book, so it's their old program, but it's full of fantastic recipes. It's hard to believe that this book is 10 years old!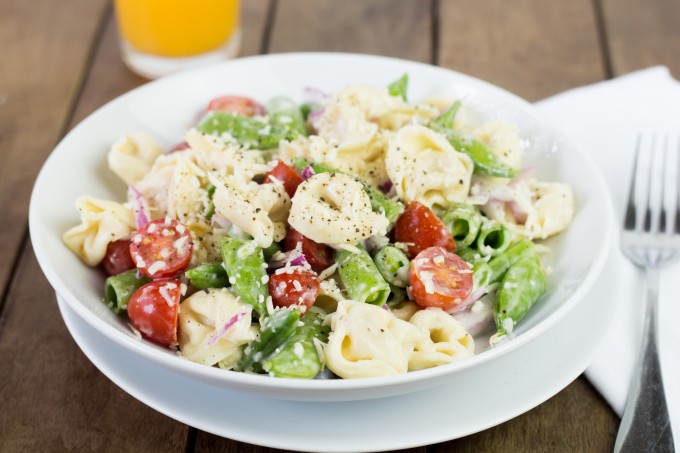 Tortellini Salad
2014-06-10 21:05:44
Ingredients
1 pack Three Cheese Tortellini (9oz)
2 tablespoons mayonnaise
2 tablespoons white balsamic vinegar
2 tablespoons grated Parmesan cheese
4 oz sugar snap peas, cut in half
4 oz cherry tomatoes, cut in half
5 tablespoons finely chopped red onion
Parmesan, optional
Freshly ground pepper, optional
Instructions
Cook the tortellini according to packet direction. Drain and rinse well with cold water.
While the tortellini is cooking, in a large bowl, combine the mayonnaise, vinegar and cheese. Mix well.
Add the cooked pasta, peas, tomatoes, red onion and toss gently.
Serve the salad, sprinkled with Parmesan cheese and freshly ground pepper.
Cookies or Biscuits? http://www.cookiesorbiscuits.com/